If you are an Ableton and Max For Live user, you will definitely want to check out CSound For Live. CSound is a sound design and synthesis programming language that has been around since the 1980s. It is one of the most widely acknowledged and long-standing programs in the audio programming field. It has been used in educational music institutions for quite some time now and has been an invaluable tool for many top producers and sound designers. And even better, it is open-source.
The CSound guru, Dr. Richard Boulanger, has teamed up with Colman O'Reilly to release the CSound For Live package that operates within the Max4Live environment. This means that Ableton Max 4 Live users now have the full potential of CSound within Max 4 Live. This really opens up some amazing doors for sound designers. I will take you through CSound and the free package that Boulanger and O' Reilly have made available for us.

Step 1 '" What is CSound
At its core CSound is an audio programming language. It is a text-based audio programming language that uses an orchestra text file (where you compile your instruments and effects), and a score text file (this contains the information about what notes to play, amount of level of the effects, etc.)
This is what a typical CSound file looks like: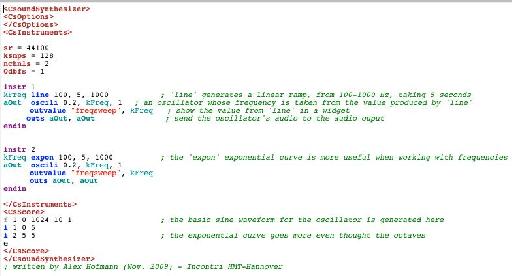 This generates a simple oscillator at 100 Hz, and ramps the frequency up to 1000 Hz over a duration of 5 seconds. This may all look a bit daunting and confusing but there are huge benefits to investing time into learning CSound. Even if you don't feel like learning the CSound language, with CSound For Live you can still use the effects and instruments without any prior knowledge of CSound and still have bleeding-edge technology synths and sound design tools at your disposal.
CSound For Live has been developed to provide GUIs (Graphical User Interface) for these CSound files. With the use of Ableton and Max 4 Live one is now able to incorporate CSound into Ableton, and take advantage of both CSound and Ableton's tools. Big benefits are also that many of the CSound contributors have been working with synthesis techniques that are ahead of the commercial software developers. Such as synthesis techniques like FOF and FOG synthesis, and audio processing like PVOC and PANAL. These may sound like Martian to you now, but after working with CSound for a bit these terms will become second-nature.
Step 2 '" What You Will Need
You will need a version of Ableton Live (8.1.1 and higher), Max 4 Live (You can download the 30-day trial and test out with CSound For Live), and the CSound For Live package. The CSound For Live package includes the CSound For Live installer. This installer comprises of the CSound For Live application for Ableton, and the CSound free pack and the CSound front end GUI, CSoundQT.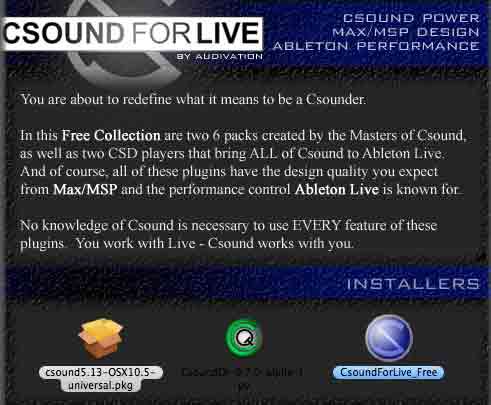 You can download these here:
Step 3 '" How to Install and Use
Click on the CsoundForLive_Free installer and this will install all the needed components.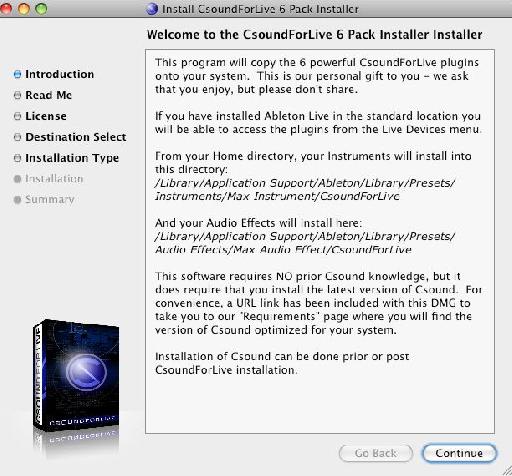 Once this is installed you will notice a CSoundForLive folder under your Max Instruments in Ableton. Included in the package is the CSD Player (to play CSound .csd files) and the Masters 1 + 2 collection (the free pack that Dr. Richard Boulanger and Colman Reilly have included with the CSound For Live installer). You can drag and drop these into your Ableton Session view to add the necessary Instrument or effect.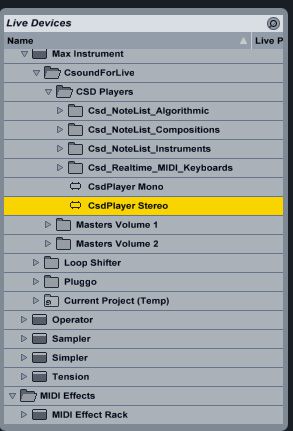 Boulanger and O'Reilly have built coherent GUIs for the instruments and effects so you know exactly when you are using CSound instruments and effects. Here's what they look like:


The Edit button on the CSound Max Instrument allows you to see the Max details on the instrument and an info window provides you with more details on the CSound Instrument.

You can also see further Max routing if you go deeper into the Max patch.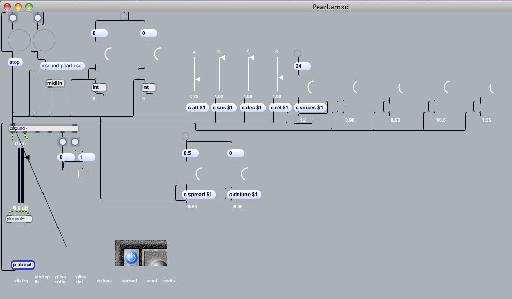 Step 4 '" After Testing
CSound covers the whole gauntlet of audio needs. You can use the simple synthesizers and effects to add to your collection. Alternatively, you can use some of the crazy CSound synths to create strange, esoteric, sci-fi, ambient soundscapes. With Ableton and its MIDI Learn features it is very easy to automate and record your tweaking of the CSound parameters on the instrument.
Some of the CSound instruments have different parameter names to your usual synths, but once you have fiddled with the parameters you can really start creating unusual audio effects. For the Max4Live user this really opens up more possibilities for synth and effect creations. You can create customized synths that others are not using, and therefore create your own personalized sound palette.
I fiddled with some of the free synths that came with the CSound For Live installer. Take a listen and see what interesting results can be had from these synths and effects. I used minor tweaks to edit some of the reverb and frequency pitches on the effects, but most of these synth sounds are generated straight from the CSound synth.
Blue:
Copper:
Emerald:
Pearl:
Step 5 '" Other Examples
If you wish to dabble more with CSound you can use the included CSound Player to add other .csd files. An excellent collection is Ian McCurdy's realtime CSound examples.
http://iainmccurdy.org/csound.html
You can simple drag and drop these examples into the CSound For Live player and this will launch Ian McCurdy's CSound instruments.
If you are looking for more CSound instruments, feel free to purchase some of Boulanger and O'Reilly's other packages on the CSound For Live website. These are extremely well-priced and indispensable tools. A lot of these instruments touch on synthesis techniques that have still not yet been implemented in the commercial audio market. Such as Scanned Synthesis. Included as well are interesting effects and processors such as Variable Delay, which allows one to control the delay effects in the stereo field using a XY controller.
If you really wanted to you could take the time to study the CSound language and really get the benefit of CSound, and its audio processing abilities.
Conclusion
I hope this review of the CSound For Live has tickled your taste buds on CSound, and left you wanting more from this incredible audio programming and synthesis language. Take this jump and test out the CSound For Live package. This will give you a taste of the tools that have previously only been involved in higher education facilities dealing with audio processing and sound synthesis. This will allow you to be on the cutting edge of music technology innovations and provide you with interesting processing and synthesis techniques for your future productions.
Check out Andrew Turners' Max 4 Live lessons on the Hub for further details.
Download CSound for Live here: http://www.csoundforlive.com/