Review: CremaCaffe Asimov Synth & Music Machine Desk Stand
We take a look at the rather nifty Asimov, 2-tier laptop and synthesizer stand from CremaCaffe. How interesting and helpful can a stand really be? We find out.
With our music studios steadily filling up with more and more synthesisers, laptops, drum machines, and other awesome music machines, desk spaces are prone to becoming cramped. Space is at a premium. Reaching over a synth to tweak another synth isn't ergonomically ideal and the resulting back and shoulder issues can have a negative, if not painful, impact on producers.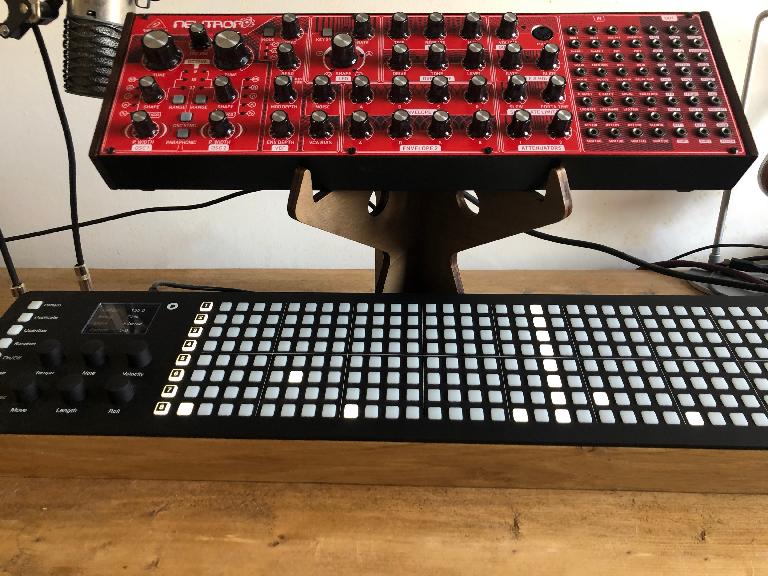 There are racks, cases and stands to help the look of our studio desks which help make multiple synths more accessible. Some even reduce the feeling of clutter both of the hardware and the flurry of cables connecting everything together. We've come across CremaCaffe before. They create affordable, lightweight wooden stands with a unique aesthetic. Interestingly, their stands tend to allow the focus to be on the hardware and not the stand itself.
Made in Italy, the Asimov is a 2-tier desktop stand that is unusually lightweight. It comes in poplar and walnut (our review model) or graphite and consists of 3 pieces that take only a few seconds to slot together. If you need help, the bookmark size card that comes included shows you how. It's hardly a complex IKEA construction and doesn't require any tools or accessories other than the three pieces of wood. Being so light I was initially concerned whether this stand would be able to comfortably and safely hold a 15" MacBook Pro or synth.

Spoiler alert: yes, it can. The strength of the structure is in its novel design. Like any stand not fixed to a surface there can be movement but it felt surprisingly sturdy when holding machines and computers, especially when a unit is resting on the lower tier of the stand. Machines placed on the upper tier will be at a 30° angle and10° angle for those on the lower tier.
I tested out a laptop, Apple MacBook Pro, Elektron Digitakt, Behringer Neutron, Arturia DrumBrute Impact and DrumBrute Impact, IK Multimedia UNO and Polyend SEQ amongst other synthesisers, sequencers and music making machines. The top tier of the stand is ideal for larger machines and computers and the lower-level tier allows for a machine the size of the Digitakt or smaller to lean into the stand… and it works well. I even tried the lower tier with the incredibly long Polyend SEQ - 64 step and 8 track hardware sequencer and it held the unit just fine without any wobble.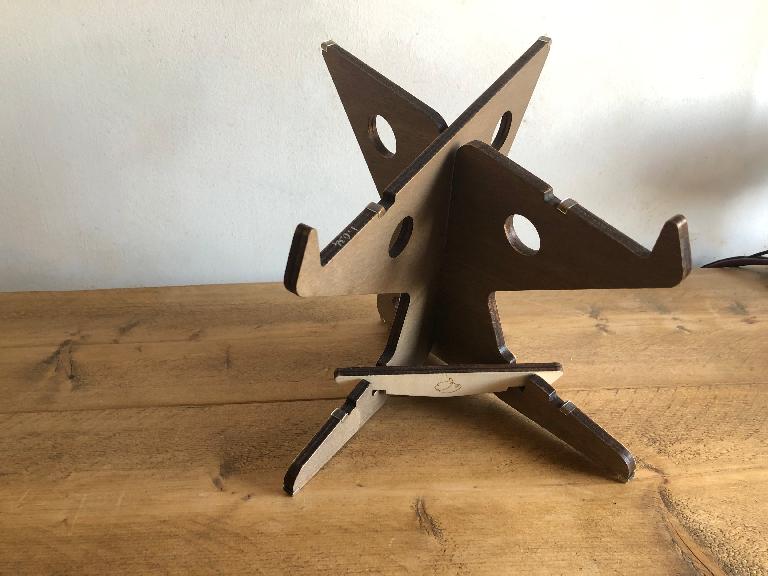 The Asimov is pre-fitted with small rubber feet which helps to keep the stand static on slippery surfaces as well as stable on slightly uneven desks. There are also transparent rubber feet on the tops of each tier to prevent the possibility of the wood scratching or marking whatever you place on the Asimov.
Cable Guy
There are 6 drilled holes in the stand and two semi-circular gaps at the bottom which allow for easy to access and tidied away cable management. It's a nice design touch that can help to keep your desk that extra bit tidier. Additionally, the Asimov could be considered a portable stand. It's easy enough to dismantle the stand in seconds, chuck the three pieces in a laptop bag along with your synths and machines and reassemble in a matter of seconds too.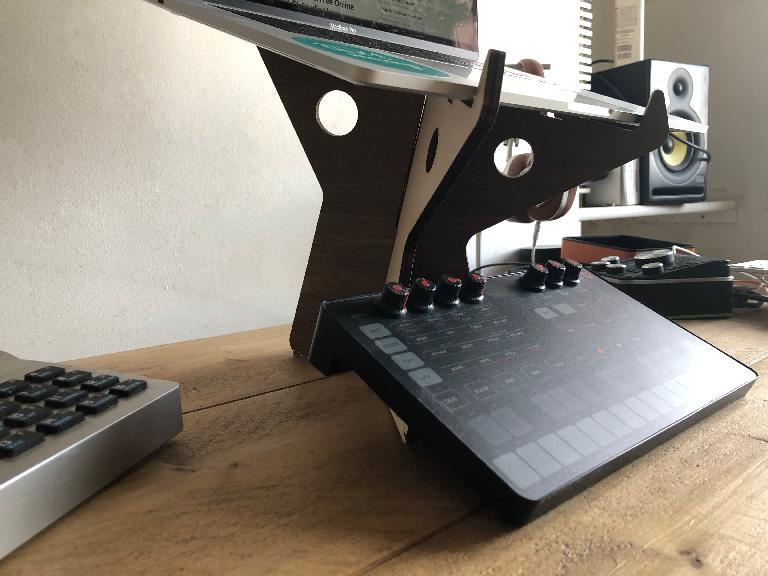 Conclusion
There's not much more we could want from a stand. The Asimov is well-designed, accommodates cables, is ideal for a computer and synth or multiple machines, is super-easy to setup and will clear space on your studio desk. That it could even be considered a stand for live performance thanks to its ease at being transported is an added bonus.
Price: €80 EUR
Pros: Easy to set up. Interesting, original design. Cable management features. Easy to pack away. Surprisingly sturdy. Excellent choice for small, medium and larger machines and laptops.
Cons: Nothing really. Not designed to fix static to a desk if that's what you're looking to do.