Looking to spice up your digital sessions with unusual organic content? Paper Stone is here to help with a 1.03 GB Kontakt library including 20 instruments comprised of 100 multi-sampled objects and over 2000 individual samples, carefully layered to inject a range of unique and supple tones to your production.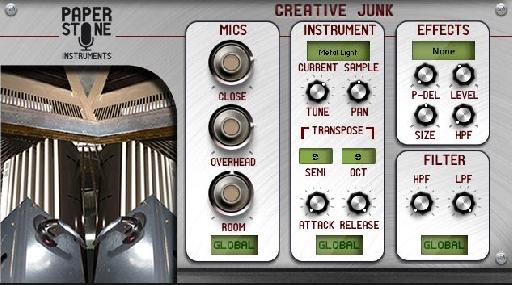 Recycle, reuse'"reclaimed Junk in action.
Ostensibly percussive in nature, the rich sounds'"all recorded on a range of high-end microphones in Paper Stone's Studio 2, a converted cinema auditorium with unique acoustic properties'"provide a wealth of texture and impact. A wide range of household objects including frying pans, industrial heaters, bouncing balls, bottles, jugs, colanders and filing cabinets may or may not have been harmed in the production of this unique sound set. Whether looking for atonal or tuned, brittle or smooth, sharp or round, there's an inspiring range of odd noises that would be difficult to find elsewhere.
The samples are grouped into eight central multi-layered Junk NKIs: Gamelan for tuned objects, a Kit for reclaimed and broken drums, Industrial for large and metallic sounds, Transients for short and sharp attacks, Bounce which is made of various ball noises, Foley for percussive sound effects, Jugs, and Bottles. In addition, there are 12 stretch-tuned NKIs which adapt some of the more tonally useful sounds into chromatic instruments: Hydrant, Metal Light, Colander, Fry Pan, Lid, four Jugs, and three Bottles. Finally, there are three concert tuned versions of the main Gamelan, Jugs and Bottles NKIs.
The interface is bare bones and rather straightforward. You can modify the tonal character of the sound by adjusting the three mic levels presumably used to originally capture it: Close (mono), Overhead (stereo), and Room (ambient stereo), which adjust the volume of increasingly dispersed characteristics of the core sound. We then have a fine tuning control as well as a panning dial, followed below by semi-tone and octave tuning, while a simple attack and release envelope allows for basic control of the sound's onset and decay.
Nine reverbs and a lo-fi effect comprise the somewhat spartan effects section, along with pre-delay, effect level, size and high-pass filter controls. Finally, high-pass and low-pass filters can be applied to hone the frequency range as needed. Wherever a Global/Local toggle is shown, you can click to specify whether the Mic, Instrument or Filter settings should be applied to the entire instrument patch, or just the currently selected sample or note.
If inspiration is the measure of an instrument like this, I'd have to give the series of instruments and sounds contained in Creative Junk high marks for getting creative juices flowing without hesitation. That said, the CPU drain is surprisingly high for a sample-based instrument, and navigating to the NKI files through Kontakt's file browser is a lot less convenient than the Library-based installation that's common for Kontakt instruments these days. Small gripes for such a unique instrument though, and probably well-worth it for the relatively low price'"as long as you have the full version of Kontakt required to run it.
Price: £34.99
Pros: Pristine recordings of highly unique sounds, immediately easy-to-use interface.
Cons: Not a lot of editing options, takes up more CPU than a sample-based instrument should, no Kontakt Library installation, doesn't work with the free Kontakt Player.