Created by sound explorer Diego Stocco, Color Bots is described as "adaptive tonal processing" for Ableton Live 9.5 Standard and above (no Max for Live or 3rd-party VSTs necessary). It allows you to create rhythmic resonances for any sound you process with it. The effect can be a subtle texture or grit added to your sounds, or something more extreme like adding melodies or basslines to drum loops automatically. There is a slight learning curve to understanding how it works, but the process is clever and yields exciting and unexpected results.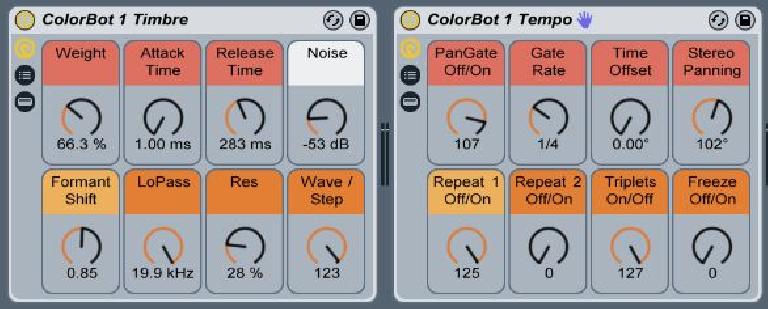 The name Diego Stocco should fill you with some confidence about Color Bots. Stocco is an imaginative and inspiring sound designer. He has repurposed old instruments, plants and even sand to create music. Be sure to check out "Music from a Bonsai" for a good example of how Stocco's imagination works.
Color Bots is a product that taps into the heart of Stocco's creative explorations. If nothing else, Color Bots is worth the 50 "colors" he has supplied. The "colors" are a collection of textural, rhythmic, and melodic samples Stocco has created from his collection of homemade instruments and sound design experiments. They are fascinating to listen through. The "colors" are used to add the resonances to your sounds. You could, of course, use any sample or loop to do just the same. I've already had a lot of fun dropping some of these "colors" into Live's Sampler and building some playable instruments.
So let me explain how this works… Let's say you start with a drum loop. Place any of the "colors" (from the tracks named "Palette" 1–5) on any of the three Color tracks (named "Color 1" –orange, "Color 2" –green, and "Color 3" –blue). Now turn up the corresponding Send on your drum loop to hear the effect. If you change out the "colors" samples, you will hear different rhythmic resonances.
The resonances of the "colors" get added to your drum loop in a clever way. In the Return tracks are where the actual Audio Effect Racks are. They are listening to the Color tracks by using the carrier in Live's Vocoder effect. So at its heart, Color Bots is an ingenious use of the Vocoder. Once your drum loop is mixed with the "color" in the Vocoder, you can then play with the characteristics of the Vocoder, a Low Pass Filter, and another Color Bot Effect Rack that creates some cool gating and Beat Repeat effects. With just a few moments of manipulation, you can find yourself adding cool moving resonances, frequencies, and interesting repeating and chopping effects. Check out the video I created using Color Bots. I was pretty excited to find that I was able to create an interesting bassline just by feeding a drum loop through the effects.
Of course you could always pull these Color Bot Effect Racks out and use them in any project. Stocco also includes a nice Mastering FX chain on the Master channel that you can use in other projects too.
If I were to say there is a downside, it's that in order to utilize the Color Bots, you need to maintain the routing that Stocco has set up in the Live Set. This isn't really much of an issue, because you can just drag the entire project file from Live's Browser and place it in an existing project. Although I would suggest that the easier solution would be to first open the Color Bots project, then drag the existing project into the Color Bots session. This way you won't need to set up the routing from the Vocoder on the return track. Either way though, calling this a downside is a little unfair, because the entire principle of Color Bots relies on some imaginative and clever routing on Stocco's behalf.
So how do I feel about Color Bots? I love it! I think it's a very intelligent method of manipulating sound that I've never seen done before. And it uses only Live's native devices! It took me a minute to completely understand how the magic of Color Bots was actually working, but once I got it, I realized its genius. Color Bots is yet another inspiring piece of work from Diego Stocco.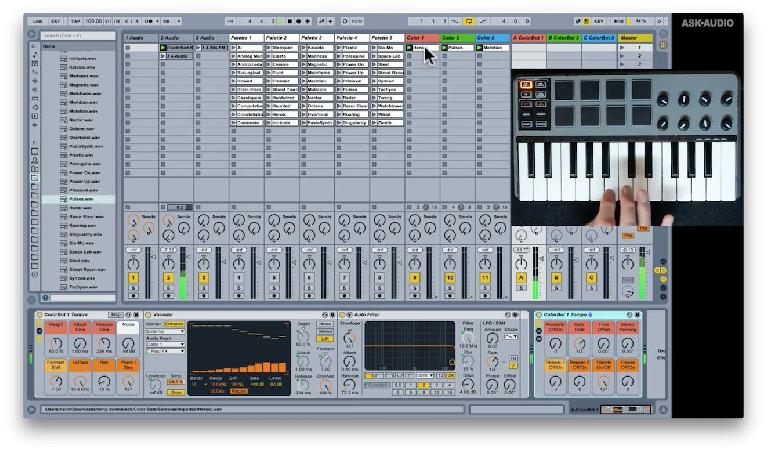 So file Color Bots under the experimental column. If you are tired of sounding like everyone else and want some fresh new ways to experiment, you have to check out Color Bots. On top of incredible sounds and endless sound design potential, it's an excellent lesson in creative routing and sound design inside of Ableton Live. You are in good hands with Diego Stocco, he's an expert sound designer and has put out a ton of inspiring material. Be sure to check out his new album Sonic Nature (https://gumroad.com/l/DSSONA ) for beautiful sounds based on Stocco's musical experimentations.
Price: $34.99 (there's a mini version with 10 "colors," instead of 50, for $7.99)
Pros: Brilliant use of Live's native devices; Endless potential because you can use any sound as a "color" and apply the effect to any sound; Fascinating collection of "colors" from Diego Stocco; Works with Live 9.5 Standard (no Max for Live or VST needed).
Cons: A bit of a learning curve, but a lot can be learned about Live's routing from this project.
Web: http://www.diegostocco.com/color-bots/
Watch Diego Stoco's excellent sound design video tutorials here.