The original Xkey made a splash in the portable controller market. The design, clearly made to fit snugly alongside your laptop or iOS device, was sleek, elegant, and simple. The Xkey 37 builds on all of those traits and adds an extra octave for more flexibility of use. Let's take a look.
First, What's New?
The name says it all—you've got 37 full-size velocity-sensitive piano keys to work with. This allows more room for melodic phrases to develop without shifting octaves, as well as for some two-handed playing when needed. As a fan of the original Xkey, I found I was an even bigger fan of the Xkey 37. The extra octave is most welcome.
Apart from the extra octave, the Xkey 37 now comes with a brand new connector dubbed the 'XCable'. This breakout cable gives you access to MIDI out, as well as sustain and expression pedal connections. Finally, a portable controller with sustain pedal input! My feet were getting bored.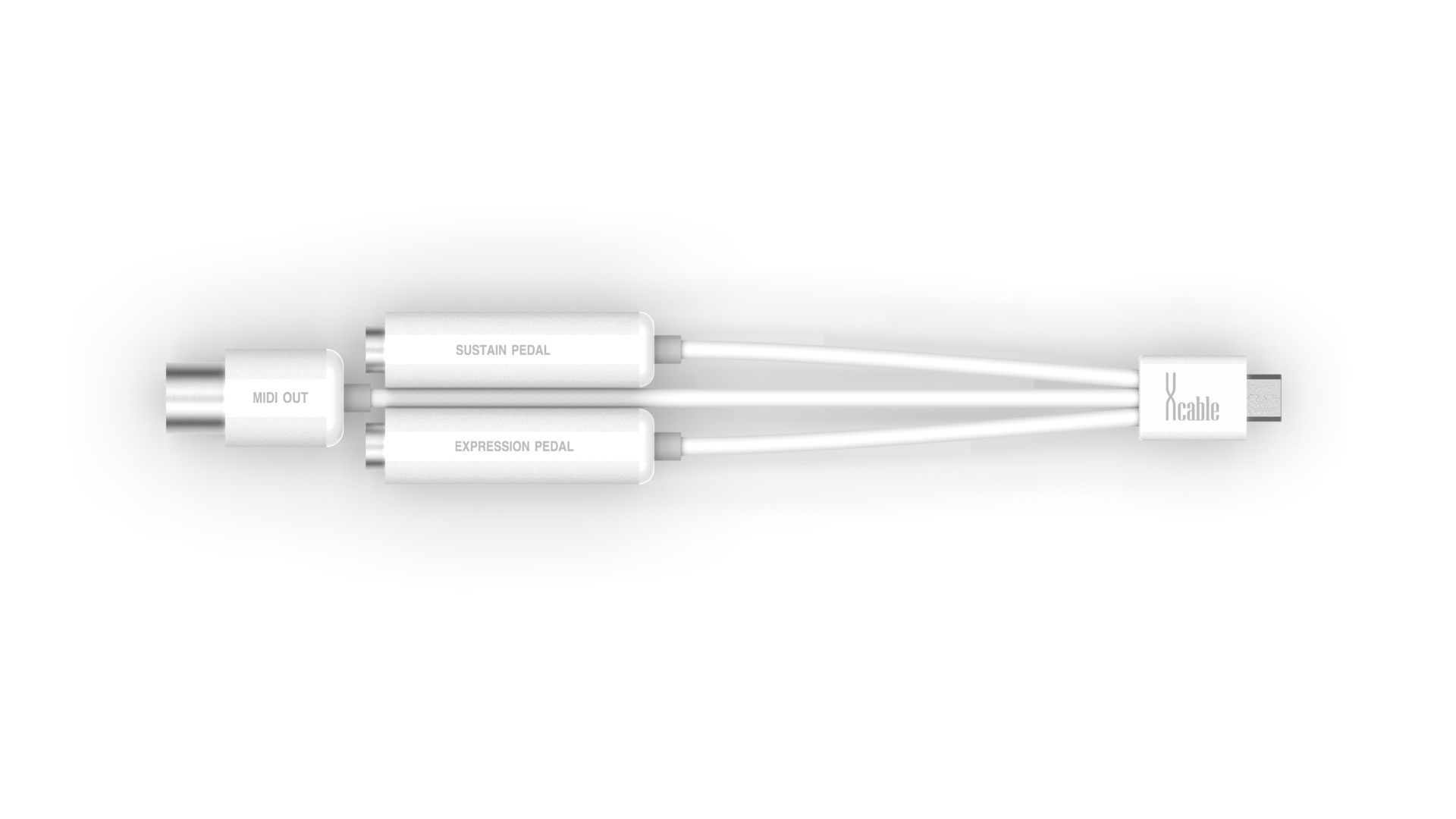 The Fit and Finish

Styled to look pretty much exactly like a MacBook, the Xkey 37 is truly a boutique looking piece of kit. It's both sleek and sturdy. The full-sized keys definitely make warming up with the Xkey a real possibility, and the modulation, pitch-bend, and dedicated octave buttons make performing with one a reality.
I was probably most impressed with how impossibly thin this keyboard is, and yet it's just so sturdy! I've got other mobile controllers that are twice as thick and just don't feel anywhere near as durable as the Xkey. I felt really confident with this thing banging around in my backpack.
In Use
The Xkey 37 couldn't have shown up on my doorstep at a better time. I'm musical directing a pit orchestra for a production and needed one more keyboard with a couple of sounds aside from the rig I already had set up. It was the perfect time to try out the Xkey with an iPad and see if I could create a truly useful rig that fit inside my laptop bag.
I'm happy to say that the Xkey 37 passed with flying colors. Armed with an iPad, the Xkey, and a 1/8" stereo breakout cable I was able to add a second keyboard to my rig within seconds. That's right… seconds! I was up and running in under a minute with a copy of SampleTank for iOS and the extra 3 or 4 sounds that I needed.
I can already see that I'm going to finally begin to integrate my iPad into my performance rig in a meaningful way. Paired up with a professional synth app like Animoog or Jordantron, the Xkey 37 is a beast of a keyboard that can be easily packed, stored, and set up virtually anywhere you want.
Living in the Future
After spending some time with the Xkey, I can't help but be chomping at the bit for more iPad virtual instruments. With the suite of apps from Wizdom Music, we're pretty well covered on the synth end of things; but I couldn't help but start dreaming of MainStage for iOS, Komplete for iOS, and MachFive for iOS. Hurry up, guys!
Price: $199
Pros: Sleek, durable, portable, and 37 full sized keys. I really couldn't ask for more.
Cons: The keys can be a little loud if you hammer away at them, but really only if you're using your iPad's internal speaker.
Website: http://www.cme-pro.com/xkey37/