If you're looking for an uncanny experience of modifying some truly unique synths, tape machines and oscillators, as if you really were in a modular lab, Mociula might be right up your alley. In this review, I'd like to go over Cinematique Instruments' recent release, and why you might want to check it out.
Something Different
The developer is very forthcoming within their manual about the fact that because Mociula is Kontakt-based, there are limitations, in the sense that you can't patch like Reason, Reaktor, Logic, and so on with virtual cables.
This had me a little skeptical at first, as this sounded a little gimmicky and stitched together. However, once I got in and started playing with the patches, and especially when I started layering the patches, I really did find myself transported to a few different high-end modular labs I'd had the huge fortune to get to play in, long ago.
Outside The Box
At the core, there are actually five instruments: Frame, Rise, Row, Scaper and Tape. You are given both default versions of each instrument, all of which appear as multiple devices working together, via graphical representation. While this is kind of a hack, the Cinematique Instruments make the experience both realistic and meaningful, especially when you start layering patches within Kontakt or within your DAW.
Rise is a huge favorite of mine, as it is a very cool Shepherd's tone generator, simulating rising and falling synth patterns, with an internal filter, delay, and a couple of different internal oscillators. Because you can trigger it via MIDI or use it as a generator, it can ultimately become very multi purpose as either an instrument, loop device or sound effect. The delay and filter in their more extreme settings produce some beautiful textures and through MIDI control you can really make them groove.
Row is mind-blowing and is a MIDI trigger-able Step Sequencer with a built in oscillator and some sick effects and filter settings, thanks to its virtually paired Shape Device. I found Row more than helpful for making some very cool melodies and synth lines. While the sequencer does scale based on the MIDI key you are playing, you can also just press the generate button and start building a sequence without the need of a MIDI controller. Also, because Row allows you to limit sequencer steps, it's great for an 8-bit bassline generator.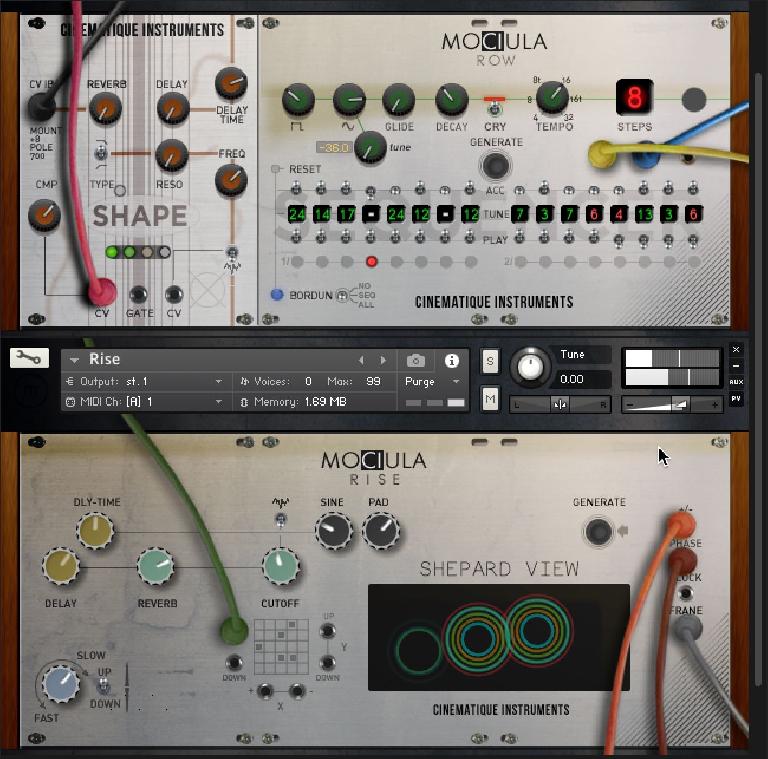 Scaper is a beautiful ambient and texture generator that can also be used as a MIDI controlled module. It excels at nasty to beautiful atmospheres that are great for filling in the background, and adds some definite flavor to a mix.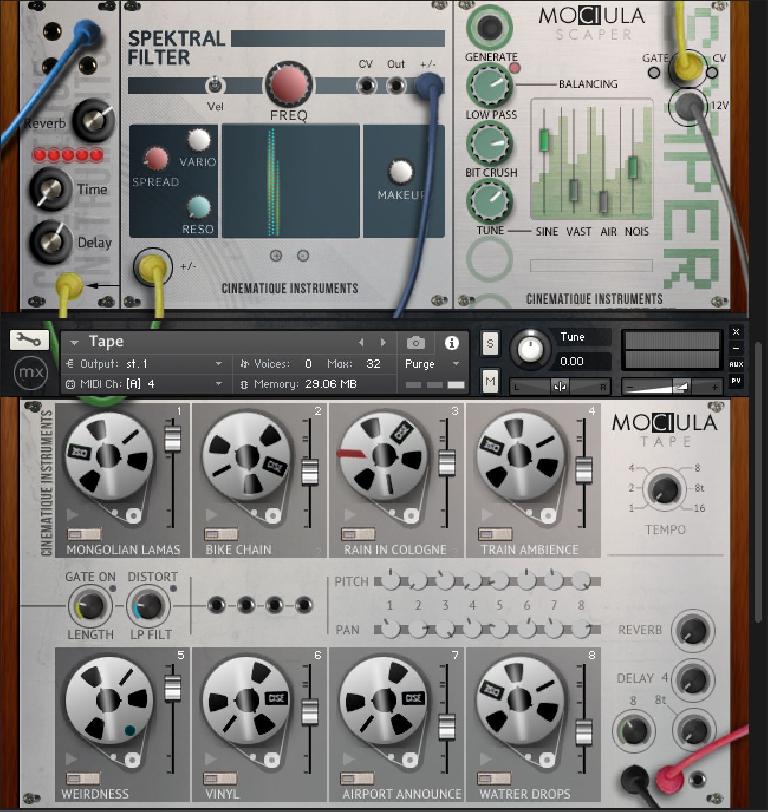 Tape is built up of 8 virtual tape loops, where you can layer different sounds as well as modify their pitches, playback speed and more. This turned out to be an amazing experience for me, as I really enjoyed being able to trigger each reel with my fingertips via MIDI controller, sequence them in my DAW, and then be able to come back and tweak the settings as if I was working with a real tape machine, no pun intended.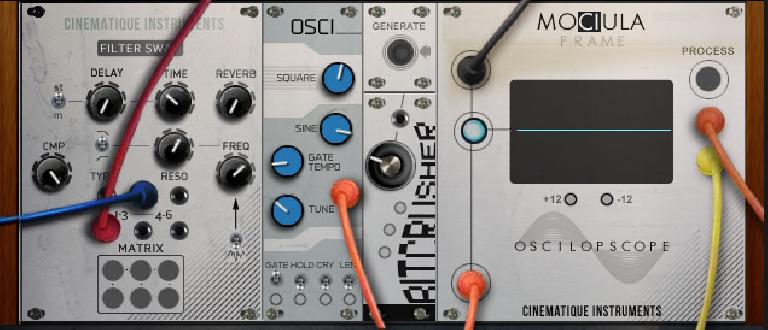 And finally Frame comes in as the main synth with a sick bit-crusher, another delay, reverb and a compressor. Frame actually really blew my mind as it can sound both hard and soft. Like all the other devices within the package, you can just enable the Generate button and suddenly you've got a straight oscillator, away from MIDI control.
Conclusion
I had a great time with the Mociula suite of synths and effects. There's a lot of love and thought that went in to each device, you can tell. Each device has a distinct personality of its own, through sound and visual design. And you don't really need to know anything about Modular synthesis, making it perfect for people who are new but want to add some more complexity to their sound. Sound designers and game developers will also enjoy Mociula, as you can very easily make some very real sounding effects, as many of the instruments include audio from real sources, as well as synthesized sources.
Price: $77 / 72 EUR
Pros: A suite of 5 powerful, MIDI Controlled effect generators and instruments for Kontakt that produces some powerful and eerie sound effects, melodies and textures.
Cons: Kontakt-based only. Can't patch cables.
Web: http://www.cinematique-instruments.com/inst_all.php#mociula