If you can imagine a bread and butter, workhorse synth mixed with a two-track step sequencer that lets you shred up to 12 parameters per step... well, then you've just imagined Marble! I recently got to spend some time with the new brainchild of Cinematique Instruments. And, let me tell you, this is a Kontakt synth that really can easily become a first pick soft synth.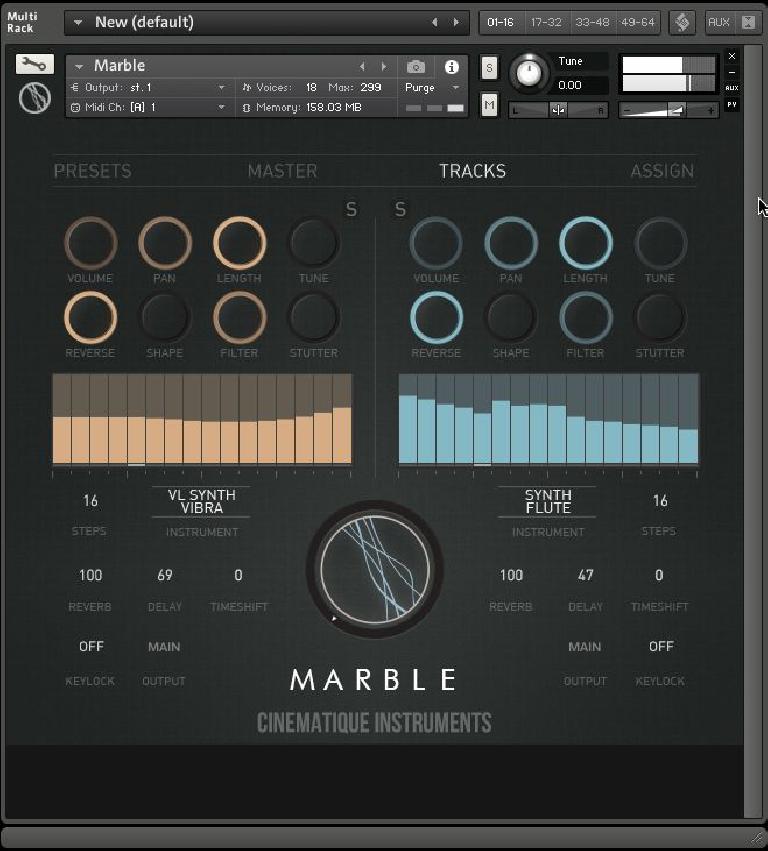 Marble?
One of the big, ongoing dilemmas for producers putting out a lot of content is constantly looking for loops, atmospheres, drum loops, and sound bytes. Now, it's well known that you can buy an endless amount of bundles of samples, sound effects and loop packs, but these get expensive after a while. And, of course, if you're very creative, you probably get frustrated that when you get busy, you're having to use sounds, effects and loops that someone else made, instead of custom work, you did, yourself.
Marble actually improves the situation quite a bit for producers in a few ways. For one thing, it's tiny. It's not a huge sample pack that you need a separate computer to run. While Marble does rely on samples, to some extent, it's actually the effects, samples and step sequencers that really supply the sound and power.
The Knob
The elephant in the room is obviously the big, lightning crested knob in the middle, which can be assigned to a Mod Wheel, or other knobs in your rig. Marble has 900 patches, and while a boast like that doesn't necessarily mean as much as it used to, these patches are something different.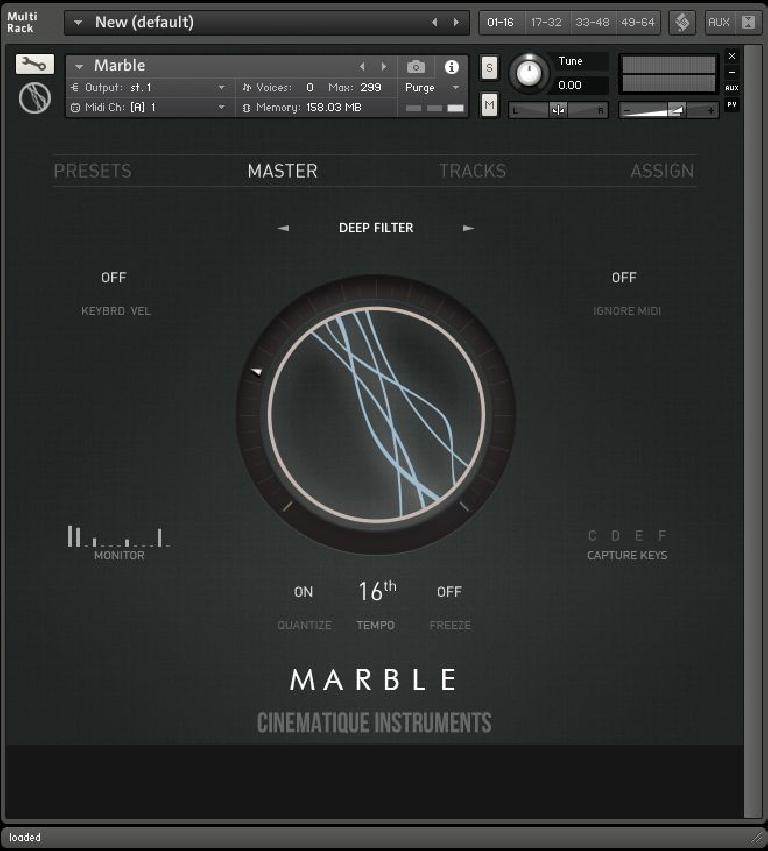 With every patch you load, the main knob has up to 6 or more round robin variations. This effects different patches differently. Drums will get variations, and added effects, like bit crushing, and delays, and so on. Or, a loop might get additional fills. Pads might begin to morph, and climb more, or they may turn into an ambience. And, because it's knob guided, you can constantly morph over time, without having to set up a bunch of complicated routings, yourself. But if you want to get technical with Marble, you can...
Step Sequencers
Every patch is step sequencer driven. And, for some, this may sound a little annoying, as this message, at least for me, triggers the memory of pressing one key and getting a big loop that you can't do anything with. That's not the case here. For example, even instrument patches are all chromatic. So, you can play those chords and it won't sound like a mess, with doubled drums and multiple instruments stepping on each other.
You can mix and match between two instruments, or elements within the step sequencer, and then you can go through and assign up to 12 parameter functions, per step. These parameters/effects includes stutter, reverse, length, and more. All of the patches run through the step sequencer, and it's really one of the first synths I've worked with where I really get excited about using the sequencers, as opposed to getting frustrated with all the steps you have to go through to get a decent melody, rhythm, or what not.
Conclusion
Marble is a solution for studios, as well as the street performer, as with its freeze function, it can be an excellent drone creator, or even a beat machine. Film producers will enjoy the endless stream of fresh content that is so perfectly level balanced between switching through the patches, that you almost swear you're listening to an album, and not a synthesizer. It actually sounds mastered!
If you're looking for a bread and butter synth that sounds amazingly polished and does not rob your processor, and memory, you really might want to look at Marble. Unlike some of the major synths right now, it's easy to get in there and create your own content from what's existing, and it will still sound as polished as the rest of what's included. You can also just enable the freeze feature, and let just capture away!
Pros: Powerful sample based synth that revolves around step sequencing in a fresh new way. Easy on the processor!
Cons: You need Kontakt to use it!
Price: $270