Sample Logic recently released the sequel to its popular Cinematic Guitars library for NI's Kontakt. I've got to say that as a guitarist, I'm wary of any guitar library as most just aren't that good and well, I'm a guitar player! I guess I know how drummers feel now!
After spending an afternoon with Cinematic Guitars, I've got to say that this is anything but a conventional 'guitar' sample library. If anything I felt slightly overwhelmed by the sheer number of sounds this library packs in. It's kind of hard to know where to start!
One thing I'll say before I do is that this is the work of people who care about what they're doing. Not only are the sounds diverse and really well put together, but the clever scripting that's gone into these instruments in Kontakt also gives you a massive amount of tweak-ability and scope to build new patches of your own. So let's dive in and have a look!
The Interface
The interface for Cinematic Guitars is the work of UI maestro Ryo Ishido and is pretty stunning to look at. It also holds a rather perplexing number of features that can be accessed via different pages. Saying that a large percentage of the patches follow the same basic layout that consists of three main panels. These are the Mixer, Trigger and Arpeggigater panels.
The Mixer view is where you'll find the main controls for Volume, Pan, Attack, Decay and the controls to arm the various FX and arpeggiators that are built into the patches.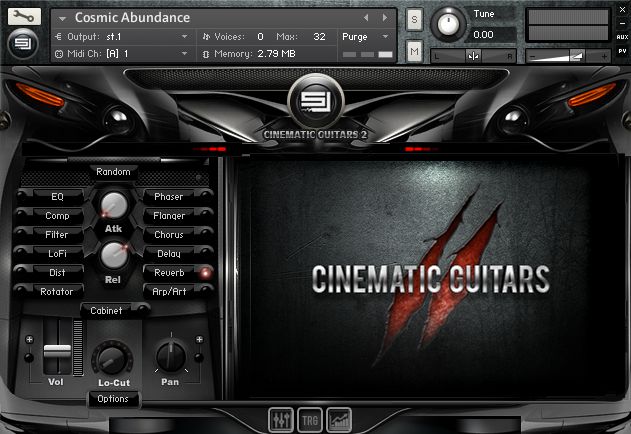 You'll find the various sound categories will have a different look depending on what sampling engine they utilize. Here you can see the display for an Impact patch with the sample waveform.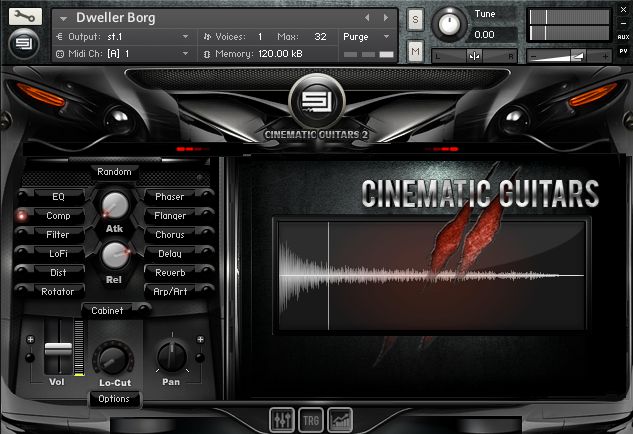 You can open the parameters for an effect by clicking its name. To arm it, click either the LED by the effect or turn it on in the parameter panel.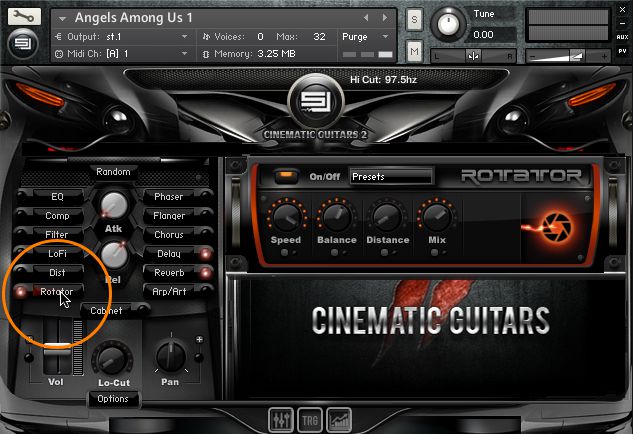 You also have a number of options for polyphony and voice behavior in the Options panel.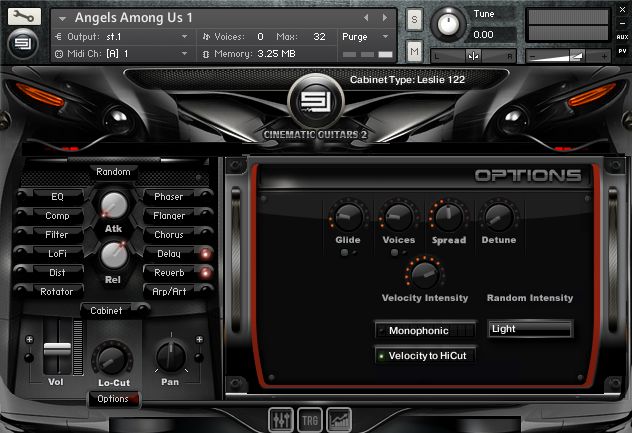 The next panel view is for the Trigger function. This basically gives you access to 48 pre-defined FX patches that can be triggered either using the pads of by a set of key-switches (useful for recording them). You can place the key-switches at either end of the keyboard using the Low/Hi Octave switch.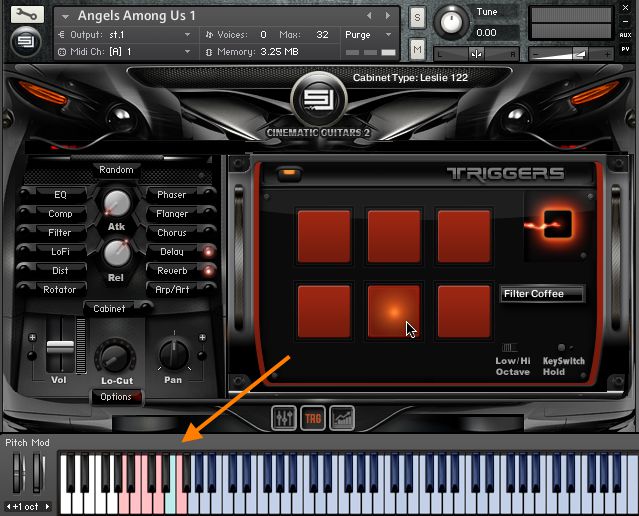 You have 8 presets to play with here. These presets are effectively different Bus channels inside Kontakt. When you change a preset, it reroutes the signal to another Bus which has a related set of effects. Here I'm using Filter Coffee (Bus 4) which has six different filter FX Slots. Each pad triggers an FX Slot within that Bus. Pretty clever really!
Here's a plain synth preset:
If I play my Trigger keys I get this:
There's no reason you can't tweak these internal effects as long as you don't change the FX slots as it might break the scripting. If you're going to tweak, I'd strongly advise saving any patches out beforehand with a different name. That said at least there's room to fine tune these handy trigger effects.
The last panel view is the Arpeggigater! This lets you sequence any of the built-in effects on and off in rhythmic patterns. Each effect has its own lane and you can even sequence the Trigger effects too. The symbols for each effect are a bit cryptic but you soon get the hang of it.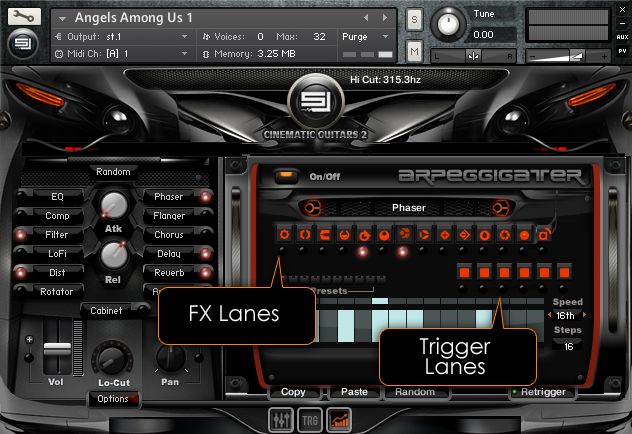 All this allows you to create dynamic rhythmic patches out of the simplest presets. Here's my basic patch with the Arpeggigater sequencing some Distortion and Phaser:
This is a really cool feature and will definitely expand the usage of an already huge library.
Of course that's not the end of the story when it comes to sequencing parameters in Cinematic Guitars. Sample Logic has been at this for a while. You can in fact invoke a sequencer lane for practically every parameter in Cinematic Guitars. Clicking on the small button by a parameter brings up a sequencer lane. You can also choose an LFO if you like. There are presets and Copy/Paste functions too.
This amount of tweak-ability really opens up Cinematic Guitars to virtually endless possibilities. Here's my previous example with some sequenced filter action:
One gotcha you might experience is that the sequencer lane now holds the parameter values and the UI knob for the parameter becomes the strength which scales those values.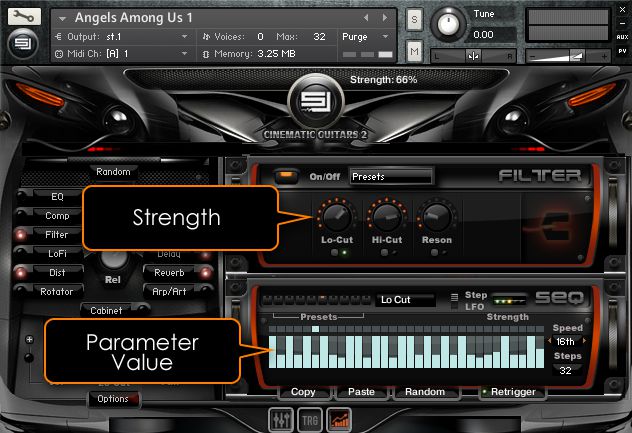 You'll notice the 'Looped' patches have no Arpeggigater.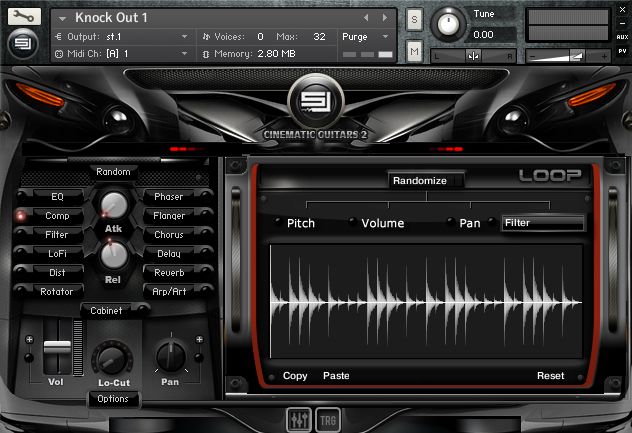 Instead the have sliced based parameter editing for various things including effects. Here you can see volume automation.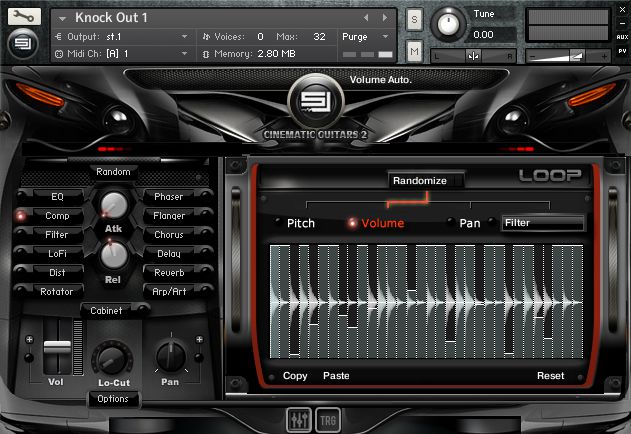 And here Panning.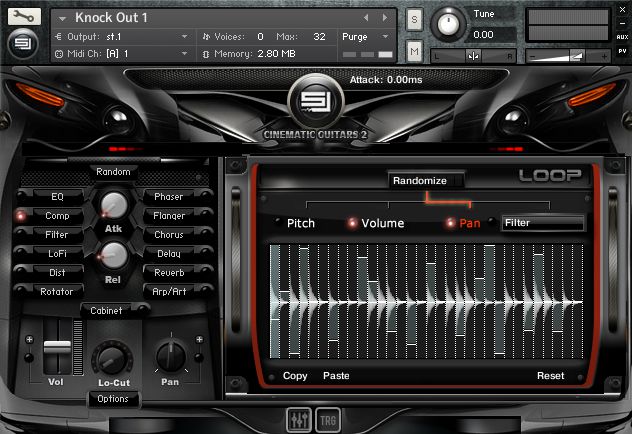 Using these you can turn a regular patch like this...
into this, which has some Lo-Fi and sequenced filter too.
All in all there's lots to keep you busy here!!
The Sounds
With over 1200 patches, it's impossible to cover all of what CG has to offer. What I can tell you is that there are three main categories: Atmospheres, Instrumentals and Percussives.
All contain various sub categories. For instance the Percussives category contains Arpeggiated, Hit Ensembles, Impacts, Kits, Loops and Transitions. Don't forget these are all generated by some sort of guitar sound, whether it's being run over or smashed with a hammer!
In fact for a sample library based on guitars, this is actually quite un-guitary! Some serious sound design has gone into this product and I've got to say I like it!!
There are some nice conventional guitar like patches (some really useful distorted guitars) but I think this library really shines when the guitars are mangled into something more synth/sound design like. There are some really beautiful pads and textures that are great to play. There are also a truckload of fantastic looped material too, from drums to melodic phrases. Each patch is also named with its main controller source like MW(modwheel), AT(Aftertouch) which is handy.
The one part that really makes this whole thing worth every penny are the Multis. You'll spend a lot of time playing with these!! With the ability to assign parameters from any instrument to one of the six macros, this allows you to create some really interesting, playable sounds that are truly massive!!
Here's a Multi called Rules Of The Club. Using some assigned hardware controllers you can effect various parts of the multi to great effect:
I'd totally recommend you check this library out if you're looking for something hi-tech for your scores or productions. The only problem you'll have is actually getting through it all! Sample Logic makes some serious products for Kontakt and this is no exception. With what you get for the money... it's a no-brainer!!
Find out more about Sample Logic's Cinematic Guitars 2.