Back in the '60s when I was playing in rock bands and totally obsessed with British Invasion bands, I wanted to play a little blues harmonica, like my heroes, Mick Jagger and John Lennon. Learning to do some simple stuff on a blues harmonica was easy after a few days practice. However, years later when I picked up a chromatic harmonica that I wanted to play like Stevie Wonder, I quickly realized that it is a very different beast and that it would require many hours of practice to get to a level of ability where I could play it and get a decent result, so I bailed. I have never found a sample library that even scratched the surface of what a chromatic harmonica is capable of in the hands of a great player, like LA's treasured musician, Tommy Morgan. Until now!
Requirements
The Chris Hein Chromatic Harmonica is a Kontakt instrument and requires a full version of Kontakt 5.2 or newer. It will not work in the free Kontakt player. This perhaps accounts for why it is priced at such a bargain, only $146 US (€129), as it has over 3.5 GB of content with 7,000 samples, it uses a fair amount of RAM and for a Kontakt instrument, takes a while to load. The bottom line is that if you have a really old, slow computer with very little RAM, you may struggle with this. That said, any reasonably new computer with a decent amount of RAM, will handle it just fine. Chris has, however, provided buttons that allow you to unload or load all the demanding memory controls so that if you only want a single articulation, e.g., the sustains, you can do so and save it as a separate instrument.
What You Get
When you purchase the Chris Hein Chromatic Harmonica, you get a single instrument with a four-octave range, up to eight dynamic layers that blend really seamlessly. It features fourteen articulations that you can keyswitch between, with four "Dynamic modes." You can see the keyswitch map right on the GUI.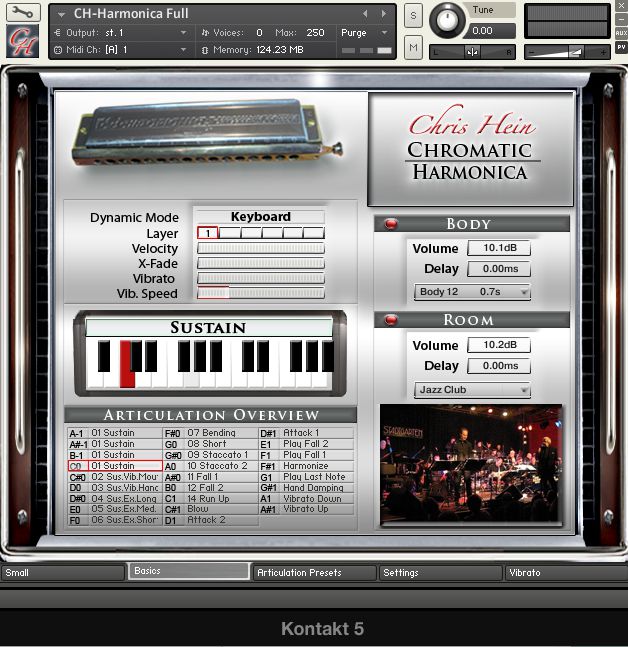 Pic 1 - The keyswitch map
Although they are pre-assigned, you can easily reassign them to keyswitch assignments of your own preference. You can also determine how you want them to behave: remain on the articulation until another keyswitch is pressed; remain only while the keyswitch note is depressed; articulation change only for the next note and then revert to previous keyswitch. So far, I am mostly using the first option but it is early days in my practicing with it yet.
It also has a suite of built-in DSP effects, including two independent convolution reverbs with a wide range of presets, as you can see in Pic 2. Personally, I shut them off and send this to my UAD Lexicon 244 plug-in and the sound is glorious, but the included reverbs are quite good. You also get a delay, chorus, phaser, flanger, compressor, filter, and EQ.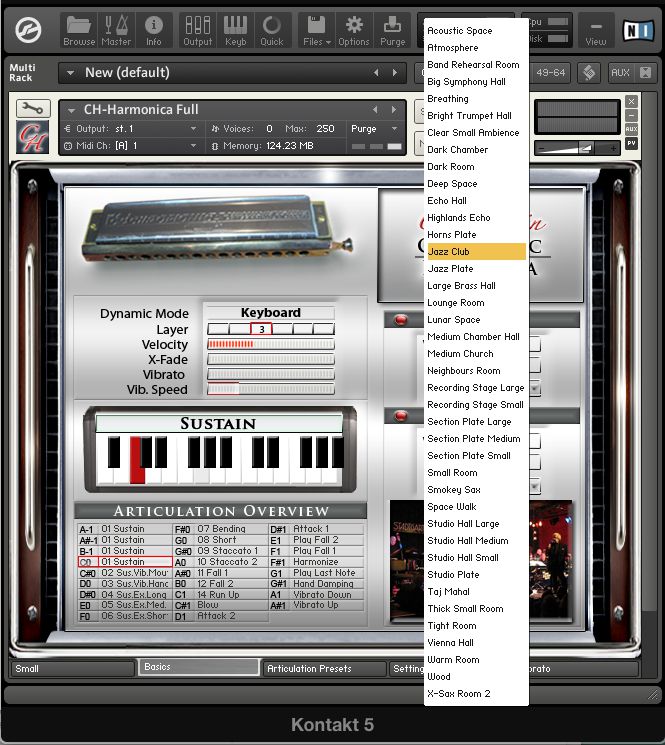 Pic 2 - Lots of reverb presets to choose from.
Determining the Instrument's Behavior
There are several behaviors you can choose to control how playing from your MIDI controller-keyboard affects transitions through the dynamic layers. You can choose to have only the played velocity determine this by choosing "Keyboard." You can have it controlled by MIDI CC, CC11 Expression by default, by choosing "X-Fade." You can use a combination of the two by choosing "Key & X-Fade." "Auto X-Fade" performs an automatic volume curve relative to the played velocity. You can even draw in your own curve!
These choices, and others, are made in the Articulations Presets page, which is where you will be spending a lot of your time, at least in the beginning. See Pic 3.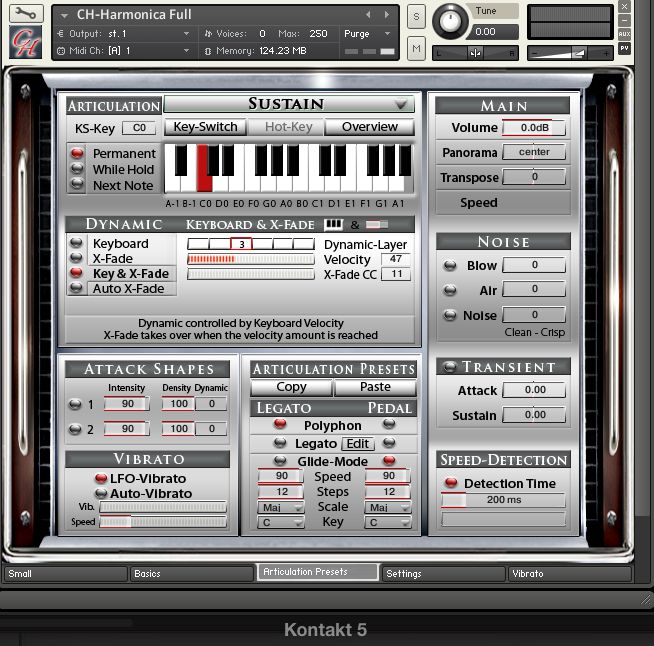 Pic 3 - The Articulations Presets page
Not enough control for you? How about vibrato? On that same page, notice that you can choose between LFO-Vibrato, which means it is controlled by CC1, usually with your modwheel, or Auto-Vibrato. If you choose the latter, you can go to the Vibrato window that you see in Pic 4, and create your own presets for speed, volume, tuning, and EQ. Optionally, you can play the vibrato manually on your keyboard with the Vibrato Hot Key.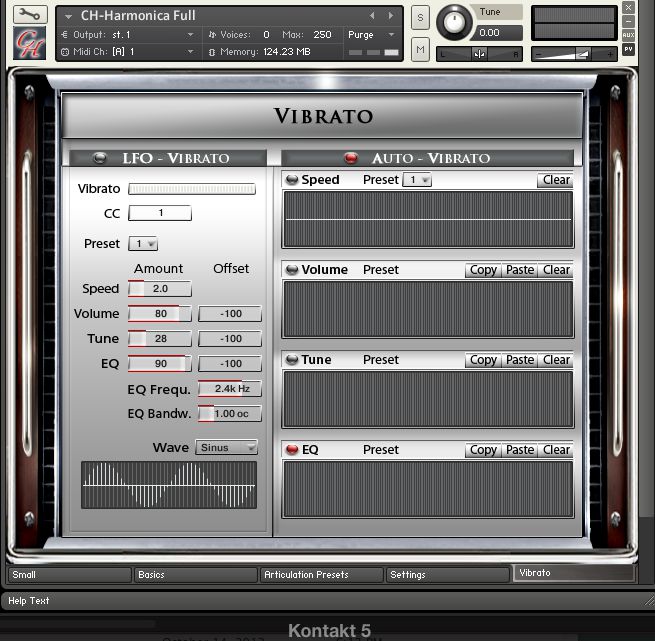 Pic 4 - The Vibrato page
There is also a Transient Designer included, which is essentially another kind of compressor and there are controls for attack shapes and speed detection. It is endless. This instrument will pretty much behave any way you want it to after you have configured it. The amount of preferential control is as great as any sampled instrument I have tried.
Playing the Chromatic Harmonica Instrument
Chris has given us an instrument that is simply a joy to play. If you are in Legato mode, holding a note and playing another creates a smooth transition that sounds very believable, while Polyphonic mode turns this off so you can play chords. There is a Glide mode also, that creates multi note passages definable by your choice of key, scale, speed and number of steps. Best of all, you can trigger it on and off by playing your sustain pedal. Simply brilliant!
Chris has given us an instrument that is simply a joy to play.
However, what separates this library from the others I have tried is that all the nuances that make a great chromatic harmonica performance are available. Look again at Pic 3 and notice that you can add "Noise" – the sounds of blowing, air, and grit, with the Noise setting. Also notable are the "Sustain Expressive" patches, long, medium, and short. My favorites so far may be the Sustain Expressive Mouth and Hand articulations.
Now see Pic 5 for another articulation overview and notice that there are "falls"(also assignable to Pitchbend), hand damping, bending, harmonizing, vibrato up and down. Notice that all these can be assigned to keyswitches (KS) or Hot Keys (HK). The combination can be really powerful as it allows me to, for instance, when in Polyphonic mode being playing a sustain with vibrato articulation and have it switch temporarily to playing octaves by holding a Hot Key. Fantastic!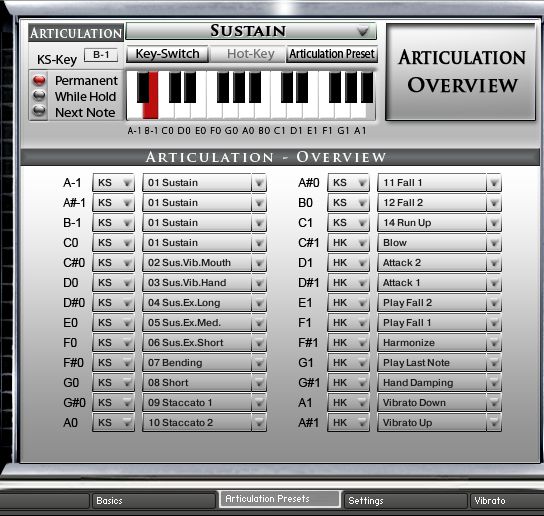 Pic 5 - The Articulation Overview
Oh, and did I mention that you can set up an Ensemble of 1-5 instruments with determinable spread and detuning and a Micro-Tuner with twelve Micro Tuning presets, in addition to being able to build your own? See Pic 6 and Pic 7.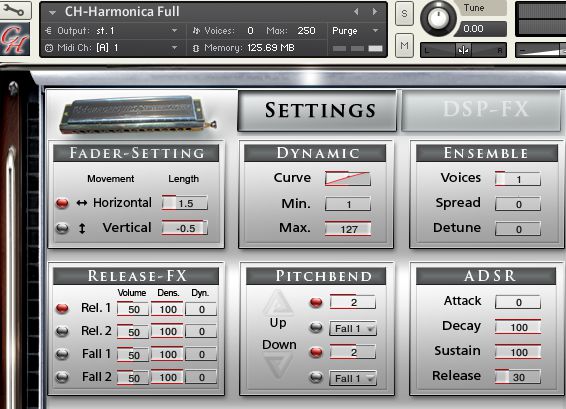 Pic 6 - The Settings page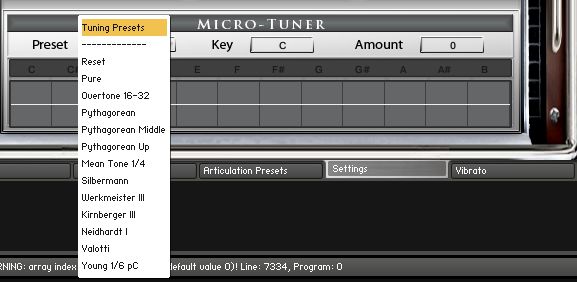 Pic 7 - The micro-tuner presets
Conclusion
This is one of those rare examples of a library that really has no competition and that many of us have wanted for a long time. If you do not play chromatic harmonica and you do not live in LA, or you do but cannot afford Tommy Morgan, then this is a library for you.
Web: http://www.chrishein.net/web/CH-Harmonica_Overview.html