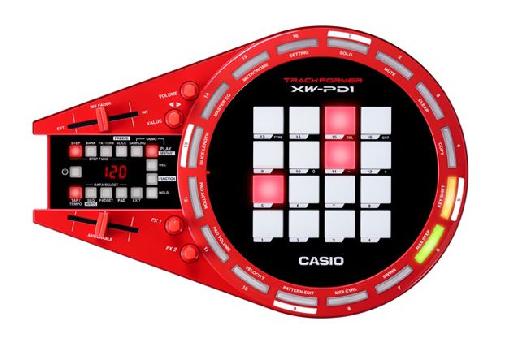 Casio's newest Trackformer XW-PD1 Groove Center is an all-in-one remix and beat production center, with a unique circular design. It works as a sequencer, synthesizer and sampler and allows producers to easily build rhythms and and compose melodies quickly. I was thrilled when Casio asked me to help demonstrate their new Trackformer series at both the NAMM and CES Shows 2015, and was eager to find out how the Groove Center could be used in live performances and in the studio. Here's my take on this one-of-a-kind controller.
Layout and Overview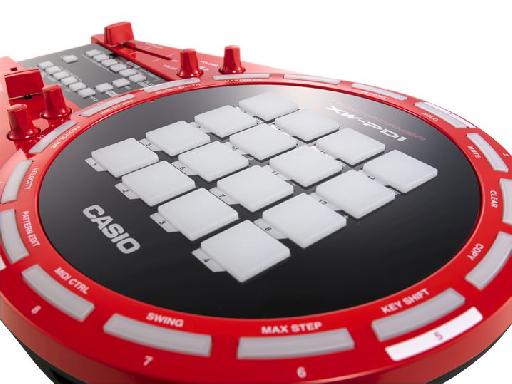 I'm not sure exactly sure who at Casio came up with the idea to give the XW-PD1 a circular design, but it sure was a good idea! The Groove Center's main programming area features a 16 step sequencer and 16 velocity sensitive pads. The design makes the Groove Center fun to play, and gives it a look that's different from the rest of your gear.
The Groove Center is lightweight and portable and can be powered by batteries and taken with you on the go. It also features its own internal speaker, so no matter where you are, you can be jamming and creating.
On the far left, you'll find buttons for Step, Bank, Pattern, Slice, Sampling and Play, and rotary knobs that allow you to control the Volume and the Groove Center's Values. There's also a small numeric digital display area, and below it buttons for Tap/Tempo, Seq/Write, Pad Set, Pad and Exit. On the right-hand side of the digital display are controls for Record and Function.
There are two faders located on the Trackformer XW-PD1; the top fader allows you to blend between an external sound source and the internal sound, and the bottom fader gives you a scratch-like sound effect. The fader on top is especially useful for when you're balancing volume levels between an external sound from a source like a DJ controller and the levels of Trackformer's sample library.
Two Ways to Play
There are two main ways to use Trackformer XW-PD1. The first method is to program your rhythms with the sequencer, then recording the basslines and melodies in real time using the pads and lastly apply effects on top. The second way to creatively use Trackformer is to input audio from an external sound source (you can input anything from a microphone to an iPhone to the Trackformer XW-DJ1DJ Controller) and jam on top using samples and apply effects. Both ways are equally enjoyable, and offer aspiring and pro beat makers a new way to make beats.
Features
One of the best features of the Trackformer XW-PD1 is the 16 step sequencer, which allows producers to program new rhythms easily and intuitively.

One of the best features of the Trackformer XW-PD1 is the 16 step sequencer, which allows producers to program new rhythms easily and intuitively. This allows you to visually program your rhythms, and create patterns quickly and intuitively. The sequencer's circular shape makes it especially fun to use!
The 16 pads in the middle of Trackformer can be used for programming drums and melodies and Casio has provided a large sample library of four banks of samples, which is a good starting block for building beats. The internal samples are especially useful for creating music in genres like EDM and trap. You can also load in your own samples using the data editor on your Mac or PC, and drag and drop samples and sounds into Trackformer. I believe Trackformer's true potential is unlocked when you start to use your own samples to compose beats and remixes, and hopefully we'll see many producers start to integrate the Groove Center into their own live performances this year.
Trackformer XW-PD1 contains over 150 effects that producers can use to make their performances more expressive. This big list of effects ranges from low-pass to high-pass filters, to flangers and delay to LFO panners and Gates. The long of effects is quite impressive and can be applied to either the internal audio, or external audio sources. There's also two rotary knobs on the bottom left hand of the controller that change the FX parameters and can be used to really spice up a performance.
Making Connections
On the side of Trackformer XW-PD1, you'll find a USB port, a Line In and Mic In, as well a volume control for the Mic. There's also an RCA line output, so you can plug Trackformer into a larger stereo system or DJ mixer. There's a headphone jack, and a DC power connector. Trackformer can be powered either by batteries, or by the traditional power supply.
Sampling
One of the cool features of Trackformer is its ability to sample sounds. You can plug a microphone or other audio source into Trackformer, press the Sampling selector button and sample for approximately three or nine seconds. Samples can be assigned to particular pads, and used in sequences.
Modes and Getting Started
It's easy to begin creating beats on Trackformer; to begin you select the sample you'd like to start with and enter into Step mode. You then program in your rhythms and notes, either by using the sequencer or by recording your notes in real time, using the Record mode and playing the pads. Sequences can be saved into Trackformer's internal memory.
Bank is located next to Step, and can be used to select a different sound bank. There are four banks of sounds available for use, either with Casio's preset sounds or your own original samples.
The next mode is Pattern; Trackformer gives you eight different patterns to use. You can program from one pattern to eight patterns, and the patterns can be put together to form mini-songs. The pattern order can also be re-arranged and re-ordered on the fly, which is a helpful feature for live performers who like to improvise.
Lastly, the Slice mode enables users to slice the sequence data or external audio using the step sequence keys.
Creative Uses
There are many different ways that the Trackformer XW-PD1 can be put to good use, including loading up your own samples to create an original track, using the pads to jam along with a DJ set, or even as a MIDI controller. The possibilities are really up to you and Trackformer's unique futuristic design will inspire you to create some new music!