Alchemy Mobile is the iOS version of Alchemy, Camel Audio's flagship synthesizer. Alchemy probably holds the record for the synthesizer with the most synthesis types under one hood. Subtractive, granular, additive and spectral synthesis are all on offer. It's an impressive instrument on all levels. Alchemy Mobile is essentially a player for Alchemy presets with a few neat tricks up its sleeve.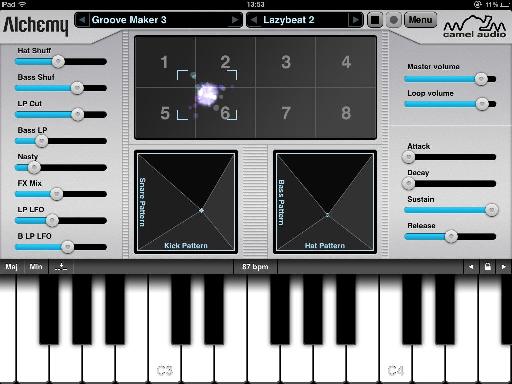 The simple looking interface hides a highly sophisticated synth engine.
The best way to describe Alchemy's sound is cinematic. A lot of the presets sound BIG. This is due to its ability to playback very complex patches which are made up from any combination of sound sources. These can include any of the aforementioned synthesis types. These giant combo-patches can then be mangled and effected in a myriad of ways. The catch is that Alchemy Mobile cannot edit these patches in any deep and meaningful way. Instead the user is presented with a set of performance parameters which can be edited on the fly.
In fairness, these performance controls can twist and change a preset in almost limitless ways, but that decision making has been done for you by the preset designers. As well as a tweakable amplitude envelope, there are twelve parameters which have been chosen to best suit the preset (each one can actually control multiple destinations under the hood). Four of these are assigned to two X/Y pads and the other eight have their own slider controls. All twelve can be controlled en masse by something Camel Audio call the Remix Pad. It consists of eight squares, each of which contain a snapshot of the performance parameters. Dragging your finger over the eight squares smoothly morphs from one snapshot to another. It's a very expressive controller and is really at home on the Apple touchscreen.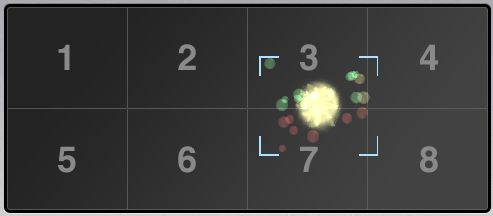 The Remix Pad is the key to playing expressively.
To make jamming more fun, Camel Audio have included a loop player, which comes with 25 drum loops. These can be played back at any tempo via good old fashioned pitch shifting. There is also a basic recorder which will capture a performance and play it back.
Updating
Alchemy Mobile can be updated and improved in a number of ways via in-app purchases. The biggest update is the "Pro Upgrade" which adds a number of useful features - load/save of tweaked patches, virtual MIDI, WAV and MIDI export. MIDI sync, polyphonic pitch bend (very cool!), 125 extra sounds, 50 loops and more. Then there are a number of very reasonably priced sound libraries which contain 50 sounds each in a variety of genres and styles. Lastly, by simply signing up for a Camel Audio account, you can download 25 free presets.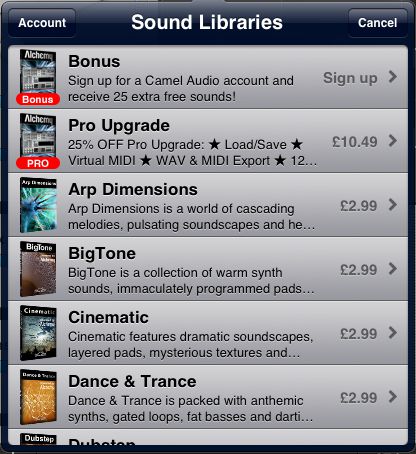 Preset packs and the Pro Upgrade are available within the app.
Summary
Alchemy Mobile represents something genuinely different on the iOS platform. The sound reflects the product's lineage from a mature pro-audio instrument. The lack of in-depth editing may bother some, but the performance controls allow an impressive degree of manipulation in each preset. The Pro Upgrade is worth the investment, not only because it greatly increases the size of the sound library, but also because it unlocks some very useful pro-audio features. You may find however that the free version suits you just fine. Either way, Alchemy Mobile should be on your download list.
Alchemy Mobile is available in the App Store for both iPhone and iPad and is FREE.