Cakewalk is one of the few remaining major DAW developers that hadn't made an iOS app '" until now, that is. You might not be surprised to hear that it isn't actually related to the company's flagship DAW, SONAR, since that's Windows-only. Instead, it's a standalone mashup and performance tool for loop-based performance. Weighing in at a shade under 150 MB, it comes with a selection of up-to-the-minute loops and costs $4.99 / £2.99. In-app purchases let you add more sound packs for £1.99 / $2.99 a go. You can also import your own loops via Dropbox and though this works well, it's a shame there isn't a Wi-Fi server option for this purpose too so you could do everything locally rather than relying on Dropbox.
The app is pretty straightforward and has a Browser section on the left with loops sorted by style. You can tap any one to preview it and drag and drop it onto any of the nine pads. Tap to play each one and it will start in time with anything else that's already playing, based on its trigger mode. So you can have a pad retrigger, tap to start and stop and so on. You can also set the global resolution so that loops begin at points other than the start of a bar.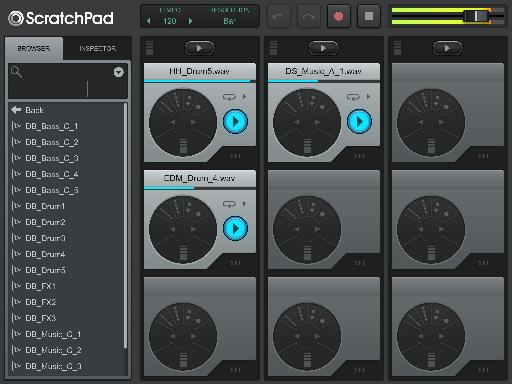 Drop loops onto pads, buy more loop packs or add your own via Dropbox sync.
Scratch that
All the loops sync up of course, and each pad has a set of playback controls. Along the upper edge of each controller is a set of four repeater buttons. These will stutter the loop at intervals of 1, ½, ¼ or 1/8 beat so by moving your finger between them, you can get that classic EDM stutter effect. At the base of the controller is a tape stop slider and running your finger down this will do a sort of vinyl stop effect on the sound. This button is duplicated at the top of each controller too, presumably for easier access. If you rub your finger left and right across the middle of a controller, you can scratch the sound. All of these buttons, when released, restart the sound at the correct point in time, so you don't slip out of time. As such you don't need to be a skilled DJ to use this effectively.
Each pad has an inspector section where you can use an XY pad to control a filter and there's also play mode, level and pan control. There's a master fader at the top and undo / redo buttons as well as the ability to record a performance to an audio file for sharing.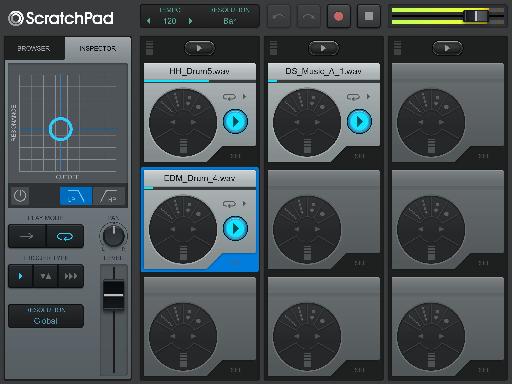 Use the Inspector panel for any pad to modify its settings.
Final thoughts
Scratchpad HD is a fun and accessible app, and for the price it will appeal to musicians of all levels. There are a few things I'd like to see added though. Some effects would be nice, perhaps a delay and bitcrusher, that sort of thing. And it should also be possible to freeze an effect like stutter on so you can get really creative and not be limited by the number of fingers you can realistically use. Further down the line, a way to automate envelopes, say for the filter, would be really nice too. I'd expect to see improvements added and in the meantime, have a play. It's not going to break the bank.