Cableguys' free plug-in PanCake 2 offers a different take on the well-known effect 'auto-pan'. Whereas your stock vanilla autopan is limited to panorama sweeps controlled by an LFO, PanCake offers a custom LFO shape in the form of a modulation curve which is superimposed over a real-time audio waveform. This modulation curve can be edited like any modern DAW's automation, making smooth bezier curves through to abrupt square waves easy to achieve and as complex in sequence as you care for. Step-editing can also be achieved so there are many ways to approach your 'pan design'.
Wide Band
PanShaper takes on all the features of PanCake 2 but duplicates them across a multi-band set-up. Though the LFO type and rate is global, three bands have their own modulation curve and width amounts for individual tweaking, so one to three different pan patterns can be applied to one sound. When it comes to using auto pan plug-ins as a stereoizing tool over a special effect, you need to balance between the original signal to keep its integrity and the amount of pan movement applied. With a multi-band set-up like PanShaper, much like a multi-band compressor, it's easier to be more liberal in your application and instead narrow down its effect to certain frequencies to keep this balance.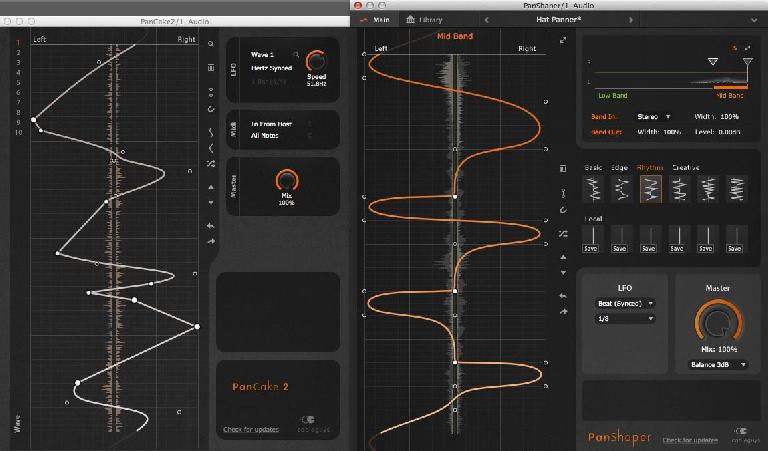 Side-by-side it's easy to see the main differences of the free plug-ins PanCake 2 (left) and PanShaper (right). Additionally PanShaper has a preset library (and online sync for preset sharing), band-split with width controls per band, a selection of default modulation curves, user modulation curve storage and a more comprehensive LFO section including MIDI triggering.
LFO Power
The heart of PanShaper is the LFO which runs in 'beat' mode for perfect musical measures and accuracy or 'hertz' mode to more timing options and a less 'grid' orientated timing—these are great for adding a funky groove. The LFO can be triggered by the transport of your DAW, or by MIDI as a continuous loop of the modulation curve or a one-shot per MIDI note played. So although hertz measures usually suffer from repeatable timing, much like a re-trigger able oscillator in synthesis, your LFO rate can be relied upon to perform the same way from one playback to the next. Triplet grid spacing can also be enabled behind the modulation curve so this, like all Cableguys' plug-ins offer a deep level of control and edibility. Within each preset, six user curves can be stored and selected with the mouse or via automation. I tested all major parameters in Ableton Live for PanShaper and they all registered so there seems to be no limitations on any creative abuse you may think of. For example, variables like LFO behavior modes and band-split cutoffs can be changed dynamically within your work via automation.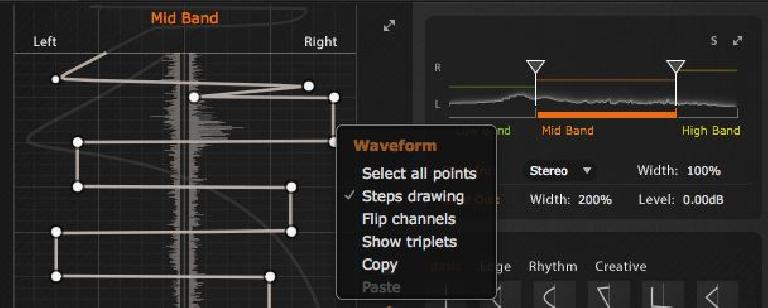 Step Drawing can be applied just like a step-sequencer which makes rhythmical work very easy to realize.
Application in Practice
Though there is an online manual, the help text box within the plug-in contains enough information to tell the user what everything does as the mouse passes over each parameter and area of the GUI. The cross-over filters for the band-split can be set to either a 6 dB or 12 dB steepness curve with the latter being great when trying to be very specific on where you want to apply your pan with a sound. For example, I use this to create a stereo effect on a snare drum within an audio drum loop. It's useful to create pans to specific frequency areas this way when you want to keep everything else un-panned but there's a lot of creative potential when using vastly different modulation curves per-band, notably when designing sounds like special effects when the pan can be more of an extreme feature. Though frequency bands can be soloed, I often desired to bypass the band to see how far I'd gone from the original so I hope Cableguys take this on as a future feature request.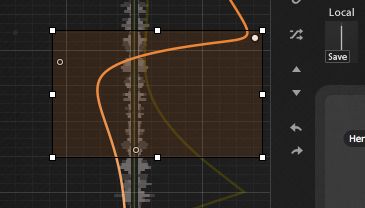 With a Shift + Left-Click and drag, you can highlight multiple points of the modulation curve and either move them around or skew the highlighted content skew by reshaping the surrounding box.
Overall, when I'd normally reach for auto pan for subtle stereo work I can see myself using PanShaper instead to offer more individuality per sound treated in the mix. The LFO can go up to incredibly fast rates in hertz mode which along with the modulation curve possibilities allows you to create stereo amplitude distortion. This can range from a pure tube-esque saturation sound through to a broken digital sampler, all with a customizable sense of stereo spread.
Look over The Sound Tutor's shoulder as he uses PanShaper to add stereo width and amplitude distortion to a snare drum within a drum loop:
Price: €34 / $39
Pros: Great for adding stereo interest to fully mixed or single elements in a mix, the editing tools are incredibly easy to learn and use, LFO can DAW sync'd or triggered via MIDI, fast LFO rate in hertz mode up to 5.24 kHz, independent modulation curves and width control per-band, 6 dB and 12 dB crossover filter options, available in VST and AU formats.
Cons: One global LFO to control all modulation curves per band, no band bypass option.