The long awaited inclusion of third party devices in Reason has finally landed in the form of Rack Extensions, the sky is much wider for the usage and development for Reason. With the growing number of developers filling up the roster of Reason development now, to include Korg, Sugarbytes, FXpansion, and more, you know that Reason is going to be a crazy, little, virtual studio within the next two years.
Though, I must say that I'm really thankful that Propellerheads opened development up to more than just the seasoned pro. There are a lot of Reason tweakers out there that have more than enough knowledge of the inner workings of Reason, its workflow and, ultimately, the tricks that allow you to get even more out of Reason.
Thankfully, the call was answered, as well. Peff.com, which has been a long time Reason resource and semi-personal page of Kurt Kurasaki, jumped off the sideline immediately when the opportunity became available. What Kurt and Hayden Bursk accomplished in the meager amount of months before launch is simply astounding. And, to make matters more interesting the Brother's Merkle (Thomas and Wolfgang), who are responsible for all the Reason graphics, actually did the graphics for Peff.com's first outing.
So, how does a true, fan-made Reason device operate? Marvelously!
Buffre
Kurt and Hayden have graced us with a product that is greatly akin to plug-ins like Stutter Edit, and the Finger, but it really does make its own footprint.
Buffre is a playable sample buffer that holds temporary audio data as it passes through its input. When triggered by a MIDI keyboard, Control Voltage, or the front, faceplate button, labeled Manual, Buffre plays back portions of the audio signal as a loop. On a MIDI keyboard, the higher you go up your MIDI keyboard, the shorter the audio loops become. In fact, in the higher registers and with the addition of the Randomize knob, you can pull of some amazing, granular textures that will blow your mind.

The overall result in the described technology above is a very cool loop and stutter device that has been missing and sorely needed within Reason. But, it also goes a little beyond its competitors that reside outside of Reason.
Comparisons
In comparison to either Stutter Edit, or the Finger, Buffre is much more straight forward in terms of programming. There's no need to go in to some sub-menu to find a particular function, everything is on the front panel. For example: To reverse the audio signal, a function that has been almost impossible to do in Reason, outside of rendering audio and actually reversing it, you simply press the Reverse button. When pressed, the audio signal is completely reversed when triggering. You can do this during a trigger and you won't even get a hint of a system shudder.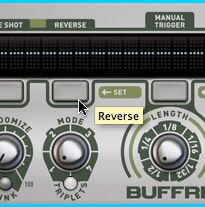 Also, Buffre, like all other Rack Extensions, has a back plate with Control Voltages aplenty. In the back of Buffre, you have the expected Gate and CV inputs, which every MIDI controlled device in Reason will always have. These valuable inputs ensure that you can use the Matrix, Thor's step-sequencer, and RPG-8 to gate control and pitch control Buffre. But, beyond this expected addition, you have added control voltages from the true master of Reason's control voltage Kurt Kurasaki. Seriously, he wrote several books on the Reason control voltages, if he added them in, there will be more than a few tricks to each one.
Conclusion
Buffre is a first step for the fanboy in to the world of Reason, it can be used for regular looping, so if you're a guitarist, you may want to at least download it and use it for the allotted demo time allowed till it expires to see if you might get some usage out of it. For the DJ, Hip-Hop, Glitch Hop, Dubstep, House, Techno, Pop, and anything else... Check out Buffre, it opens up a myriad of possibilities in Reason... Big time.
Download Buffre from the Propellerhead Shop here.
Learn this Rack Extension's darkest secrets in the Reason 6 202: Buffre Video Course by G. W. Childs here.