If the last few years have taught those of us in the audio industry anything, it's that hardware is back and in a big way. Yes, software is producing some amazing sounds, but manufacturers are packing more and more power into smaller packages and the GT-1000 Core is a perfect example of this. Boss managed to cram the full DSP power of their flagship GT-1000 guitar effect system into a unit small enough to fit into the front pocket of a guitar gig bag. I spent a few weeks with it to see if it stacks up.
Core Build
The first thing I noticed after unboxing the GT-1000 Core is how pro it felt. This is a compact piece of gear, yes - but it is definitely built to last. The GT1kC (that's what we're calling it now) sports an all metal shell with strong foot switches and textured knobs that very satisfyingly 'click' into place with the smallest rotation. The knobs all function as clickable buttons, and the more important menu/write/navigation buttons are recessed so you won't accidentally step on them while picking a sound. There are three foot switches dedicated to navigation and a single control per patch.
The I/O on the rear is clearly designed so that the GT1kC can live in your pedalboard and be routed appropriately alongside your favorite hardware additions. There are stereo inputs and outputs, as well as additional expression / control pedal inputs. Dual send/return jacks round out the GT1kC's offerings - once again making it convenient to slot into your existing pedal setup.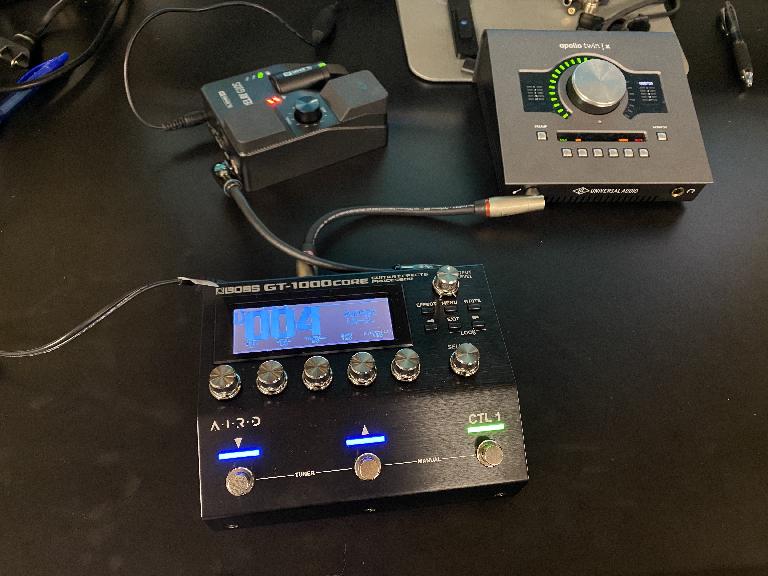 The Sound
I immediately went to a few different presets to see what Boss envisioned the GT1kC bringing to guitarists. I was very pleased with the amp simulation and clarity of the drive effects, as well as some of the more esoteric offerings like guitar-synth patches. Check out some quick samples below, which were recorded directly into the audio interface with a Les Paul Studio.
Sound Examples:
Shimmer:
Drive:
Lead:
Synth:
I was quite impressed with how BIG this little package sounded. Typically with a device this small, the DSP is a bit limited and the first place that shows is in the amp simulation. With the full power of the GT1000 behind it, the GT1kC absolutely delivers a 'flagship multi FX pedal' sound in a very tiny package and I am here for it. The AIRD tech absolutely shines, and the amplifiers respond very dynamically to strumming and they really feel like they are 'there'.
Programming
Programming the GT1kC was fairly straight forward, and I found that entering in data with the clickable knobs was simple and satisfyingly accurate thanks to the clicks. Moving tones around and saving them was simple, and I found myself working within the '3 foot switches instead of 10' constraint fairly easy to adapt to.You can also easily load up more functionality, presets, and AIRD impulses with the Mac/PC editing app.

Conclusion
The GT1kC is an absolute beast of a processor packed into a piece of gear small enough to carry around in one hand. It fills the niche for sure of folks who want the sound of a flagship monster pedalboard without the price or size/weight. If you can live without the control of 10 foot switches and a pedal (which you can always add back in externally) this is the guitar FX system to beat.
Price: $699
Pros: Entire DSP power of the flagship GT1000 in a package less than half the size, great presets, 'clickable' knobs make entering data easy, great build quality, very nice amp simulation, easily programmable
Cons: Clickable knobs (which I like) can sometimes make it tough to scroll to higher numbers quickly.