A huge part of the attraction in using the iPad as a musical device is the multi-touch screen. That seems like an obvious statement, yet many apps stick to the traditional paradigms of using knobs, sliders and other "real-world' control devices emulated on screen. Borderlands Granular aims to change that, with a futuristic user interface designed to make the best of the iPad screen.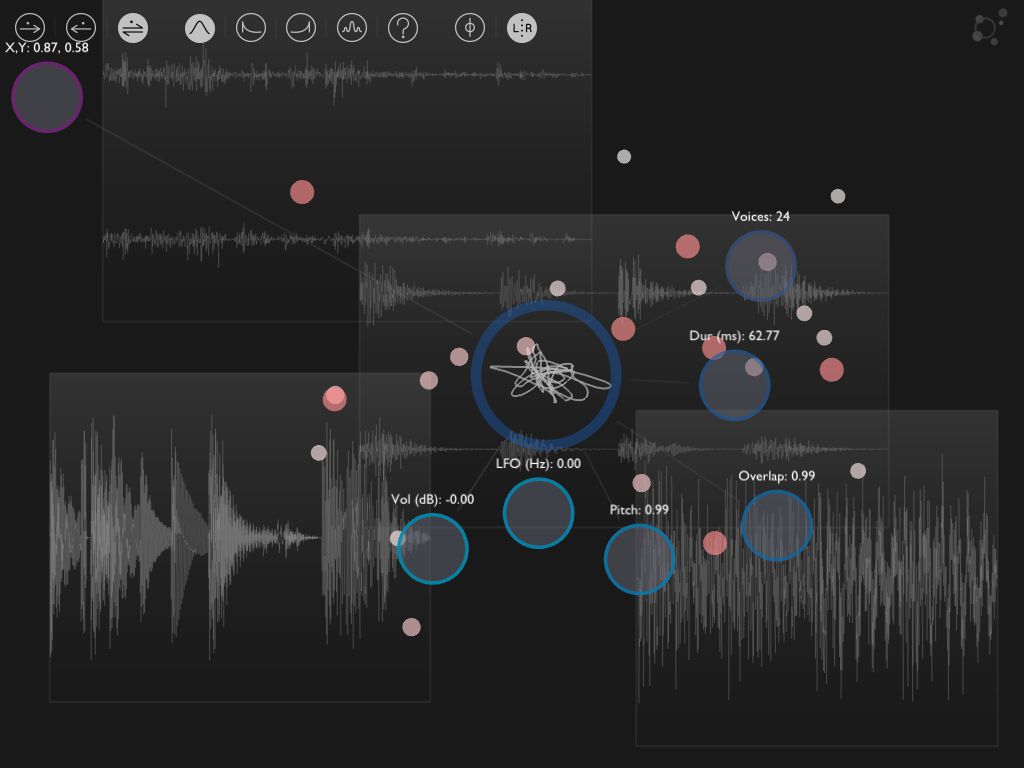 Borderlands Granular takes a modern approach to user interface design.
Going Granular
At its heart, Borderlands is a granular sample-playback engine. That means it plays back audio recordings in 'grains', tiny pieces which can be pitch shifted, reversed, panned, superimposed and generally mangled to create new and interesting textures.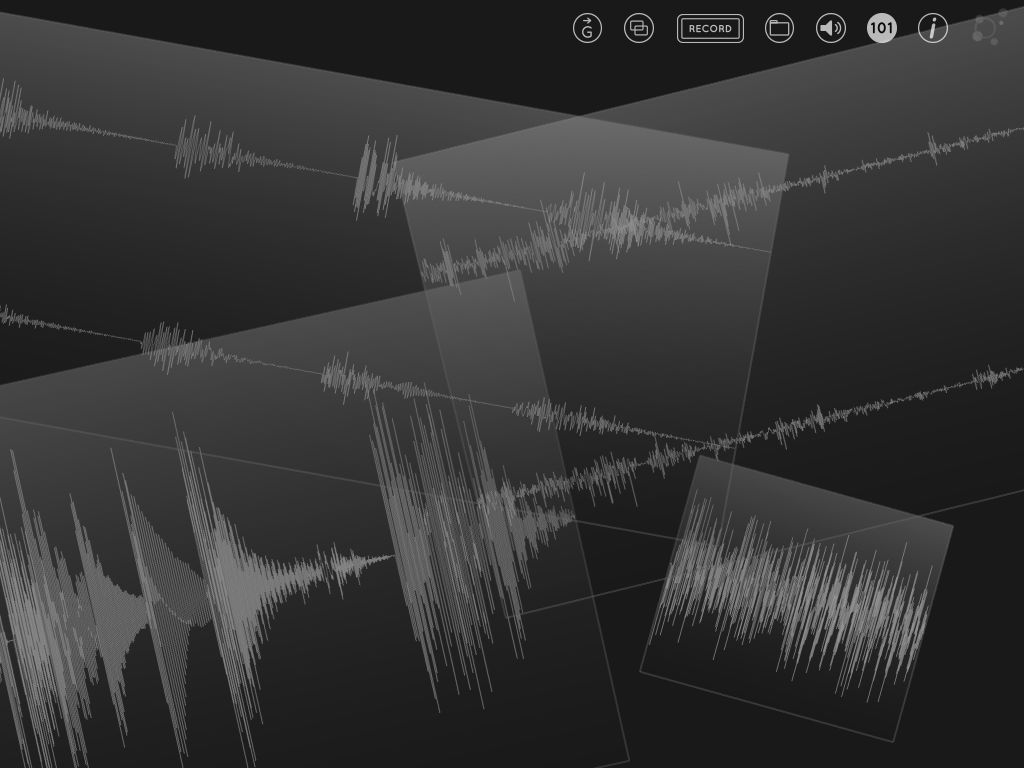 Audio files can be laid out in any configuration on the screen.
Everything happens on a single screen. Above you can see four audio files. These audio files can be dragged around the screen, rotated and made larger or smaller. On top of these audio files, the user can drop "grain clouds" by simply double tapping anywhere on the screen. A grain cloud is represented by up to 32 small red dots, each of which plays back a grain of audio.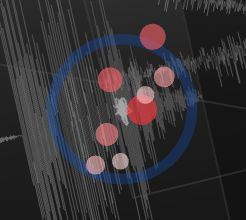 A "grain cloud".
Getting Deeper
Provided you drop a grain cloud on top of an audio file, it will begin to make some sound as the grains play back. Double tapping a grain cloud brings up a set of options, visualized as a set of circles surrounding the cloud, each of which can dragged nearer to or further away from the cloud in order to decrease or increase that particular parameter's value. Parameters include number of voices (or grains), duration of each grain, overlap, pitch, LFO modulation, volume and size (the amount of screen estate that the cloud covers).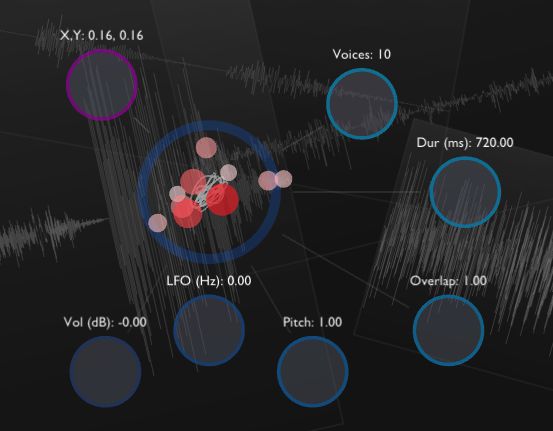 A cloud's parameters.
Whilst playback is continual, anything can be changed in real-time. Audio files can be moved around screen as can the clouds. Cloud parameter can tweaked and more clouds can be added. It's a beautifully simple system and incredibly easy to understand.

Further grain cloud options.
As well as the variable options which surround the cloud, several options appear at the top of the screen. These are specific to each grain cloud and include options for grain direction (forward, reverse or random), amplitude envelope (several options including random) and stereo distribution (as per audio file, or alternate left/right panning).

Global controls.
Finally there are Global controls which include a Gravity toggle (grain clouds can be moved around the screen using the iPad's accelerometer), reset sound file position, a Record button to record audio to disk, an audio recording manager, and various help and tutorial links.
Using your own audio files
After a few minutes of playing with the internally bundled samples (there are just four), you're naturally going to want to load your own audio files. This is where Borderlands falls down a little. In order to do this, you have to create an iTunes playlist called "Borderlands", sync your iPad to transfer the files across and then relaunch Borderlands in order for it to see the new files. For an app so focused on ease of process, this is a bit of a flow killer. Wireless Dropbox sync might be an interesting alternative and I would love to see the ability to record audio from the iPad's microphone for immediate granularization.
Conclusion
Apart from the bother of having to use iTunes to get files into it, Borderlands is a joy to use. It makes some lovely textures and rhythms, and the interface does an amazing job of presenting what can be quite a complex concept - granular synthesis. It's a pleasure to see a developer think about the way parameters and audio are interacted with on a touch screen in a genuinely new way. Mr. Carlson has to be applauded for that.
Borderlands Granular is great fun, and just occasionally I liked to pretend I was in a scene from a sci-fi film, controlling the destiny of planets with simple gesture. Don't judge me on that.
Borderlands Granular is available now for iPad. It requires iOS 5.0 or later and costs just $3.99. It will work on all iPads, although performance may be less than optimal on iPad1.
Web: http://www.modulationindex.com

iTunes: https://itunes.apple.com/us/app/borderlands-granular/id561369733?mt=8