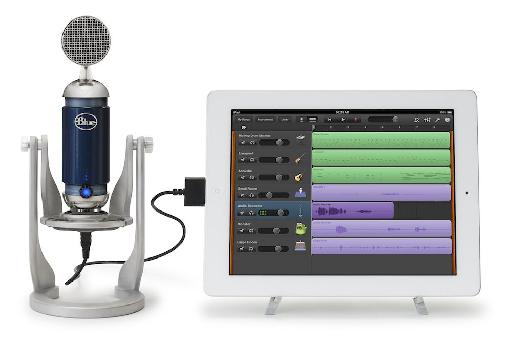 Connect the Spark Digital to your iPad, iPhone or Mac/PC.
The mics coming out of the Blue Microphones labs certainly set themselves apart from the crowd with their fresh and distinctive appearance. The Spark Digital, a cardioid, solid-state condenser microphone, is no exception sporting a royal blue cylinder body and retro-mesh mic head. This sturdy mic is certainly easy on the eye but how does it perform in the studio?
Out of the Blue
Out of its rather large box, I discovered the Spark Digital was as carefully packaged as it was designed. Included are a setup booklet, shockmount stand, a smart bag for the mic and USB and 30-pin (for iPad and iPhone connectivity) cables. Bear in mind if you want to hook it up to a new iPad you'll need to purchase Apple's Lightning adapter. Blue informed me they are working on a Lightning cable for Spark Digital though the adapter solution worked just fine for me.
The inclusion of the well-designed, desktop shockmount stand is a nice touch. It took about 45 seconds to insert the Spark Digital in the mount and there are instructions in the handbook should you require any assistance. The shockmount stand has a rubberized base and suspends the mic in a way to reduce those pesky vibrations and low-level frequencies that may threaten a good recording session. If you wish to use your existing mic mount, a 'traditional'