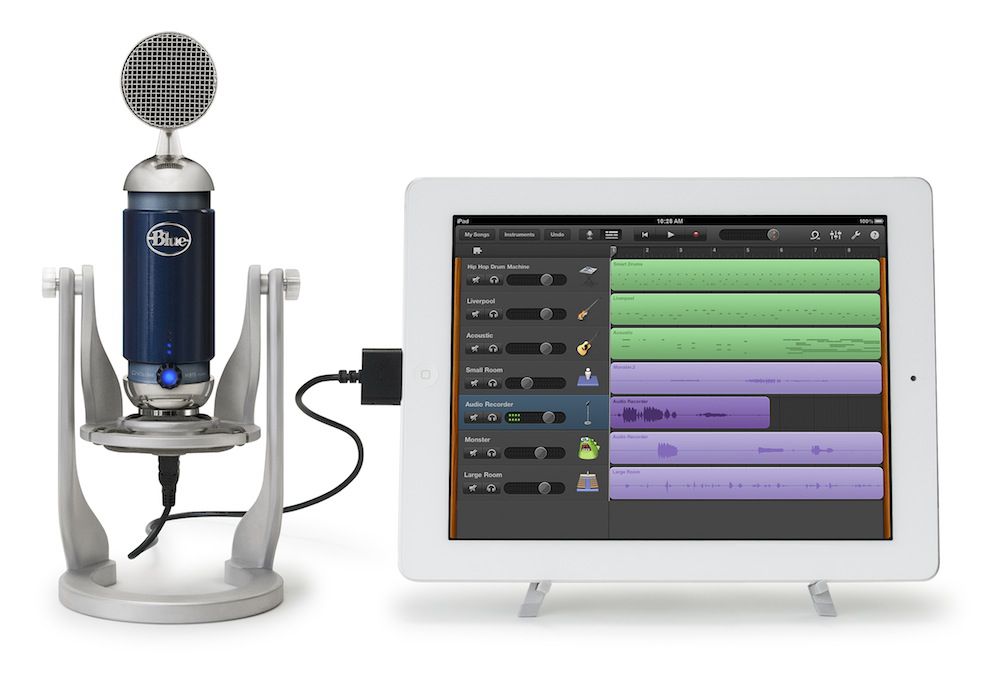 Connect the Spark Digital to your iPad, iPhone or Mac/PC.
The mics coming out of the Blue Microphones labs certainly set themselves apart from the crowd with their fresh and distinctive appearance. The Spark Digital, a cardioid, solid-state condenser microphone, is no exception sporting a royal blue cylinder body and retro-mesh mic head. This sturdy mic is certainly easy on the eye but how does it perform in the studio?
Out of the Blue
Out of its rather large box, I discovered the Spark Digital was as carefully packaged as it was designed. Included are a setup booklet, shockmount stand, a smart bag for the mic and USB and 30-pin (for iPad and iPhone connectivity) cables. Bear in mind if you want to hook it up to a new iPad you'll need to purchase Apple's Lightning adapter. Blue informed me they are working on a Lightning cable for Spark Digital though the adapter solution worked just fine for me.
The inclusion of the well-designed, desktop shockmount stand is a nice touch. It took about 45 seconds to insert the Spark Digital in the mount and there are instructions in the handbook should you require any assistance. The shockmount stand has a rubberized base and suspends the mic in a way to reduce those pesky vibrations and low-level frequencies that may threaten a good recording session. If you wish to use your existing mic mount, a "traditional" shockmount is available separately, as is a specially designed pop filter.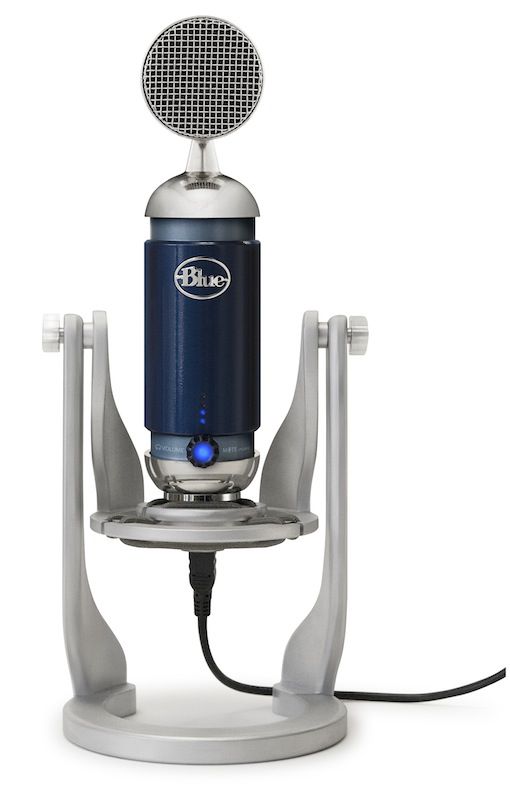 The Spark Digital in all its glory.
Setting Up
I tested the Spark Digital on an iPad Mini (specifically with GarageBand for iOS) and on a MacBook Pro running Mountain Lion and Logic Pro 9. Setting up to record was painless. Simply choose one of the included cables (USB or 30-pin) and plug it in. Of note, you'll also discover each cable features a 3.5mm headphone jack. In essence, this turns Spark Digital into your audio interface, and you can achieve zero-latency real-time monitoring by plugging your cans directly into the cable.
On the front of the body is an LED indicator and rotary control knob. When plugged in they both turn a cool shade of electric blue, and you're ready to begin recording in the app or DAW of your choice. When lit blue, the mic controls the headphone output volume. Hold the control knob for about 3 seconds and the lights turn orange which allows you to control the input level by turning the control knob. Tapping the control knob mutes the microphone input and the light flashes. This is particularly convenient when listening back to your recording without picking up sound from the mic or needing to adjust the level input.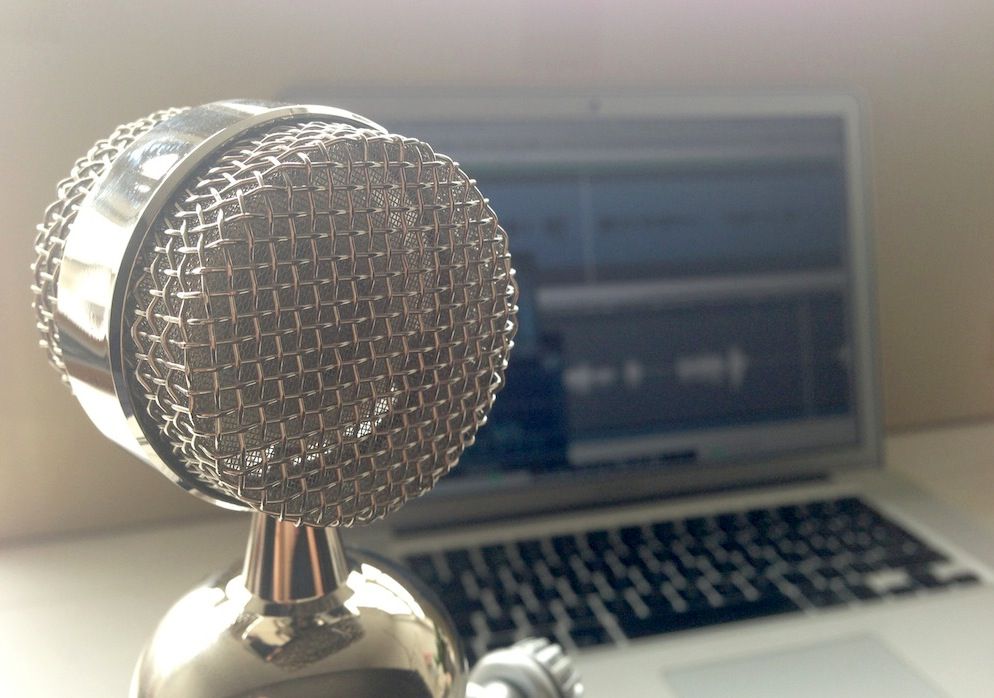 Recording with Spark Digital is easy no matter what platform you're inclined to use.
Level Up
So, how does Spark Digital handle vocals? I'm pleased to say this mic doesn't just look good, it sounds great too. It handled up-close, intimate vocals and more aggressive performances admirably. Compared to my trusty Rode NT1-A, the Spark Digital provided a richer, cleaner, clearer sound. On acoustic guitar, it captured the nuances of the highs and lows that a mic many times this price would be expected to do. I had to pinch myself that it retails at just $199!
On the rear of the mic body is the Focus mode switch. By default this is Off (normal mode). In the On position, the mic "focuses" on the mid and high-end frequencies to help a recorded performance pop through a busy mix. The difference can be pretty subtle, and I'd recommend experimenting with this control to find what works best with your audio source.
Conclusion
Whether recording vocals, instruments or podcasts on iOS or PC/Mac (via USB) the Spark Digital proved to be a solid performer. So, if you're looking for a sturdy and sonically capable studio condenser microphone that can handle a wide range of sounds on a $200 budget, the Spark Digital is definitely worth considering.
Discover more: http://bluemic.com