After having a runaway hit with the Mo-Fi Headphones (check out our review here), Blue is back at it again with a new pair of passive, closed-back isolation headphones. The Lola headphones promise to deliver much of what is loved about the Mo-Fi model, but at a more budget-friendly price and without compromising on some of the forward-thinking design features. I used Lola for a few weeks to see if they were able to live up to the promise.
What's Still Here, What's Not
At $100 cheaper than the Mo-Fi model, I expected Lola to be significantly stripped down. I was pleasantly surprised to find that Lola manages to retain just about everything that I truly loved about Mo-Fi in terms of the design and the way they feel. The personalized fit features of Lola are really spectacular, and once again I feel like Blue has managed to create a set of headphones specifically designed for my head. The Lolas are transparent in terms of their feel, and I found myself easily wearing them for long periods of time with no sense of pressure on my ears, head, or face. The customized fit was something that I really loved about MoFi, and I was thrilled to see that the Lolas felt the same way. The adjustable width dial on the top of the MoFi is not there on the Lola, but I didn't miss it.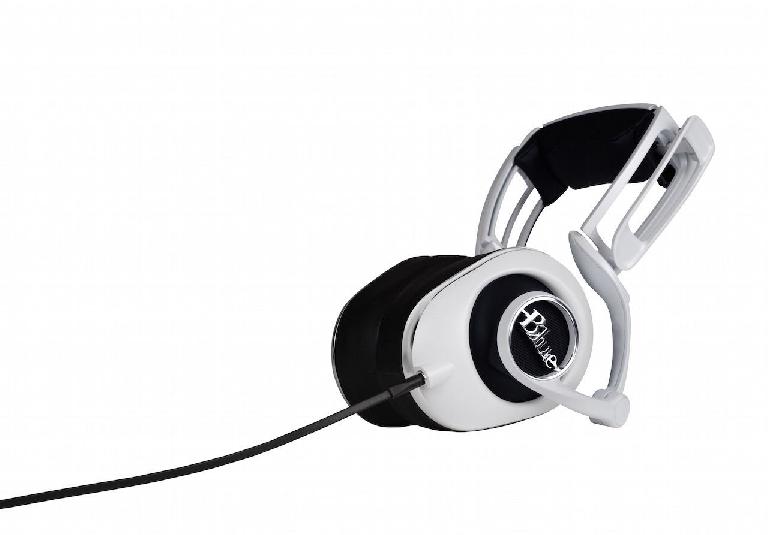 The Lolas are passive, so there is no headphone amp built into them. This likely helps to make them significantly lighter than the Mo-Fis, but they still feel incredibly sturdy. Also, for passive headphones, these puppies are powerful. I think they feel a bit more powerful than most headphones, likely because their design and the 'seal' they make around your ears are extremely close and tight. There is no noise cancellation on these, but you almost think there is—the degree of isolation you get is astounding. I often don't relish tracking with some lesser brands of isolation headphones as I feel like my head is a ripe melon being squished by them—but that isn't the case with Lola. These headphones have an elegant design that can give you near-perfect isolation without sacrificing comfort.
Do You Hear What I Hear
The Lolas sound truly fantastic. Music sounds detailed and rich when plugged into my iPhone or various gaming devices. My keyboard sounds sparkle when I'm practicing using the Lolas. The mixes I listened to on my laptop were powerful and discernible without being fatiguing. I found there to be just enough bass response to make me happy and feel the energy in the music without giving me a false sense of power by overloading the low end.
I was a big fan of the Mo-Fis. I bought two pairs immediately after trying them at NAMM last year, and everyone that comes through my studio comments on them. Musicians love tracking with them. With the Lolas, I am able to take the quality and build of the MoFi with me on vacation, on the train, and out into the world without worrying about damaging or losing my main pair of studio cans. The Lolas are everything I could want in a pair of headphones—the studio quality sound I've come to love from Blue in a more portable package and at a more affordable price point.
Price: $250
Pros: Elegant design, premium sound, lightweight package, total isolation
Cons: Headphones of this quality cost $250 now. This isn't necessarily a knock against Blue, it's just the world we live in now.
Website: www.blue-headphones.com