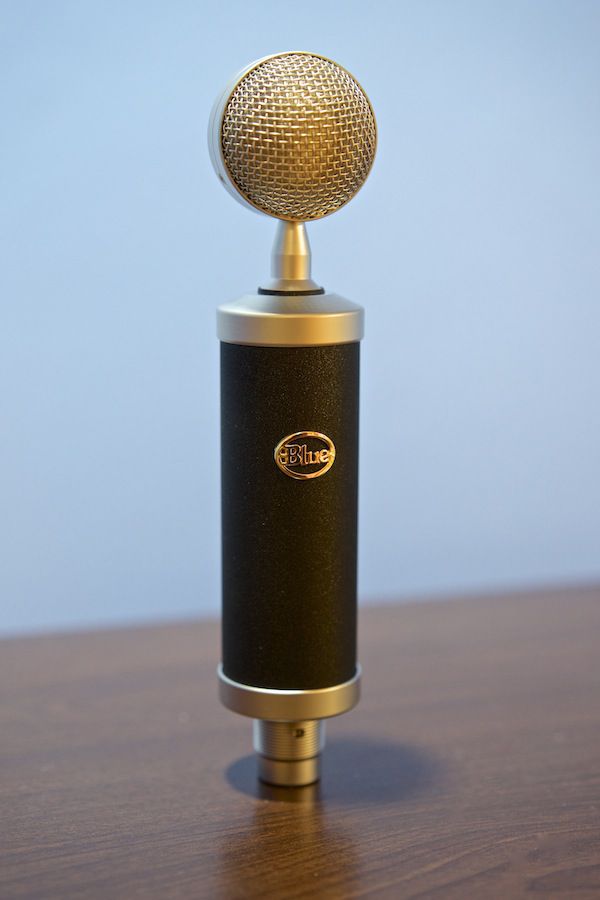 A cardioid condenser for under $500 that can hang with the big boys? It sounded too good to be true. From the moment I opened the box of the Blue Baby Bottle to the end of my field testing, I had a smile on my face. Here's why…
The Aesthetic
The Baby Bottle gives off a classy vibe right out of the box. The fitted wooden case and beautifully designed custom shock mount make the statement that this is not your typical microphone. It feels like an instrument and the fit and finish was flawless. The mic also included a small attachable pop-filter that I found to work acceptably for quieter vocalists, but not as effectively as a full sized clamp on pop-filter.
The Specs
The Baby Bottle is a cardioid pattern condenser. It has a frequency response of 20 Hz to 20 kHz and a signal to noise ratio of 87 dB. It requires 48V of phantom power to operate and Blue recommends using a high-quality preamp such as the Blue Robbie vacuum tube preamp. For the purposes of this review, I ran it through a Universal Audio LA-610 preamp/channel strip with a touch of compression, which is my standard vocal channel.
The Baby Bottle in the Real World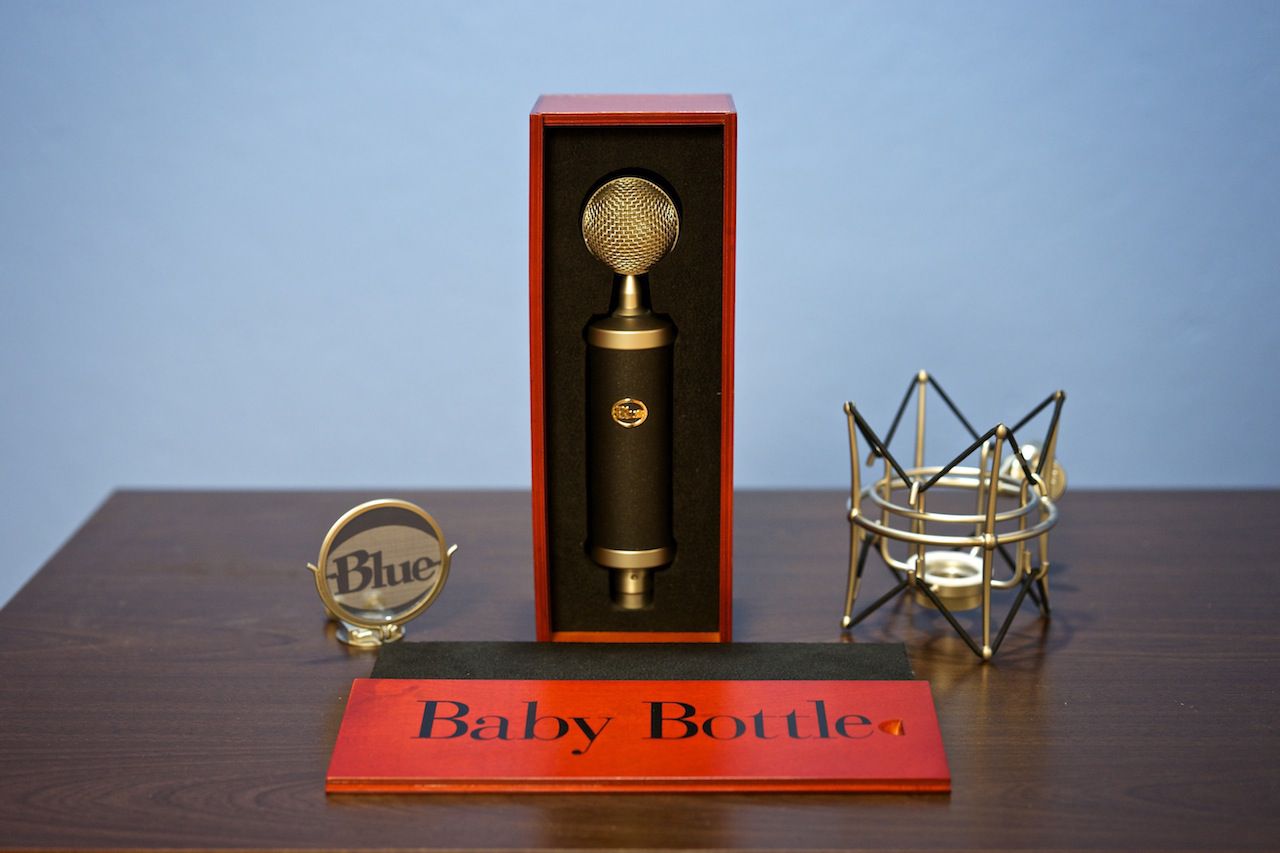 The Baby Bottle's unique look extends to its vintage packaging and shock mount.
So what do all of these specs add up to? Quite a lot, actually! I had a jazz vocal track to record the night the Blue mic arrived on my doorstep. After seeing the look of the Baby Bottle I knew that the vocalist would be excited to try it out. Blue is quite right in saying that vocalists love singing into this mic. The vintage style look really does wonders to inspire a vocalist and get them into an inspired frame of mind for recording.
I was very pleased to discover the unique sound of Baby Bottle. On vocals, this mic really shined. The sound was clear and powerful. The mic has quite a bit of gain and really picked up the nuances of the alto I was working with. I also found that (at Blue's recommendation) giving the mic a slight tilt towards the chest really brought out the body of the singer's voice. Tilting the mic up towards her forehead a bit accentuated the sparkle of her head tone. The Baby Bottle is an extremely versatile mic.
Listen to a recording of a guitar using the Baby Bottle (this audio file has been compressed for the web):
Conclusion
The Baby Bottle is an incredible accomplishment by Blue. It's really amazing what they were able to do at this price point. I would confidently put the Baby Bottle up against a number of microphones at twice the price. Its vintage sound and look make it a mic you want to reach for often.
I absolutely loved it for vocal and acoustic guitar use, and its ability to capture quite a bit of nuance and detail make it a fine choice for a myriad of sound sources. At well under $500 it shouldn't have sounded as good as some of the microphones I put it up against, but it held its own and then some!
Price: $399
Pros:
Vintage look and feel.

Very high gain.

Clarity and punch for a variety of sound sources.

Proximity effect is detailed, giving this mic versatility with placement.

Cons:
Included pop filter may not be enough for louder vocal use.

Web: http://bluemic.com/babybottle