Black Rooster Audio is a new software company from Germany that is dedicated to creating quality DAW plug ins. Their first offering is the VLA-2A, an emulation of the opto compressor from the 1960s. With so many other similar emulations on the market, would Black Rooster Audio's VLA-2A sound good enough to compete against the other emulations? I gave it a test drive in one of my mix sessions to discover its sonic potential.
Overview

The Vintage Levelling Amplifier VLA-2A has a minimal and attractive GUI. Its simple and clean layout features all the controls you'd expect on an LA-2A emulation. On the left there's an On/Off switch, a Limit/Compress switch and large rotary knobs for Gain and Peak Reduction. On the right hand side there's a VU Level that allows you to switch between Input, (In) Gain Reduction (GR) and Output (Out). In the center of the plugin is the VU meter and the Black Rooster Audio logo. The controls looks neat and clean and even the font on the compressor looks classy. Simply opening it up in my DAW gave me a good first impression.
In the Mix
I tested the VLA-2A out on drums, bass lines and melody lines in one of my tracks. Its sound was quite clean and transparent and surpassed my expectations by sounding better than I thought it would. It helped to make my instrumentation sound more present and sit just right in the mix. To see how it would perform against other popular LA-2A emulations, I tested it out on tracks that were also processed with Waves' CLA-2A compressor. I'm happy to report that the VLA-2A sounded just as good and produced similar results. This is good news for those who are shopping for plugins on a budget, as the VLA-2A is currently priced at $129.
Features
The circuit emulation of the VLA-2A is based on the sound and feel of the original LA-2A units. Black Rooster Audio modelled and matched all of the compressor's components, including input and output transformers, audio path tube stages and filters with an original '68 reference unit. The VLA-2A performs DSP operations transparently and ensures that it responds quickly and efficiently, despite making complex computations. Another interesting feature of the VLA-2A is the fact that it auto adjusts for oversampling to maintain its audio transparency. The oversampling rate auto adjusts to the session's sample rate to save CPU while offering the most transparent sound possible.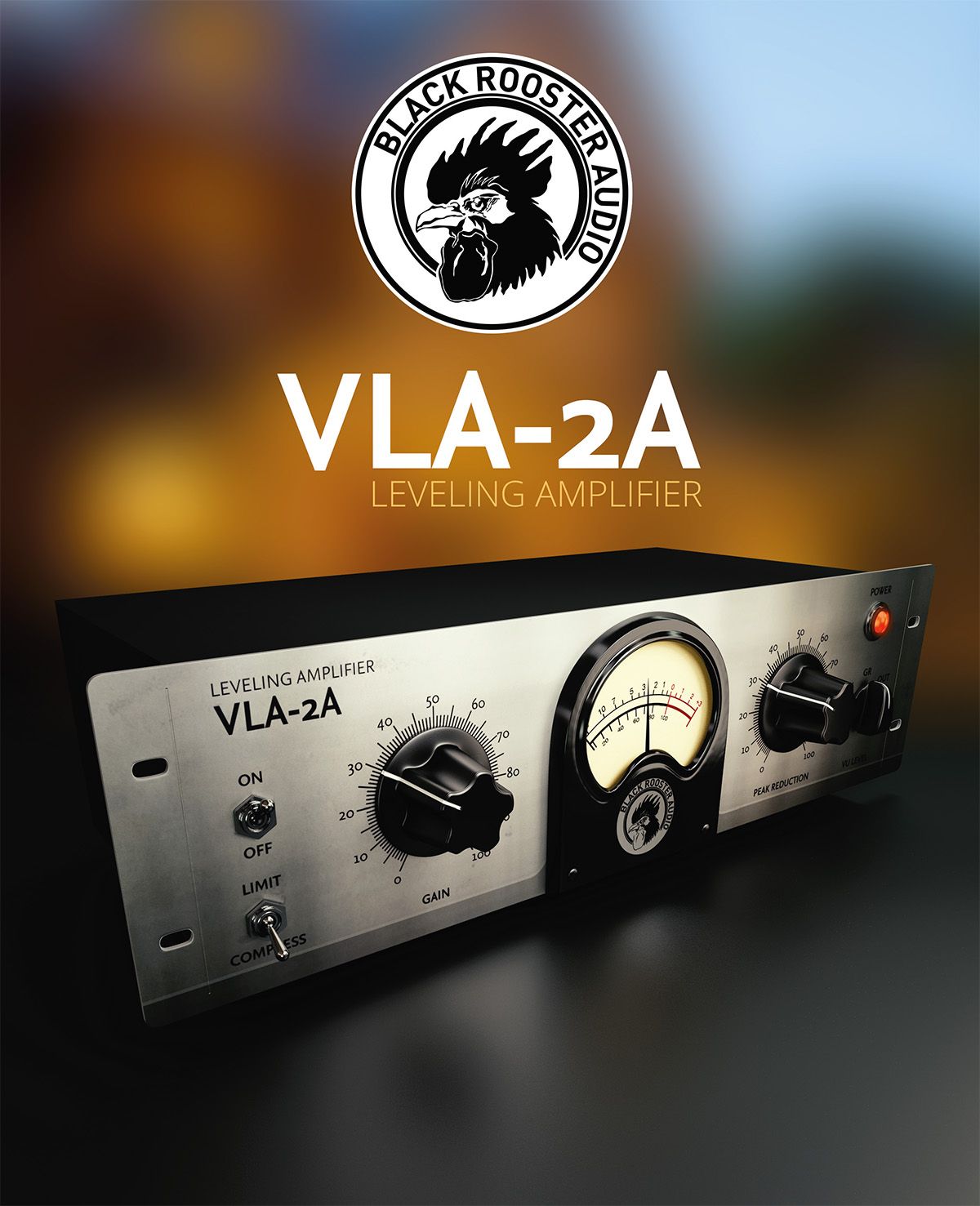 Creative and Practical Uses
I found the VLA-2A to be a versatile compressor and limiter, one that could be used in a variety of genres from techno to deep house, and in more mainstream genres like rock and pop. This is a well designed compressor that's easy to use and sounds good. Instruments that would benefit from its compression abilities include vocals, bass, guitar, synths and drums. The VLA-2A could also be used for a more extreme sound by turning up the Gain knob. I found even when the Gain is turned up, the frequencies in the low end remained tight and present.
Black Rooster Audio has created a great little compressor that does its job well and is affordably priced. If you're looking for an LA-2A emulation or even just a good quality compressor for your productions, look no further than the VLA-2A. Easy on the ears, eyes and pocketbook, the VLA-2A may be exactly what your studio needs.
Price: $129
Pros: Clean and transparent sound. Keeps the low end tight. Affordably priced. Free 14-day trial available online.
Cons: Well, to be honest... you can't really complain much about a plugin that sounds and looks as good as this one does for the price.
Web: https://blackroosteraudio.com/products/item/vla-2a.html