Black Lion Audio has been in the modding business for well over a decade. Many a producer has sent an audio interface created by MOTU, Universal Audio, and more to Black Lion for a variety of enhancements. From preamps to clocking, BLA has set the gold standard for 'making your gear sound better'. When I heard that the good folks at BLA were going to be creating their own interface from the ground up, you can bet I did everything I could to get my hands on one. After spending 2 weeks with the Revolution 2x2 I have had a glimpse at what Black Lion envisions an audio interface 'should be'.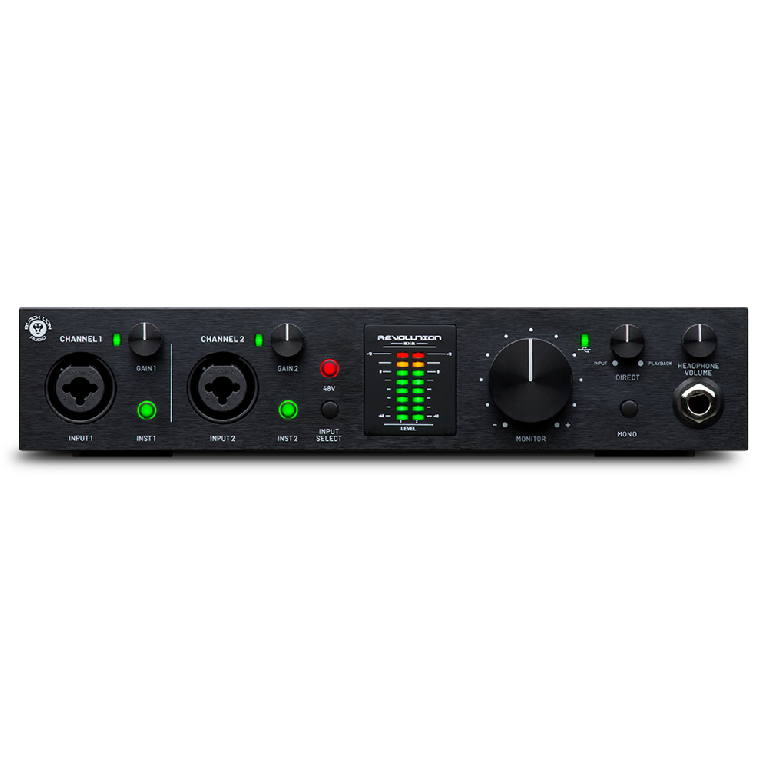 Vital Information
Seth from BLA was kind enough to answer my questions about the device and give me some of the history of its creation. The Revolution 2x2 was built from the ground up with the parts in mind first and the price point last. From double blind testing of every capacitor and op amp in the device to borrowing the power conditioning technology from their PG line, every stage audio passes through has been carefully considered and constructed. After 15 years of modding audio interfaces to remedy tonal discrepancies, BLA has brought a wealth of knowledge into the field and it definitely shows when you listen to (and touch/operate) the Revolution.
If you're looking for a 2 channel interface, this is the one. Hands down.
The device itself is built like an absolute tank. The chassis is a beautiful black brushed metal and the knobs feel incredibly sturdy with enough resistance for extremely precise gain adjustments. There are 2 XLR combo preamps with instrument level switches and phantom power. The 8 stage visual meter readout is easy to read and the master volume knob is wonderfully large. There is a mix knob allowing for direct monitoring of the inputs as well as a headphone amp and separate level.

On the back panel you'll find the lone USB-C port (and shout out to BLA for including 2 cables!) as well as 1/4" balanced outputs and S/PDIF digital.
Software Solution
Black Lion has made some pretty awesome partnerships with the Revolution and managed to bundle a copy of PreSonus Studio One Artist with the revolution. You also get Izotope Elements Suite (with Nectar, Neutron, Ozone, and RX), BrainWorx BX Digital, and Lindell 6X500. The plugin library included with the Revolution nearly reaches the cost of the entire interface, so this was a lovely bonus.
In Practice
Before testing the Revolution I have to be honest, I had pretty high hopes. I had BLA mod my UA Apollo a while back and the difference was instantly noticeable. After testing the Revolution, I'm happy to report that BLA absolutely exceeded my expectations with its sound. Using the Revolution feels like using a high-end modded interface with a separate, professional clocking source. The sound is open, detailed, with miles of headroom. The headphone amp, in particular, is a masterclass in audio design. The Revolution even worked absolute wonders with my USB-C iPad Pro and gave me professional audio at a level I hadn't yet heard out of my mobile device.
Conclusion
The Revolution 2x2 is an absolute beast and it's only the first 'step into the pool'. I'm told that BLA is building out the Revolution line into larger interfaces and I think we're going to see great things from this line down the road. Right now, this 2x2 is absolutely worth it if you are looking for mastering-grade output for your monitors. Heck, you can even use the S/PDIF output to clock your 'large amount of inputs' audio interface to the Revolution and enjoy high quality clocking even when the Revolution isn't your active interface. Two thumbs up on this one, for sure!
Price: $399
Pros: Rock solid build quality, stunning audio quality, huge amount of high quality plugins included, usb cables included, stellar clocking
Cons: There are none. If you're looking for a 2 channel interface, this is the one. Hands down.