I'll start off by making a confession: I am a plug-in junkie. I'm not the only one in the world. In fact, I'm just one number in an ever growing population of wide-eyed individuals peering anxiously through news, blog posts, and demos, for that next great plug-in. If you're like me, and fall in to this category, you probably have a large selection of plug-ins available to you at a moments notice. Kinda like Batman with a laptop, right?

Apresentando Bitspeek
Um novo plug-in que você pode adicionar ao seu cinto de utilidades é Bitspeek pela carga de Sonic . Fui balançando este plug-in por algumas semanas desde seu lançamento e eu tenho que te dizer ... Eu me encontro querendo usar este plug-in em todo o lugar.
O que há de fazer?
Lembre-se do velho Speak Magias n 'dos ​​anos 80? Bitspeek faz com que qualquer voz que você executa para soar como uma voz ortográfica Speak n '... E muito mais. E, sim, isso tem sido feito antes, mas não com a codificação de predição linear, que foi realmente utilizado no dispositivo real, beloved dos anos 80.
O que também faz Bitspeek tão especial é que ele pode ser controlado via MIDI. Usando uma trilha separada MIDI você pode controlar o tom de Bitspeek com o seu teclado controlador. Isto permite-lhe obter esse amado Autotune efeito, enquanto ao mesmo tempo, permitindo que aqueles de nós que luta com trivialidades pequenas gostam de ficar em sintonia com ... bem ... ficar em sintonia!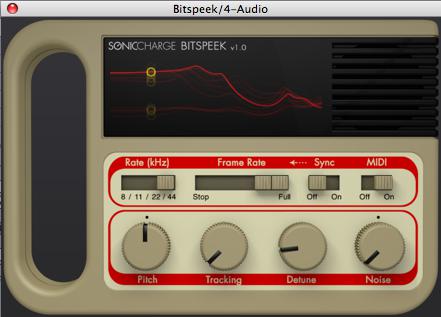 O que soa como?
Dê uma escutar estas "antes" eo exemplo "depois":
Áudio gravado em BitSpeek:
[Audio id = "1275"]
Áudio depois de algum processamento BitSpeek:
[Audio id = "1276"]
Tudo bem, até agora temos:
Sound like a retro piece of kit.
Control the pitch of your voice with a MIDI keyboard and stay in pitch.
Time-stretching e pitch shifting
What also makes Bitspeek so wonderful is that you can slow down the 'Frame rate' of whatever audio you are running through it in real-time. That means, real-time time-stretching and pitch-shifting on a plug-in in real-time! When you add this with the Sync function, you get a beat-synchronized formant freezing effect. This essentially turns any audio in to a straight tone like a synthesizer. However, with a simple flick of a switch, you're back to your friendly voice recording!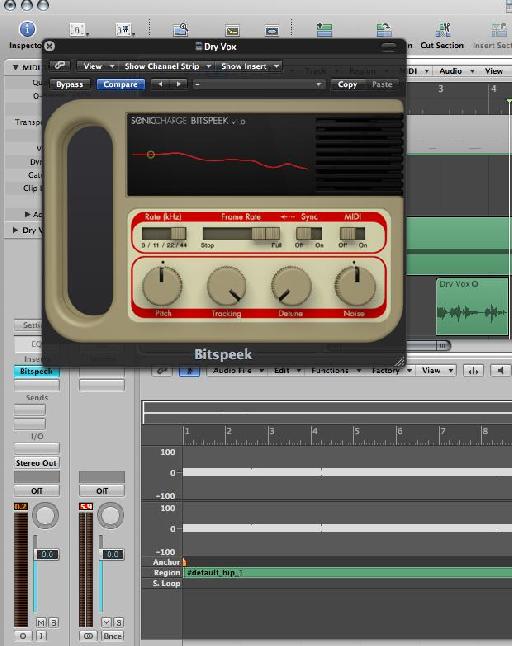 Minha experiência com Bitspeek e Ponto de Preço
Ao longo dos últimas semanas, eu tenho que correr Bitspeek para o chão com tudo, desde material de projeto real relacionados, a simples ", eu me pergunto o que mais eu posso fazer isso dizer?" momentos tipo. Uma coisa que eu tenho ficado impressionado com é que, como toda a carga de Sonic plug-ins, há muito pouca, se houver, a tensão sobre meu processador. Os caras do Sonic Charge tendem a ser muito parcimonioso com codificação suas DSP. Isso é vantajoso para pessoas que você gosta de correr Superior Drummer, Stylus, e Omnisphere em um Logic sessão.
É Bitspeek a ser "todos os
Confira a demonstração em http://www.soniccharge.com .