I'll start off by making a confession: I am a plug-in junkie. I'm not the only one in the world. In fact, I'm just one number in an ever growing population of wide-eyed individuals peering anxiously through news, blog posts, and demos, for that next great plug-in. If you're like me, and fall in to this category, you probably have a large selection of plug-ins available to you at a moments notice. Kinda like Batman with a laptop, right?

L'introduzione di Bitspeek
Un nuovo plug-in è possibile aggiungere alla cintura utilità è Bitspeek dalla carica di Sonic . Sono stato a dondolo questo plug-in per alcune settimane dal suo rilascio e devo dirvi ... Mi trovo a voler utilizzare questo plug-in in tutto il luogo.
Che cosa è fatto?
Ricordate il vecchio Speak n 'Incantesimi degli anni 80? Bitspeek rende ogni voce che si esegue per il suono come un Speak voce n 'Spell ... E molto altro ancora. E, sì, questo è stato fatto prima, ma non con codifica predizione lineare che è stato effettivamente utilizzato nel reale, dispositivo amati degli anni 80.
Ciò che rende anche Bitspeek così speciale è che può essere controllato via MIDI. Utilizzando una traccia separata MIDI è possibile controllare l'intonazione di Bitspeek con la tastiera controller. Ciò consente di ottenere che l'amato Autotune effetto, mentre allo stesso tempo permettendo quelli di noi che lotta con banalità piccolo come stare in sintonia per ... bene ... soggiorno in sintonia!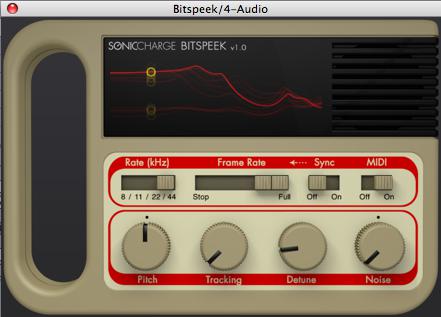 Che cosa si suona?
Prendete un ascolto a questi "prima" e l'esempio "dopo":
L'audio registrato in BitSpeek:
[Audio id = "1275"]
Audio dopo alcune elaborazioni BitSpeek:
[Audio id = "1276"]
Bene, finora abbiamo:
Sound like a retro piece of kit.
Control the pitch of your voice with a MIDI keyboard and stay in pitch.
Time-stretching e Pitch Shifting
What also makes Bitspeek so wonderful is that you can slow down the 'Frame rate' of whatever audio you are running through it in real-time. That means, real-time time-stretching and pitch-shifting on a plug-in in real-time! When you add this with the Sync function, you get a beat-synchronized formant freezing effect. This essentially turns any audio in to a straight tone like a synthesizer. However, with a simple flick of a switch, you're back to your friendly voice recording!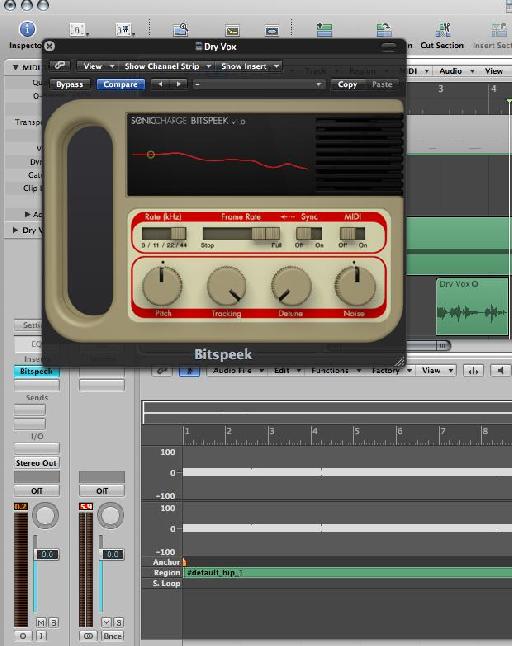 La mia esperienza con Bitspeek e Point Prezzo
Negli ultime settimane, ho eseguito Bitspeek per terra con tutto, da materiale di progetto reali legati, per semplice ", mi chiedo cosa posso fare dirlo?" Tipo di momenti. Una cosa che sono stato impressionato è che, come tutte le carica di Sonic plug-in, c'è ben poco, se del caso, lo sforzo sul mio processore. I ragazzi di carica di Sonic tendono ad essere molto parsimoniosi con i loro codifica DSP. Questo è vantaggioso per voi gente che piace correre Superior Drummer, stilo, e Omnisphere in una logica di sessione.
È il Bitspeek 'essere tutto
Prova la demo a http://www.soniccharge.com .