I'll start off by making a confession: I am a plug-in junkie. I'm not the only one in the world. In fact, I'm just one number in an ever growing population of wide-eyed individuals peering anxiously through news, blog posts, and demos, for that next great plug-in. If you're like me, and fall in to this category, you probably have a large selection of plug-ins available to you at a moments notice. Kinda like Batman with a laptop, right?

Introducing Bitspeek
Ein neues Plug-in können Sie zu Ihrem Nutzen Gürtel hinzuzufügen Bitspeek von Sonic Laden . Ich habe rocking dieses Plug-in für ein paar Wochen, da sie die Freilassung und ich muss Ihnen sagen ... Ich finde mich wollen, dieses Plug-in auf der ganzen Stelle zu verwenden.
Was ist zu tun?
Denken Sie daran, die alte Speak n 'Zauber aus den 80er Jahren? Bitspeek macht jede Stimme, die Sie ausführen, um es wie ein Speak n 'Spell Stimme klingen ... Und vieles mehr. Und, ja, dies wurde getan, aber nicht mit Linear Prediction Coding, die tatsächlich in der realen, geliebte Gerät aus den 80er Jahren verwendet wurde.
Was macht Bitspeek so besonders ist, dass es via MIDI gesteuert werden können. Die Verwendung einer separaten MIDI-Spur können Sie steuern die Tonhöhe Bitspeek mit Ihrem Controller-Keyboard. Dies ermöglicht Ihnen, dass geliebte bekommen Autotune -Effekt, während zur gleichen Zeit ermöglicht diejenigen von uns, diesen Kampf mit kleinen Nebensächlichkeiten wie ein Aufenthalt in tune to ... gut ... Aufenthalt in tune!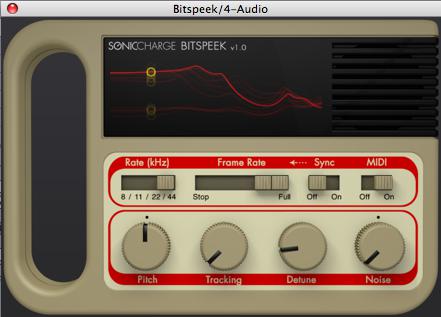 Was hört es sich an?
Werfen Sie einen auf diese "vor" und "nachher" Beispiel zu hören:
Audio in BitSpeek Aufnahmedatum:
[Audio-id = "1275"]
Audio nach einigen BitSpeek Verarbeitung:
[Audio-id = "1276"]
Okay, bisher haben wir:
Sound like a retro piece of kit.
Control the pitch of your voice with a MIDI keyboard and stay in pitch.
Time-Stretching und Pitch Shifting
What also makes Bitspeek so wonderful is that you can slow down the 'Frame rate' of whatever audio you are running through it in real-time. That means, real-time time-stretching and pitch-shifting on a plug-in in real-time! When you add this with the Sync function, you get a beat-synchronized formant freezing effect. This essentially turns any audio in to a straight tone like a synthesizer. However, with a simple flick of a switch, you're back to your friendly voice recording!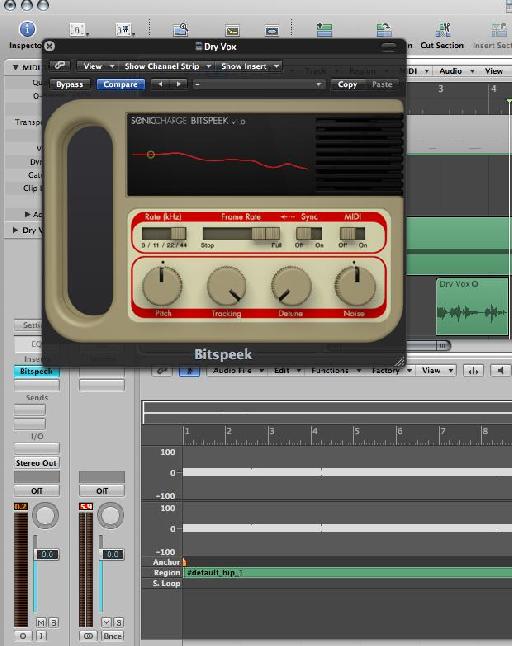 Meine Erfahrung mit Bitspeek und Preis Punkt
In den letzten Wochen habe ich Bitspeek in den Boden laufen mit allem, was von den tatsächlichen projektbezogenen Material, um einfach "Ich frage mich, was ich sonst noch machen kann es sagen?" Typ Momente. Eine Sache, die ich mit habe beeindruckt ist, dass, wie alle Sonic Charge Plug-ins, gibt es sehr wenig, wenn überhaupt, auf meinem Prozessor belasten. Die Jungs von Sonic Laden neigen dazu, sehr sparsam mit ihren DSP-Codierung. Dies ist vorteilhaft für Sie Menschen, die Superior Drummer, Stylus, und laufen wie Omnisphere in einem Logic -Session.
Ist Bitspeek der 'all sein
Schauen Sie sich die Demo auf http://www.soniccharge.com .