I'll start off by making a confession: I am a plug-in junkie. I'm not the only one in the world. In fact, I'm just one number in an ever growing population of wide-eyed individuals peering anxiously through news, blog posts, and demos, for that next great plug-in. If you're like me, and fall in to this category, you probably have a large selection of plug-ins available to you at a moments notice. Kinda like Batman with a laptop, right?

Introducing Bitspeek
One new plug-in you can add to your utility belt is Bitspeek by Sonic Charge. I've been rocking this plug-in for a few weeks since it's release and I've got to tell you... I find myself wanting to use this plug-in all over the place.
What's it do?
Remember the old Speak n' Spells from the 80's? Bitspeek makes any voice that you run in to it sound just like a Speak n' Spell voice... And much more. And, yes, this has been done before, but not with linear prediction coding that was actually used in the real, beloved device from the 80's.
What also makes Bitspeek so special is that it can be controlled via MIDI. Using a separate MIDI track you can control the pitch of Bitspeek with your controller keyboard. This allows you to get that beloved Autotune effect, while at the same time allowing those of us that struggle with small trivialities like staying in tune to... well... stay in tune!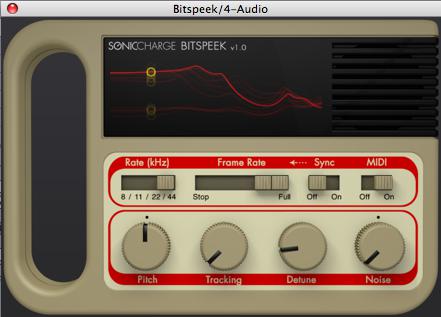 What Does it Sound Like?
Take a listen to these "before" and "after" example:
Audio Recorded into BitSpeek:
Audio after some BitSpeek processing:
Alright, so far we have:
Sound like a retro piece of kit.
Control the pitch of your voice with a MIDI keyboard and stay in pitch.
Time-stretching and Pitch Shifting
What also makes Bitspeek so wonderful is that you can slow down the 'Frame rate' of whatever audio you are running through it in real-time. That means, real-time time-stretching and pitch-shifting on a plug-in in real-time! When you add this with the Sync function, you get a beat-synchronized formant freezing effect. This essentially turns any audio in to a straight tone like a synthesizer. However, with a simple flick of a switch, you're back to your friendly voice recording!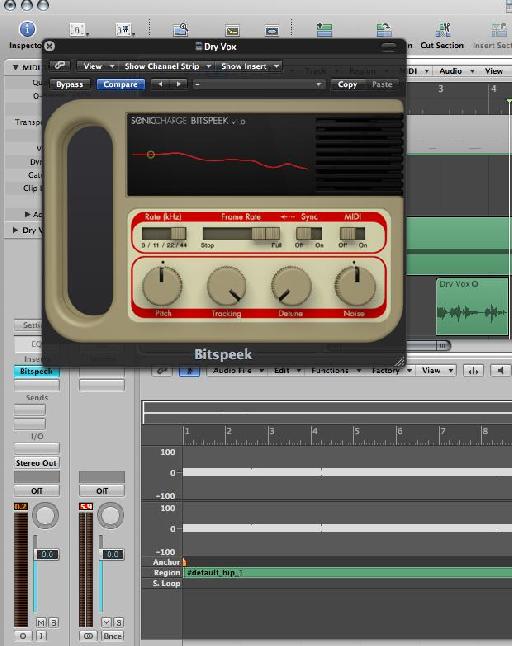 My Experience with Bitspeek and Price Point
Over the last several weeks, I have run Bitspeek in to the ground with everything from actual project related material, to simple, "I wonder what else I can make it say?" type moments. One thing that I've been impressed with is that, like all Sonic Charge plug-ins, there is very little, if any, strain on my processor. The guys at Sonic Charge tend to be very thrifty with their DSP coding. This is advantageous for you people that like to run Superior Drummer, Stylus, and Omnisphere in one Logic session.
Is Bitspeek the 'be all & end all'? No, it's definitely a niche plug-in. However, if you're creative with it, you can get some tones and sounds that you never though possible. And at $29 dollars, it's definitely a worthy addition to your utility belt.
Check out the demo at http://www.soniccharge.com.