Built on the entirely new Acktion™ platform, BioTek is a unique virtual instrument, which combines an advanced synthesis engine with an array of sampled sounds from natural, urban and mechanical environments. The single-screen user interface is dominated by a powerful XY controller and a number of soft controls that change function based on the particular patch in use.
Several weeks after its initial release, Seattle-based Tracktion Corporation launched BioTek's first public update. Version 1.03 brings forth some bug fixes and several important feature enhancements including adding Flow LFO Shape controls and Flow LFO modulation depth sliders for additional hands on control.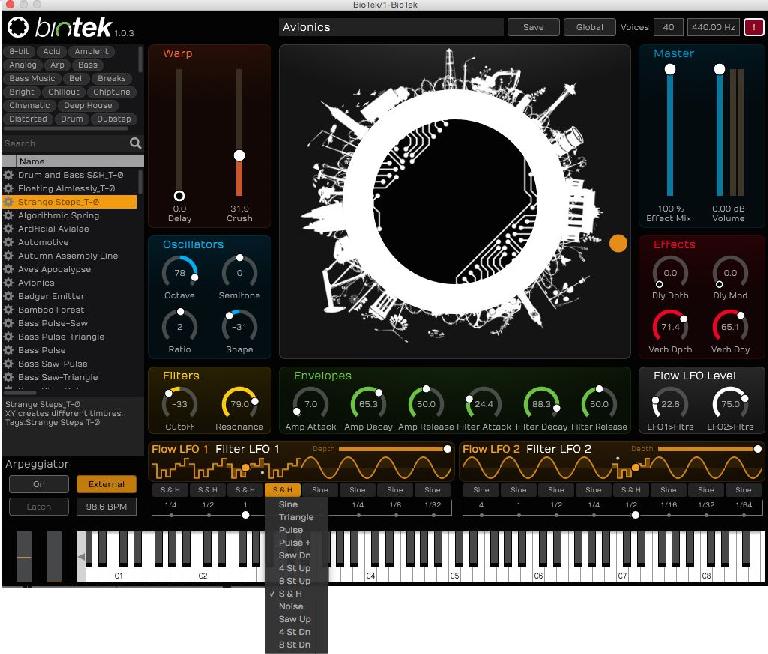 I've enjoyed playing around with BioTek the past couple weeks and managed to conjure up a plethora of easily accessible idiosyncratic permutations and combinations. Additionally, I had a chance to follow up by asking some burning yearning questions to the reputable Traction team that I'd like to share with our readers.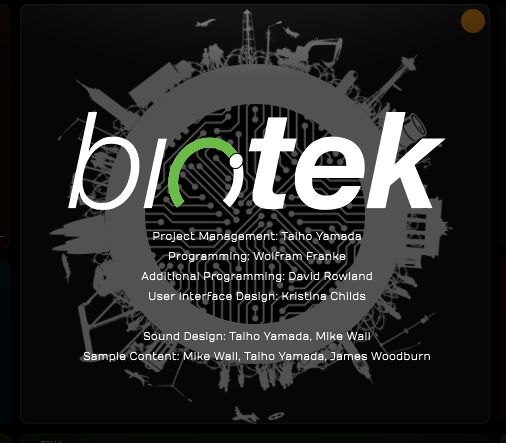 Face of the Interface
First and foremost, the design of the interface is artistically creative and visually appealing. It's one of the first aspects that grabbed my attention. Being a huge fan of early gothic music, coincidence or not, the XY graphic is a remarkably similar modern spinoff of Bauhaus' The Sky's Gone Out album cover. The GUI certainly makes morphing playtime increasing more visually stimulating as the monochromatic graphics merge between natural occurrences, industrial scenery and technological topography.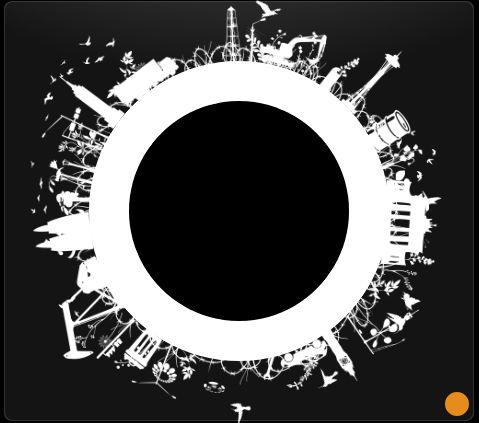 In addition to the XY controller, the interface is broken down into familiar categories. There's a preset browser with a search function on the left-hand side. This is followed by an arpeggiator, oscillators section, envelope/filter/LFO controls, effects mix slider, master volume level, global tuning adjustment, and Flow LFO 1 and 2 sections.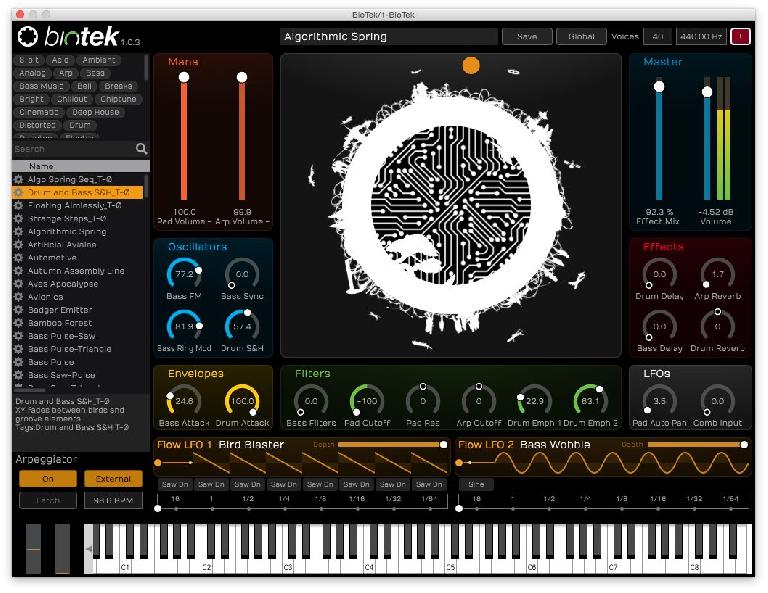 The "Mana" section is the wildcard on deck. To clarify, I made an inquiry. According to the Tracktion team,
"Mana is a playful name (that stuck during development) for essentially an undefined set of controls—the two sliders can be used for all sorts of sonic wizardry. Taiho sometimes uses these sliders to allow certain aspects of the overall patch to be removed—thereby allowing the user to isolate pleasing elements of the overall sound. For example, in Algorithmic Spring (preset), these controls allow you to reduce/remove the pad and the arp (the arp in this case is the upper split on your keyboard) from the bass and percussion. In turn, if you then adjust the main XY, you can isolate just the bass or the percussion, allowing you to deep dive into the sounds. You could then also turn off the main arpeggiator to access individual percussion or bass hits and program your own rhythms. These 2 sliders have no fixed purpose (unlike the general grouping of the other controls)—they vary greatly in their use—for example, if you check the next patch 'Artificial Avialae' you will see they control ring mod and glitches."
Sourced Sounds—Sounds Sourced
I find the graphics quite symbolically representative of the sounds themselves, which consist of contrasting, high quality environmental samples merged with cutting edge synthesis of sorts. Aesthetically and sonically the overall theme balances opposites in ways that make this instrument and its interaction contrast the weird to wonderful and beautiful to brutal.
The natural and environmental recordings included are pristine works by composer and sound engineer Mike Wall. Samples therein range from whales to water to birds to industrial noises. Such variety makes BioTek a very unique tool when combined with the searing programming of the synth engine.
Morph these bad boys with the onboard programmed drums, percussive patterns and the built-in arpeggiator for high energy industrial glitchy goodness. The FM controls for the drums are super tasty and produce engaging textures especially when modulated.
Below the Surface
Under the hood, the patches are complex networks of processing chains and modular matrixes designed by expert programmers. These all connect to a simple interface consisting of macro (soft) controls.
The concept behind Biotek is to keep the UI as simple as possible and yet let the users have creative control over shaping sound in fun and intuitive ways. The controls are laid out in a manner where shaping is as easy as locating the portion of sound you want to modify and turning a macro knob.
Tip: Because the interface is built off the concept of patch dependent modular control, be sure to use the controls in conjunction with the XY position. Often the position of both can greatly vary the outcome.
Owing to the fact that the engine is so deep and complex, standard users won't have access to all the options and are limited to using the carefully chosen controls provided. As the Tracktion team indicates, "a single patch can take days to craft so it's probably not a task the vast majority of folk will undertake."
Since each patch may consist of several different types of sounds (Bass, Drums, Pad, Noise, Arp, etc.), macros are grouped into general control types so the user can quickly establish where to go to access particular sound shaping tools… but again, because these controls are patch dependent each of these can vary widely from preset to preset.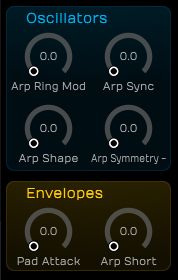 Being somewhat of a control freak and a fervent sound designer, I really really fancy to get under the hood and create some chaos. There are changes that I desire to make that I don't have access to. I asked Tracktion about the possibility of advanced editor options. This is what they replied:
"We have a version available to our sound designers that does open up all the back end.
Users interested in getting involved with sound design can contact us and the sound design team will review suitability. We have plans for numerous more instruments that will utilize our Acktion platform—some will be for the tweakers, but they will be different instruments than Biotek."
Conclusion
It's very clear that BioTek is a very beautifully crafted, well-thought-out synth/sampler instrument with amazing sound shaping capabilities.
If you're a patch mangler looking for an engaging new instrument who likes to dial in using carefully mapped macro controls, this is potentially a good choice for you. There is a lot of expressiveness to be gained by simply working with what we're given. Once I surrendered my "control limitations" hurdle and began mapping, automating and modulating macro parameters, I came up with some seriously awesome material that was sui generis and otherworldly.
If you're someone who likes initializing the patch, loading up your own samples, and starting from scratch, you're likely to feel a bit more limited unless you can convince Tracktion to hook you up with the advanced editor. :)
Price: $150 USD
Pros:
A reasonably affordable high quality virtual instrument with distinct sound and interface
Advanced synthesis engine with an array of sampled sounds from natural, urban and mechanical environments
Fun and intuitive
Compatible with all DAW platforms
Available in AAX, AU, VST and Linux VST formats
Cons:
Standard users won't have access to all the options and are limited to using the carefully chosen controls provided
Users can't load their own samples
Unable to alter or change modulation source and destination routings
Can't define pitch bend range