Sound design and soundtrack composition are two of the most interesting areas of music, and neither is particularly well served by the standard plug-in instruments that might have come with your DAW. So it is why we are seeing an increasing number of rather more experimental sample-based instruments come onto the market which are aimed more at creating textures and moods than banging floor fillers. Big Fish Audio's latest is Zodiac, a sound design virtual instrument running in NI's Kontakt player that weighs in at just under 6 GB when installed on your hard drive.
What's inside?
Zodiac contains over 150 instrument patches and 50 multis, sorted into categories. Apparently no synths were used in the creation of the sounds, but they were created from organic sources such as found sounds, sonic manipulations inspired by classic Musique Concrete, Experimental and Avant Garde Music compositions, prepared or heavily processed musical instruments, and audio recordings subjected to extreme sound design techniques.
If the description is a little flowery, the patches certainly are not. They're aimed at scoring, video games and ambient or experimental music and there's an excellent selection of tones and textures on offer, all well suited to those kinds of uses. I don't know about you but as someone who lived through years of dodgy keyboard workstation sound banks, my heart falls when I see patches with names like "glass pad" or "bowed guitar". Here however the patch names are merely an unfortunate coincidence, since the actual sounds are nothing like the GM banks of years gone by.
The sounds are broken into sections. Pads and Atmospheres contains some excellent, haunting and ethereal textures, perfect for scene-setting. Melodic Instruments has more recognizable sounds, again with slightly lackluster names but thankfully with excellent sonic characteristics. Bass instruments is full of unusual low frequency sounds, useful for underscoring visuals but not immediately recognizable as any kind of instrument. This is a good thing, incidentally, since it makes for more unique and interesting soundtracks.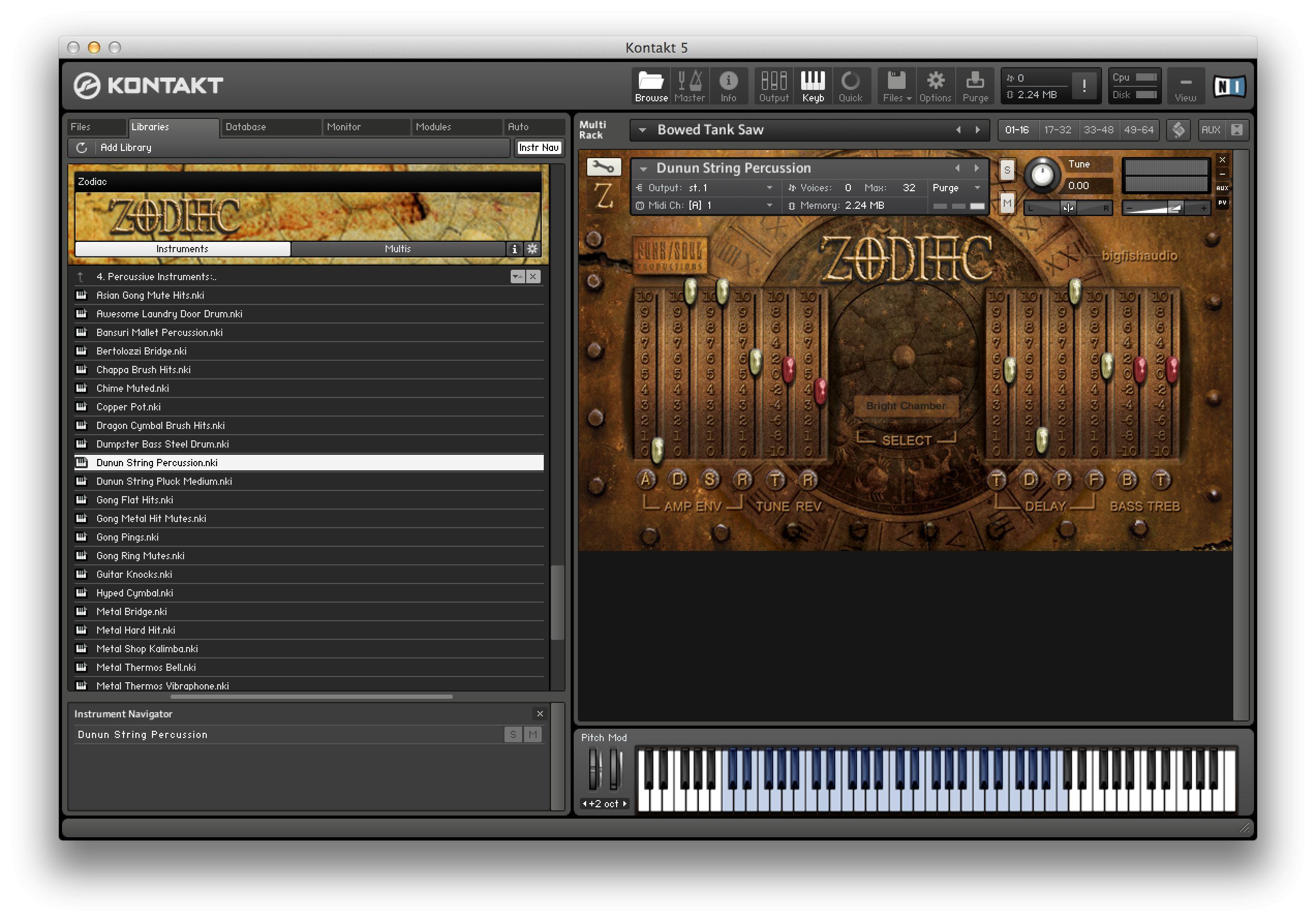 A range of weird and wonderful sounds for scoring and other uses.
Percussive Instruments and Zodiac Kits contain rhythmic sounds and weird drum style sounds, and Experimental Atonal Instruments yet more pleasing oddness. The Multis section contains pre-built combinations of other patches with more depth and range, and of course you can build your own multis easily in Kontakt.
Sign of the zodiac
Zodiac's interface is curiously gothic, with rather elaborate graphics spicing up what is essentially a pretty straightforward set of controls. There are sliders for amp envelope, tuning and reverse parameters as well as a configurable delay section and bass and treble sliders. In the centre, a hard-to-see area lets you choose from a range of reverb types. The interface is perfectly usable, though I'm a little baffled as to what the crusty graphics really add.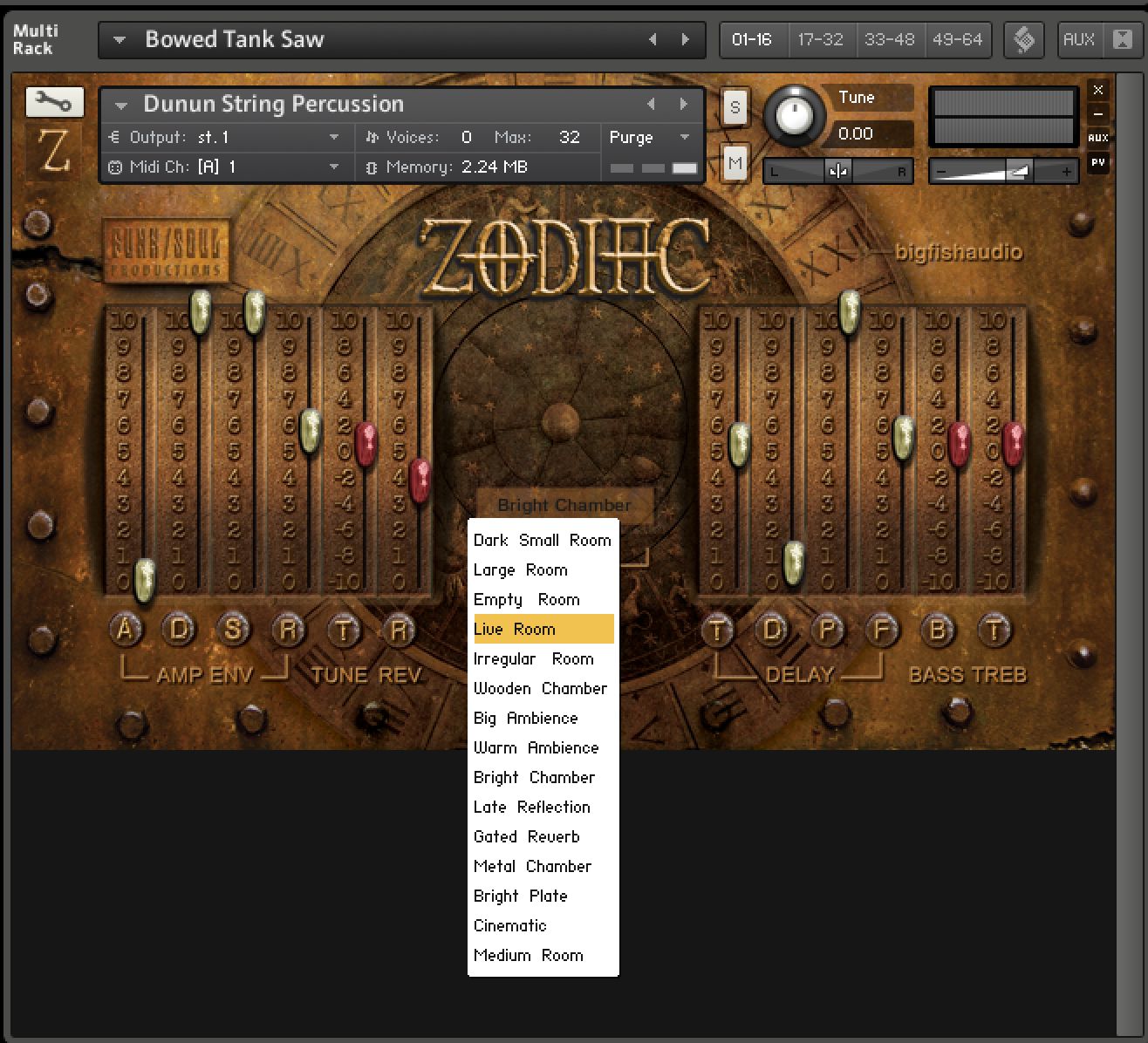 Looks a bit like a fruit machine, no?
Zodiac is an excellent sound design and scoring tool with more than enough presets to help you build a great, atmospheric score. There are light and dark moods, threatening and ethereal tones and much in between, so you shouldn't be left wanting for weird sounds. At the price, a good way to get yourself a versatile scoring toolbox.
Cost: $199.95
Pros:
Excellent and unusual sound set

Easy to tweak sounds

Perfect for scoring
Cons:
Graphics a little superfluous