The BeatBuddy, from Singular Sound, was invented by a group of talented folks who not only found drum machines frustrating to use live, but who were also seeking a way to run them hands free. Note that this is not a looper tool - it actually contains drum samples and beats that can be entirely controlled directly from the pedal and/or the optional footswitch. Essentially, it's a flexible drummer in a pedal with 200 songs in 21 different genres with 10 different drum kits.
Crowdfunding
I find it also interesting that after initial design, the first production run was fully funded within the first 24 hours through a crowdfunding campaign. To date, it's become the most successful campaign for any musical accessory product in crowdfunding history. They also took input from the real world musician community on how the product should operate, which means its features are not just afterthoughts. Also, its open ended, meaning with a mini USB cable and an internet connection, you can constantly keep it updated with new sounds.
Software
It also includes the BeatBuddy software, which lets you update the firmware, arrange and upload your own content or load content from the ever-expanding BeatBuddy Library (or even content from the user forum). For example, you could arrange a full set of songs, tempos, unlimited parts and sounds for your gig upload it and store it in your pedal.
It uses standard General MIDI files for the beats and either 16 or 24 bit WAV files for the drum sets and footswitch accent hits. Note that you cannot currently use WAV files as loops instead of MIDI, but they plan to add that feature in the future. You can however trigger electronic kits for example by streaming it into the pedal with the BeatBuddy IN cable.
The Layout
The layout is straight-forward. You have Volume, Drum Set and Tempo knobs above the large rubberized stomp area at the bottom of the pedal, which controls the software. The display area shows the name of the song, where the beat is in the measure, time signature, what folder its in, playback status, drumset selected, volume and BPM. Next to that are Up/Down/Left/Right arrows for navigation and folder selection, and a tap button for Tap Tempo Mode. On the top is the mini USB connecter, SD card insert slot, and power (9V) input. On the left side sit ¼" inch L/R output (L mono), an 1/8" mini phone jack and MIDI sync input. On the right side are ¼" inputs for Footswitch and L/R inputs (L mono), as well as a Phones Volume dial. It's that straightforward.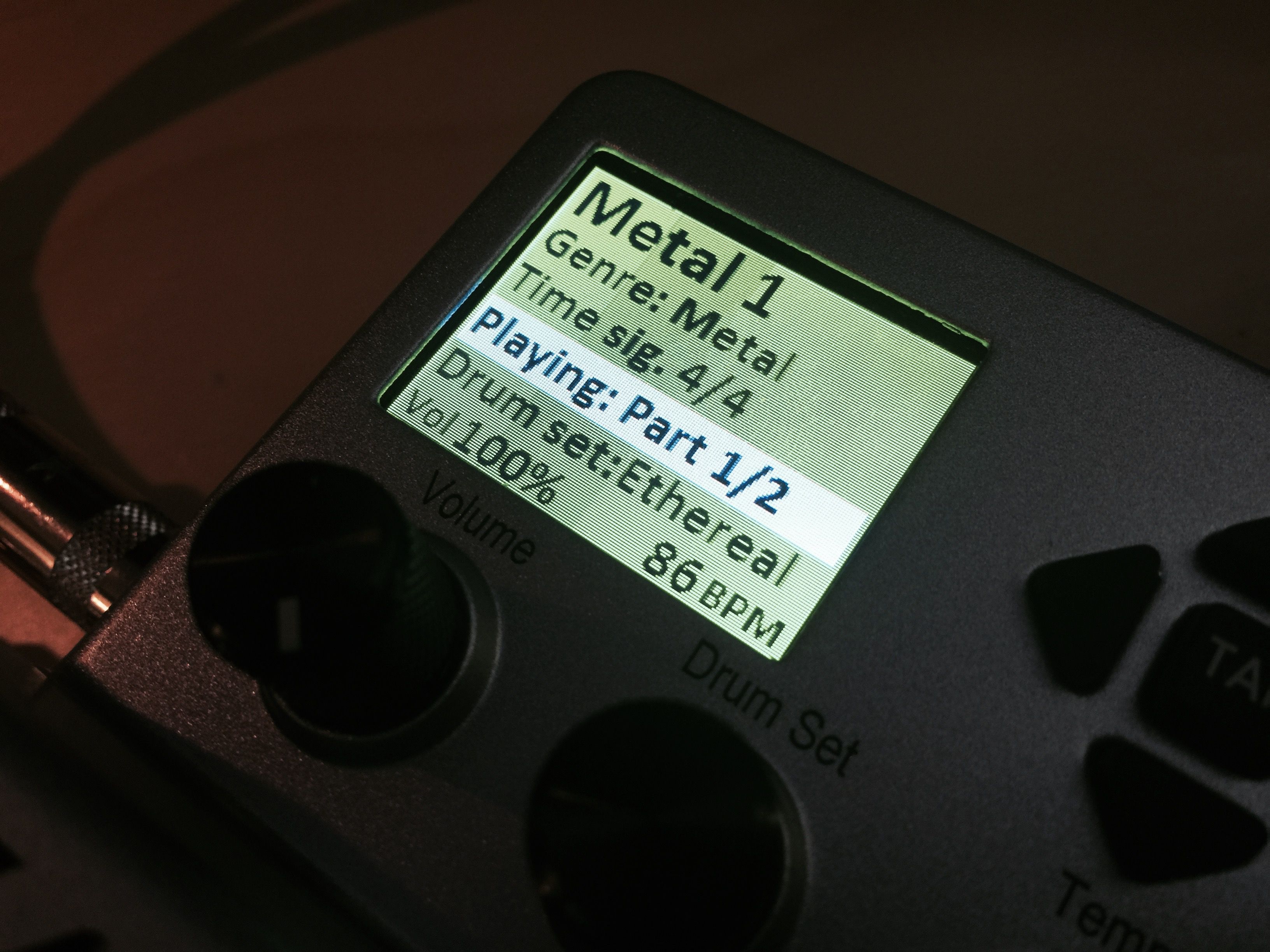 Close up of the BeatBuddy screen.
Make it Happen
It's very easy to operate. Load in the included 4GB SD card, which holds all of the content (beat, drumsets and settings). The first tap on the pedal starts the selected beat, with optional intro fill. If you tap the pedal once, it plays a fill. By holding it down, it begins playing a transition until you let it go, which in perfect time - at the end of the bar - will move to a second groove chorus (or whatever you arrange). Hold it down again, and it will transition back to your first groove. By double tapping, it will end the song with an optional fill. You can tap the tempo of the song when no song is playing by holding the pedal down (a Tap icon appears in the window with flashing green icon and the tempo). Note that all of these can be controlled through the software, so you can essentially have as many parts as you want.
Once you understand those few tap 'commands', you're off and running. If you add in the optional footswitch (or TRS standard momentary or latching dual switch, its even easier to use, which is certainly great for gigging musicians.

A Step Forward
I've done shows with a 'drum machine' before. But it sucked. I loaded my iPod loaded with beats, and had to manually start and stop them, controlling level from a volume pedal. The whole rig was plugged into the board, and it wasn't a great setup.
To be honest, I haven't used this pedal on gigs yet, as I'm lucky enough to play with drummers. But for those who want to do use it live, it's a fabulous way to keep the rhythm going. The other use that I particularly enjoy with this though is practicing and jamming. It's cool to do things like go into the Reggae of Hip Hop folder and change the kit to something like Ethereal or Latin sounds. Then I like to really push myself on the tempos to get the licks flowing. Once you get into it, it's a lot of fun to play to. You realize just how sonically flexible this tool is.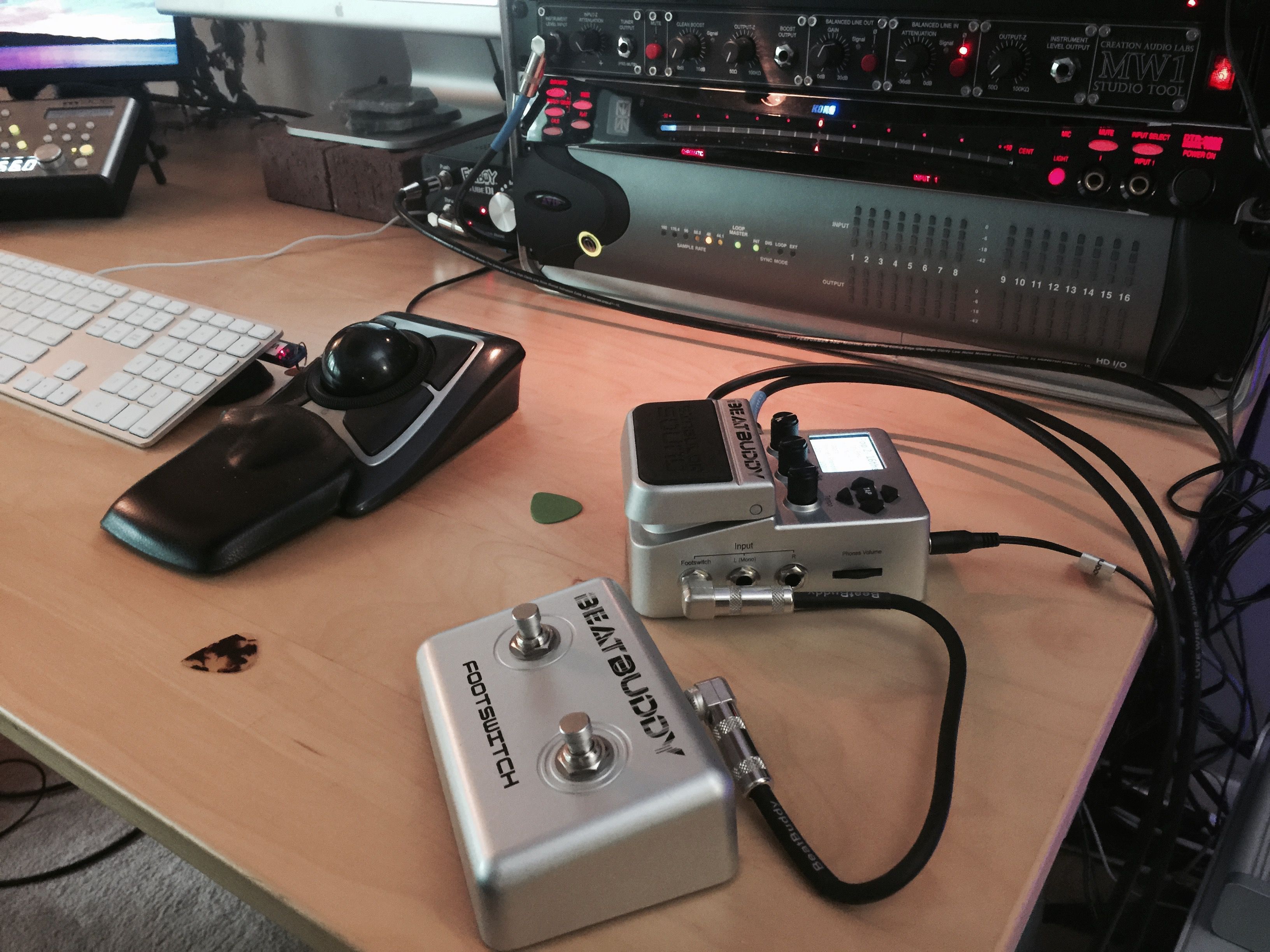 Singular Sound BeatBuddy with the BeatBuddy Footswitch.
Speaking of flexible, it's nice to have a pedal that can evolve. For example, by installing the latest software, V.1.4.1, you can have a countoff for each song with 4 rim clicks, keep the drumset constant for each song, disable the default tempo and even include support of external MIDI notes for example. It allows the folks who designed the product to listen to their customer feedback and implement ideas that work. Forward thinking!

Use it Full Range
It's certainly recommended to plug this into a full range PA system, or studio monitors at home as I used it. Using the Left/Right out, you get the full spectrum of sound. Remember, plugging it mono into a guitar amp will not sound great, as guitar (or bass) amps are made for instruments, not for full range drum machines.
Beat Buddy is a great tool for solo, duo or any gigging musician who want to control hands free rhythm without a drummer, or for those who just want to practice to some cool grooves. With the wide variety of sounds, tempos and styles, and the ability to mange content with the BeatBuddy software, it will not end up sitting in your guitar junk drawer after a few uses. A very cool product indeed!

Price: $299 USD