Review: Bastl Kastle Mini Modular Synth
Whether you're a modular synth beginner or a well-versed noise maker, the Bastl Kastle mini modular synth has something to offer. It's more powerful than both its size and price suggest.
Whether you are a fan of modular synthesis, or not, you really need to hear about Bastl's new Kastle mini-mini modular—An excitingly powerful little synth with several cool features, while being small enough to fit in your pocket. In this review, I'd like to tell you how cool it really is.
New Friends
To be honest, modular synthesis, as it is being sold and provided at the current juncture has been cost prohibitive for me. So, when I got the chance to get my hands on Kastle, I was pretty excited, as it's affordable and I don't have to have a lot, or any gear to get some action out of it. At the same time, it gives you an assignable IO port, just in case you do have some CV friendly gear, laying around.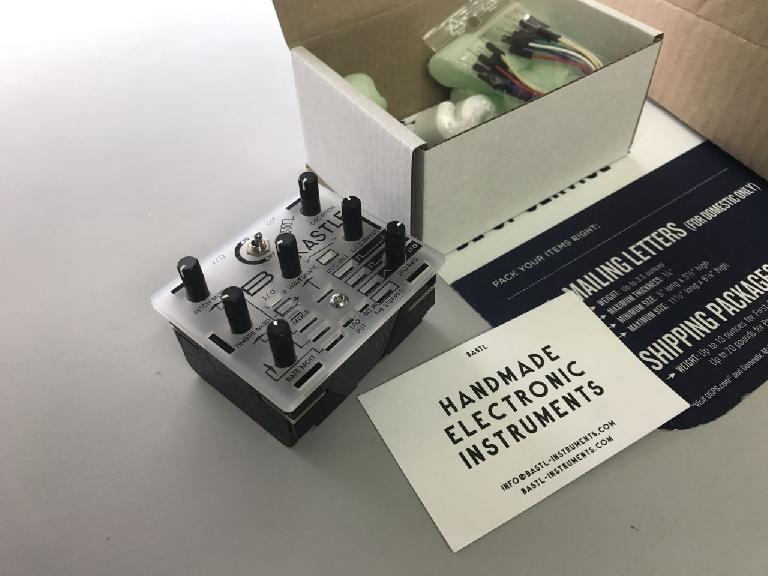 Coming in a really cute, stamped, white box, I have to say that I love the entrance that has been made. A cool little manual came, along with a sticker, as well as several tiny patch cables. The Kastle unit, itself, without batteries is so light that it feels like nothing. No batteries came with the unit, and I have to say that I appreciate that. Not only for environmental reasons, but it keeps the shipping weight much lower.
Once the batteries are in, and the power is up, I couldn't help but marvel at how solid the knobs feel on such a tiny device.
Sound
Featuring three different forms of synthesis—Phase Distortion (similar to the Casio CZ synthesizers) Phase Modulation (similar to FM), and Track and Hold Modulation, once plugged in, Kastl's sound takes on a life of its own. You can switch through the different synthesis types by connecting, or not connecting Timbre Modulation's positive or negative output to the Mode input. Whichever mode you choose, Kastle is a delightfully gritty synth.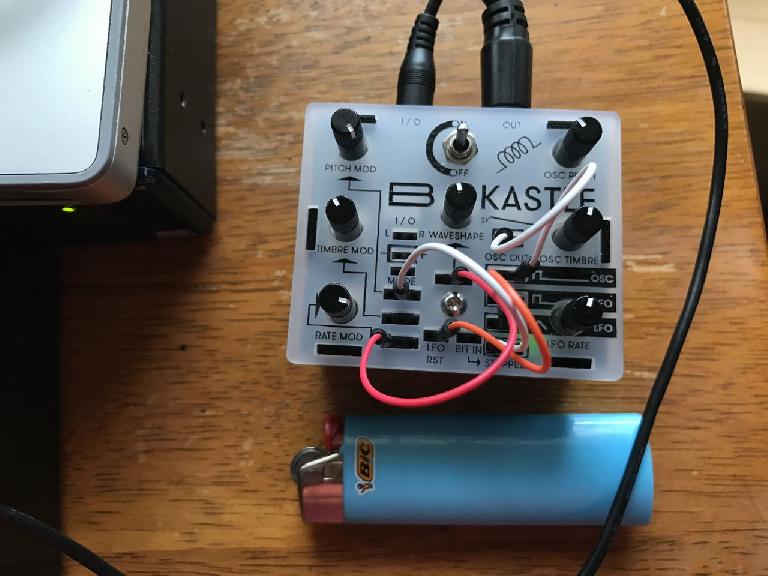 The small, foldout manual does a great job of explaining each parameter, and there are several patch examples you can try out. If you're new to modular synthesis, or even synthesis in general, this is a great first synth that you can definitely build out with. For the more experienced user: The manual even more than hints that the two Attiny 85 chips (one handles sound, the other modulation) can even be reprogrammed via Arduino.
I started out with no patch cables in, just going straight into Ableton Live. I had a great time running Kastle through several different virtual filters in real time (like Output's Movement, and VolumeShaper 4 from CableGuys, just to name a few) as it generated some amazing noise, as well as melodic tones that I could sculpt pretty effortlessly simply jogging the OSC Pitch, Waveshape knobs. But, as I got to know the synth, the patch cables quickly came out, so I could get those LFOs in on the action.
Routing the OSC Pulse Output to the OSC Out socket was one of the first things I patched, where the Pulse waveform gets mixed with the Main Output, giving a thicker, meaner sound. Patching from Stepped generator to Pitch Mod is really fun for generating some melody and crazy patterns. Eventually, my volca FM came in. I routed the Sync Out to the IO port, which was then routed to the handy LFO reset. Suddenly, the little Kastle was moving in time, with my other device, and giving me some crazy modulation.
Conclusion
I would love a couple more of these little Kastle's. It's tiny, but so much fun to use. And you can incorporate it into both full modular systems. Or, like I mentioned above, it's a perfect first step into the larger world of modular synthesis, with a price point you can't beat.
Price: $70
Pros: A powerfully, small, handmade, real modular synthesizer that runs on only 3 AA batteries. Built in IO Port allows it to work with external devices. Reprogrammable Attiny 85 chips. Great sound! Plenty of patch cables.
Cons: Does not come with batteries, might be intense for some beginners.
Web: http://www.bastl-instruments.com/instruments/kastle/kastle-synth/