The 500 series rack world is a great place to be nowadays. There are a lot of really cool options out there to create your own modular channel strip, or you can load up a lunchbox with a bunch of different preamp options - the choice is yours! BAE is no stranger to quality 500 series modules, and when I heard I'd be getting a G10 EQ to try out in my rack, I cleared a space in my chassis and set aside some time.
The Fit and Finish
Just about every single piece of gear I've ever gotten from BAE audio is built like a tank. Actually, scratch that. BAE audio gear is built like a post-apocalyptic tank that survived the nuclear end of the world. Their gear is that rugged, and the G10 is no exception. There are no chintzy knobs or connectors to be found on the G10. The buttons are solid, and the EQ band adjustment faders slide back and forth with a satisfying smoothness, and yet they sit in place with a firmness that makes you feel like you can rely on where they will be after a long session.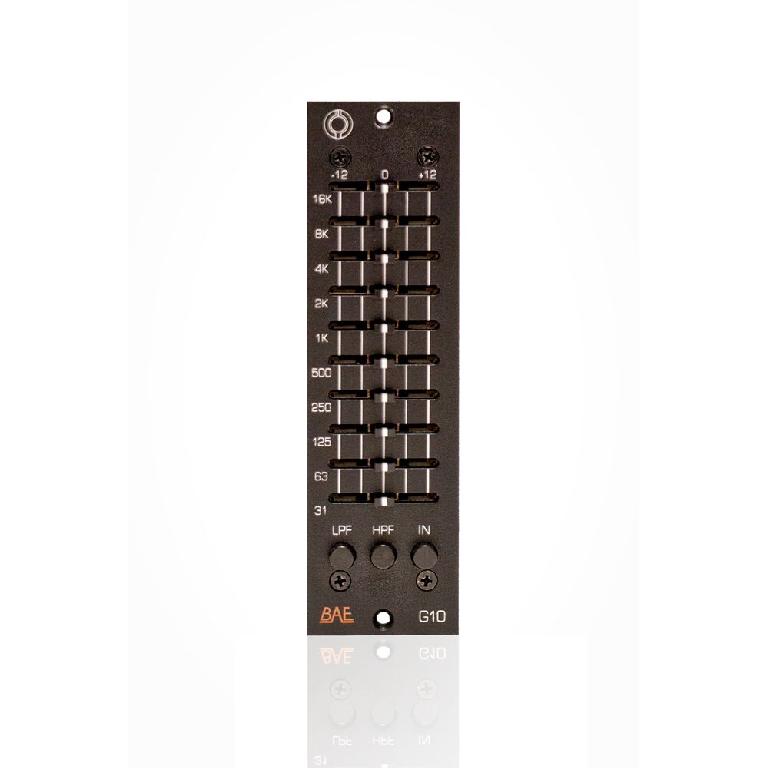 The design of the G10 makes the bands easy to read and see, and the three buttons at the bottom for low pass, high pass, and EQ in are easy to access.
The Features
The low pass frequency shelf is set at 12KHz, and the high pass is set at 80Hz (and the slope is set to 6 and 10db per octave respectively). The chosen EQ bands range from 31Hz to 16KHz and there are 10 of them, very well spaced out. You get 12dB to play with when cutting or boosting an individual band, and the design of the faders makes it very easy to visualize what you are doing to your sound.
The Sound
Simply put, the sound of the BAE G10 is both musical and surgical. With CineMag transformer balanced input/output stages you get a great tone from this EQ from the moment you put it in your signal chain and fire it up. I found myself able to craft an electric guitar tone that sat in my mix within seconds. Even at more extreme settings, the G10 never felt 'harsh' to my ears.
I'll be honest - I've used this style of EQ often in the plug-in variety, and I knew it was going to take a little convincing to 'sell' me on the advent of giving up a very precious 500 series rack space to an EQ that I probably have represented in no less than 5 different plug-ins. The G10 took my expectations and simply filtered them out of the mix. After 3 sessions with the G10 in my 500 series signal chain, I couldn't imagine using that signal chain without the G10 in the future - it's that good.
Conclusion
The G10 is a satisfying EQ to use, and I was surprised by the price. I'm used to BAE gear being accompanied by a price that befits the name brand but in this case I was pleasantly surprised. The BAE G10 is an excellent value at a very reasonable price for an EQ of this class.
Price: $850
Pros: Phenomenal build quality, wonderfully musical sound, absolute precision, superior design
Cons: None. I love this EQ.