Review: AURA Plugins Virus HE...The Best Solution to Control Your Access Virus TI?
Access/Kemper is no longer providing software update for their famous Access Virus TI synthesizer, but that doesn't mean you can't use it with a modern Mac. AURA Plugins may have a good solution...
Used by Depeche Mode, Hans Zimmer and many other big names, the Access Virus TI synthesizer is a powerful instrument capable of creating a wide range of sounds, from vintage analog synthesis to modern digital sounds and everything in between. It's a dream to program, it sounds amazing, and its Total Integration feature makes it very easy to integrate in a DAW environment. Simply connect the Access Virus via USB, load up the plugin and there you go! Well, at least that's how it used to be…
No Update Since 2019!
The Virus line used to constantly improve, with frequent firmware updates and new features added. Sadly for Virus fans, that constant evolution came to an abrupt end in 2019, when Apple released macOS 10.15 Catalina.

In October 2019, Access Music informed their users that the current version of the Virus TI software wasn't "100% compatible" with macOS 10.15 Catalina, and that they would "post news once available".

Strangely, Access has remained dead silent about the whole issue since this post. Even stranger, they keep advertising the Total Integration feature on their website and online store. For some reason, it looks like they have completely abandoned their synth line in favour of their Kemper Amp products, leaving their Virus customers completely in the dark. So, are there any solutions?
AURA Plugins Access Virus HE
The AURA Plugins Access Virus Editor & Librarian is a good solution for Mac users who want to continue using their Access Virus TI synthesizer with modern computers. This hardware editor works well on all recent versions of macOS and Windows and offers native Apple Silicon support. The editor is available in AAX, AudioUnit, VST, and VST3 formats, and is compatible with all versions of the Virus (Virus A, Virus B, C, TI, Snow, etc.). If you don't want to control the Virus from your DAW, a standalone app is also included.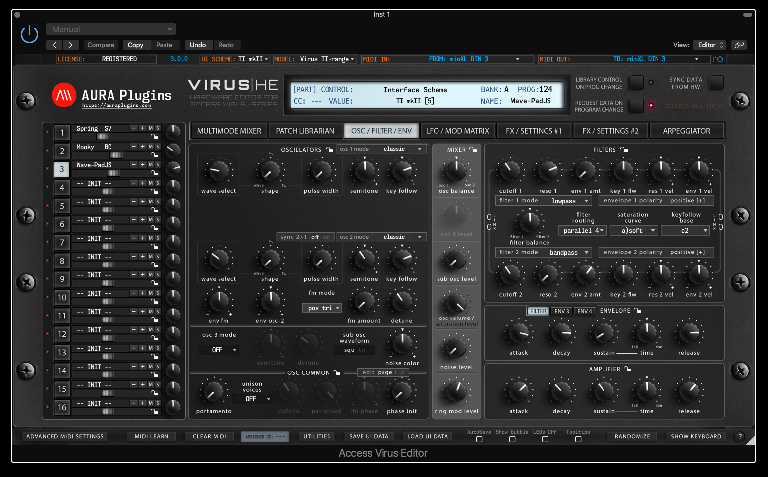 How Does It Work?
Like the original Access Virus TI plugin, the editor allows users to control their Access Virus hardware right from their DAW, like a virtual instrument plug-in. It can be used to recall patch settings, and control and automate the Virus. Tweak the virtual knobs, and the editor automatically sends the data to the hardware Virus.

We tried the plugin in Logic, and we have to say it works very, very well. However, the initial configuration can be a bit confusing especially if you want to transmit audio via USB.
Setting It Up
To get your Virus ready for communication with the Editor, you must first connect the MIDI IN/Out to your MIDI interface, or connect the Virus to your computer via USB. If you're using 5-din MIDI cables, do not forget to disconnect the USB cable, otherwise it will not work. You'll also need to follow the instructions that come with the Editor and adjust the Global and System settings on the Virus hardware correctly. After this is done and the software is installed, you can open the Editor - either the plug-in or the standalone version.
To connect audio, connect the 1/4 output or S/PDIF connection of the Virus to your audio interface. If you prefer to use USB for audio, the setup is a bit more complicated… but more on that later.
When you first launch the editor, you're greeted with a red Virus-A style interface. You can switch the display to match your Virus model in the UI Scheme and Model options located at the top of the user interface. Be sure to check the "Use Specific" box under the Utilities tab, otherwise the plugin will revert back to the Virus-A look next time you load the plugin in a new project. Finally, select the MIDI in and Out, and you're good to go!
Getting Audio
If you want to transmit audio from your Virus to your DAW via USB, you'll first need to visit the Audio MIDI Setup utility on your Mac in order to create an aggregate device. Having to set up an aggregate device to get audio via USB is somewhat more complicated than it was using the original Access Virus TI plugin, but it's currently the only way to get audio via USB from your Virus TI on macOS 10.15 and over. You can find detailed instructions on AURA Plugins' website on how to do this. Fortunately, the Virus TI is class-compliant and does not require any additional audio drivers.

After creating a new aggregate device, we were able to get audio via USB. Since the Virus TI USB connection speed is only 12 Mbit/sec, transmitting both USB and MIDI over USB at the same time can slightly affect performance, especially when data is being requested from the Virus TI to the Editor. To get the best results, it is recommended to use traditional 5-Din MIDI cables and the 1/4 or S/PDIF audio outputs.

Finally, to get the audio from the Virus into your DAW, you'll need to create one or more audio track(s), select the input(s) where your Virus is connected, activate monitoring and you'll be ready to record and enjoy your Virus... again!
The Editor in Use
In our opinion, the AURA Plugins Virus HE interface looks much better than the one from Access. Unlike the original, the plugin is resizable and looks great even on bigger displays. The interface is organized into 7 main tabs: Multimode Mixer, Patch Librarian, Osc/Filter/Env, LFO/Mod Matrix, FX/Settings #1, FX/Settings #2 and Arpeggiator.

The layout of the synth parameters is designed to replicate the actual hardware, making it extremely easy to find what you're looking for. With this editor, you can load and edit patches, tweak every setting, and even record automation. The only thing we felt was missing is some sort of visual feedback when morphing waveform shapes or changing the filter cutoff point, but that's a minor downside.
Final Thoughts
Overall, the Virus HE is an excellent choice for Mac users looking for a solution to control their Virus TI synth on a modern Mac. Once you make it through the initial setup process, you'll be able to enjoy the full benefits of using your Virus hardware with your computer. With its intuitive user interface and diverse range of features, the AURA Plugins Virus Editor is the perfect choice for any Mac user (and Windows users too) wanting to take advantage of their Virus TI synth...