Building instruments and processors from scratch isn't always easy but can be very rewarding. Audulus 3 might just be the tool that persuades you to take the plunge.
Although modular hardware synths have had quite a renaissance in recent years, software has been a popular medium for experimental synth design for as long as computers have been powerful enough to run it. Outside of University labs, the main tools have included NI's Reaktor, MAX / MSP and Pd, all environments for building instruments and processors from scratch. As you might imagine, this stuff isn't really for novices. But the rewards - at least creatively – for sticking with it can be high. It's one thing to make a great patch in someone else's synth, quite another to build your own instrument.
What Is It?
Enter Audulus, now at version 3 and running on Mac, Windows, Linux, iPad and iPhone. The iOS version costs less but is a separate product in its own right, and the desktop versions are standalone products too. Your desktop purchase also gets you VST (Win) and AU (Mac) plugin versions. Conceptually, it's similar to the products mentioned above in that it is an environment for building almost anything you can imagine. Its design however is far more fluid and modern. It's graphically gorgeous, eschewing the virtual metal boxes of other apps for organic, pulsing lights and objects. Everything is draggable, either with the mouse or in iOS, with your finger.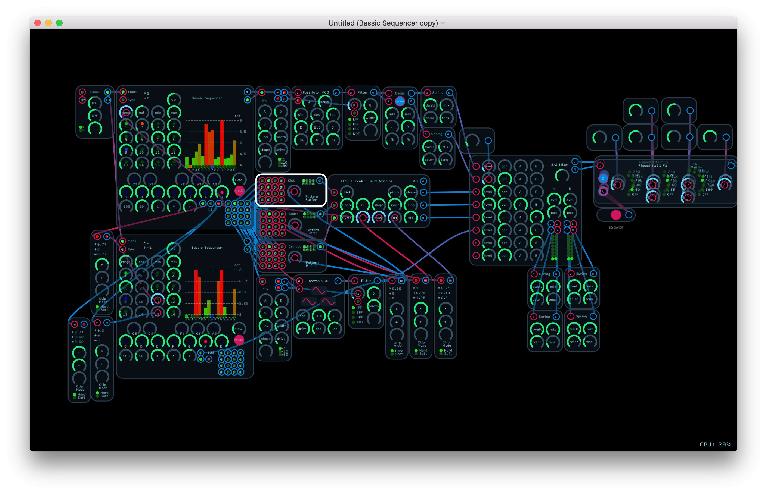 Hit The Ground Running
You might know your way around your favourite Arturia or NI soft synth but that's probably not going to help you too much when you get started with Audulus. This really is core synthesis 101 and if you're not already somewhat experienced with building from scratch you will definitely want to use the (very helpful) tutorial patches and documentation to give yourself a better grounding in how things work. The preset patches seem wildly advanced at first, and indeed they kind of are. But breaking down patches into sections helps you think more logically.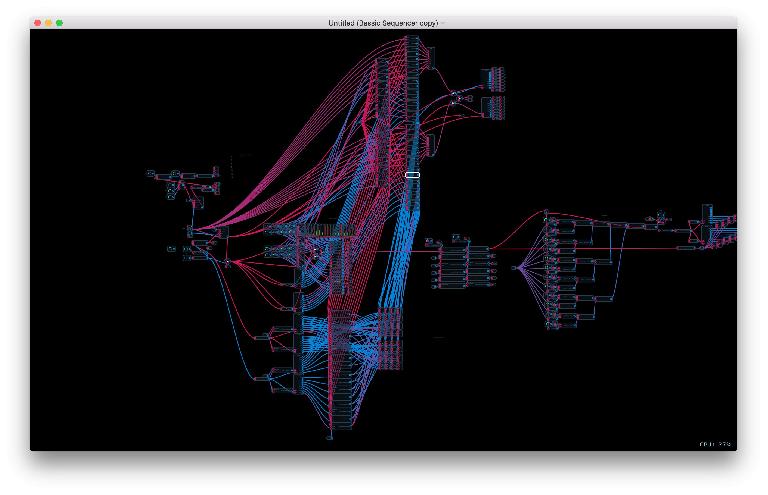 Modules (or "nodes") can be added easily, and these are grouped by type. They include everything from oscillators, envelopes, generators, maths, MIDI triggers and sequencers to effects, mixers, faders, I/O, timers and more. There's a full list here. Everything can be freely placed and patching is done by dragging cables between colour coded inputs and outputs. Since it's a complete blank canvas you have to add everything - audio ins and outs, controls, connections - as anyone who has used this kind of software before will know.
Soncially, it's very much a blank canvas until you start building, which is of course the whole point. It leans towards a more modern, clean sound rather than any kind of retro emulation, but you can create anything from fat, wide basses through spiky leads, sequences, lush pads and everything imbetween. It's as suitable for sound design and experimental stuff as for commercial EDM production. Certainly the overwhelming sense you get from building patches is that the sound has a futuristic feel to it.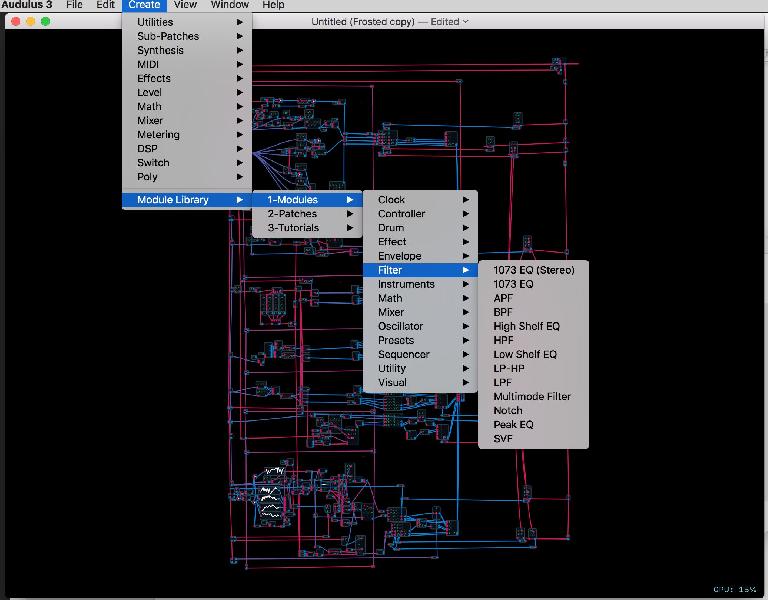 Double tapping or clicking on a Node will "explode" it and reveal yet more workings going on internally. Given how complex patches can quickly become, this is a good way of dealing with keeping things relatively manageable. It also means that it's easier to control things on a macro level, so for example if you have a sequencer node, that can have a very large number of components that make it work. So you work inside it, and then back in the larger view, you connect that sequencer to other Nodes and so on.
Conclusion
Truthfully, this is a stratospherically powerful application. But if you wanted to learn about synthesis and audio processing, it's quite possible to start small and learn the basics. The developers are aware that this isn't child's play and include some great resources to help you. After some time, you might hope to be able to master the larger ensembles – and they do get large. The workflow is really nice and the graphics buttery smooth, with an almost impossibly futuristic feel to them. The apps are also pretty inexpensive considering how powerful they are, and the almost limitless things you can do with them.
Price: iOS version $19.99 / Mac, PC and Linux versions $49.99
Pros: Insanely powerful. Gorgeous, smooth graphics and workflow. Great help and tutorial files. Clever Node system. Learn the basics or build vast setups. Make unique instruments and processors.
Cons: You'll need to invest some time learning about synthesis and processing, though that's useful stuff to know anyway.
Web: http://audulus.com