If you are looking for a suite of audio measurement and calibration tools for your iOS device then AudioTools by Studio Six Digital may very well fit the bill. At $19.99 it is not a cheap app, but it comes with a wide range of built-in modules, and further advanced modules can be obtained as in app purchases.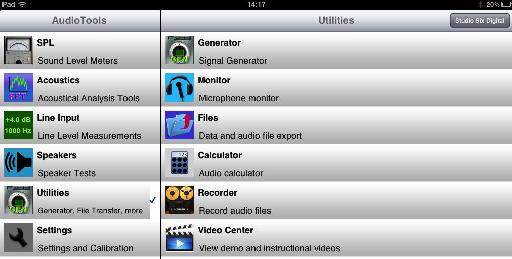 AudioTools comes with a range of modules.
Hardware and Calibration
The app will run on iPhone, iPod Touch and iPad, with graphics optimized for each device, and all modules are pre-calibrated for use with the built-in microphones on those devices.
Following developments in iOS 5, Studio Six Digital were able to implement input gain control for all iOS devices except the iPad 2 (bizarre, but true!) but you should also note that all mics built into iOS devices implement a high pass filter which cuts in quite steeply at around 250 Hz. This is also the case when using mics that plug in via the headset input (such as IK Multimedia's iRig Mic). An alternative would be to use a digital audio device that is attached via the dock connector. Studio Six Digital will be releasing the iAudioInterface 2 (mid-March 2012 as of this writing) to fit this requirement.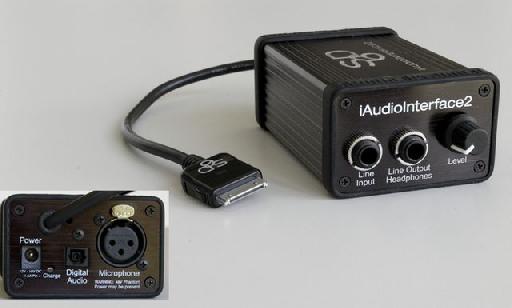 Studio Six Digital's iAudioInterface 2.
Included Modules
As mentioned above AudioTools in its base form comes with the following modules:
SPL Meter: this module can measure up to just over 120 dB SPL using the built in microphone of an iOS device. It can be set to use either A or C weighting and the needle ballistics can be set to model either the fast or slow response of an analog meter.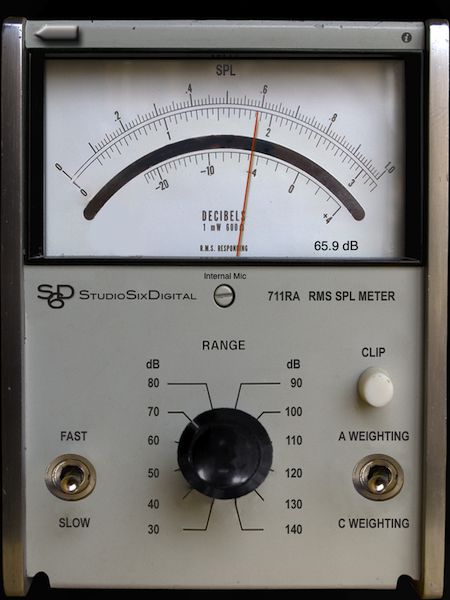 SPL Meter
RTA: this module can be used to perform octave or half-octave spectral analysis, but accuracy will of course be limited by the roll-off caused by the high pass filter applied to the built-in microphone of your iOS device.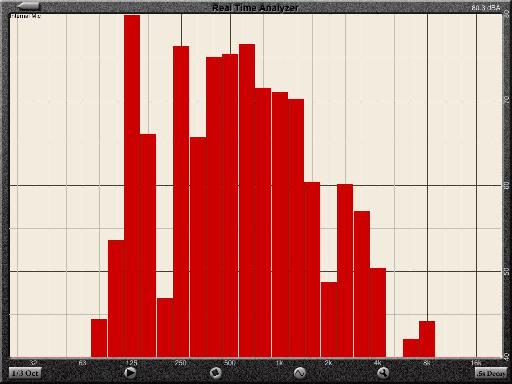 RTA
Audio Scope: a dual-grace oscilloscope with variable sweep rate and up to 128 x gain.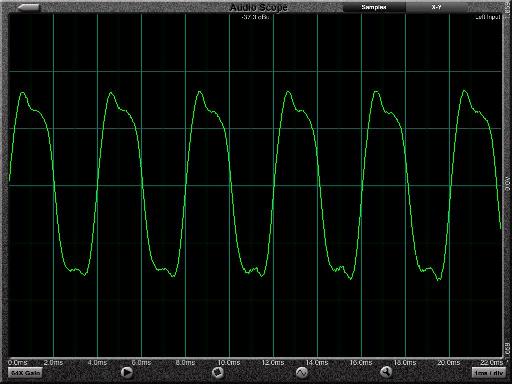 Audioscope
Generator: an audio signal generator that can produce sine and square waves, as well as white and pink noise. The signal can be set to sweep between two user-determined frequencies over a variable time period
Calculators: this module contains a wide range of audio-related calculation utilities, including one for calculating the room modes of any space you can measure'"essential stuff is maths is not your strong point!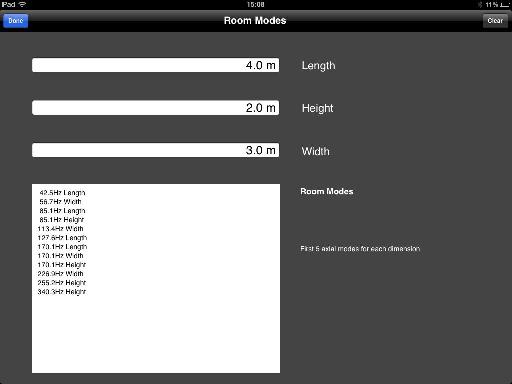 Room Modes Calculator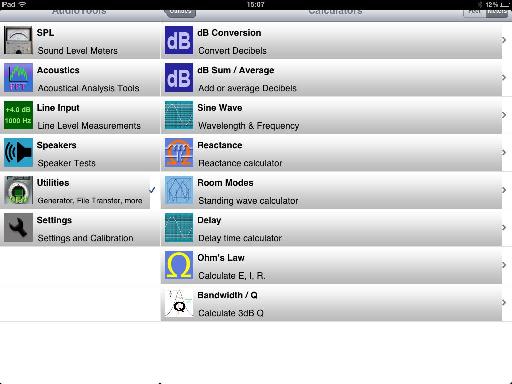 Calculator utilities supplied with the base version of AudioTools
Other modules that come with the basic version are the Delay Finder, Level/Frequency, Input Monitor and Audio Recorder, making this a comprehensive toolkit for audio analysis even before you make further purchases.
Optional Modules
Amongst the range of optional modules available include the SPL Graph, which plots SPL over time (up to 24 hours) and Energy Time Curve, which plots the decay of an impulse over time. You can check out the full set for yourself on the Studio Six Digital site at http://www.studiosixdigital.com/audiotools
In Operation
While the graphics were well implemented and clear in most cases (I was using an iPad 2) I should point out that there are some graphical 'glitches' which meant that once or twice I noticed that a knob position did not update correctly when switching from portrait to landscape view. As a measurement and calibration tool however, AudioTools was a joy to use, with a wide range of test modules that are straightforward to access, and quickly return easy to read results.
Conclusion
AudioTools is a powerful suite of analysis tools for iOS devices, made convenient by the fact that the built-in mic is pre-calibrated, but slightly hobbled by the technical limitations imposed by the high pass filter imposed in these devices. It will really come into its own therefore when used with an appropriate interface. the iAudioInterface 2 will certainly be one way to provide this missing link (as an alternative to some of the more expensive multichannel interfaces announced at NAMM) so I am looking forward to checking it out upon release.
Find out more at http://www.studiosixdigital.com/audiotools