We are living in an era when software is allowing us to do things that even thirty years ago would have seemed like science fiction. Melodyne allows you to discretely tune notes in a guitar chord, for example. And now ADX TRAX Pro can help you separate a vocal from a backing track. It isn't instant gratification on every track and it isn't perfect, YET. But after using it for just an hour or so with their guidance, I was amazed at how close I could get to having an isolated vocal that I could build a brand new arrangement around. I am excited enough to spend some serious time getting really good with it and the ADX folks are really open to continue to make it even better and more user friendly.
What Is It?
TRAX Pro is a standalone app, Mac only presently although a PC version is in the works. There is also the less expensive TRAX version, which works well for more basic separation.
I have a demo that was recorded many years ago of my favorite song that I have ever written the music to, with a wonderful lyric by Harriet Schock. It was sung by the late Kin Vassy, a member of Kenny Rogers and the First Edition, and his vocal is wonderful, but the backing track is terribly dated. I will be working with a small section of this for the article. Here you can listen to it.
Separate Tab
I can start by opening a new project with the choices selected you see in Pic 1. Then I can drag the audio file into the interface.
TRAX Pro separates it for me in the manner that you see in Pic 2 and the soloed vocal sounds like what you hear in audio example 2.
Not half bad right from the git-go. The biggest problem is the inclusion of some of my old DX7 Rhodes patch, which is really enmeshed with the vocal. I will not be able to get rid of all of it, but I can do better.
There are lots of key commands for zooming in/out, moving the view to earlier or later in the timeline, switching between the tools, etc. that are the key to a good workflow. I would start by using the eraser tool on any area where it is the DX7 in the clear, like just after 7 seconds as you see in Pic 3.
To hear the changes I am making without having to perform the "Separate" command again, which not surprisingly takes a little time for the computer to do, if I turn on the Guide Tone as you see in Pic 4, it is a little lo-fi, but I can hear the progress already as I work. After doing this, it is already better.

Pic 4
It will work better with a more accurate Pitch Guide track. All those tall peaks you see are either partially wrong guesses by the algorithm or areas where the DX7 is misleading it. Dragging over the notes with the Pitch Magnet tool what you see in Pic 5 goes a long way to doing this.
Now I can use the pencil tool, with the aid of the keyboard next to it or by holding the control key to find where to draw in pitches where the Pitch Guide still may not be accurate enough. My first 4 notes are G-C-D-E and see how I drew them in in Pic 6, using the Shift key to ensure I draw straight lines. Now we're getting somewhere. I continue on with this for the rest of the audio file and Separate it again. Notice that in the upper right corner of the interface I now have the original separation and a refined one. This will be important later. There is an A > B slider to compare the two.
The Process Tab
Now I move to the Process tab for further Advance Processing Options from the refined Pitch Guide under the Actions window. See Pic 7.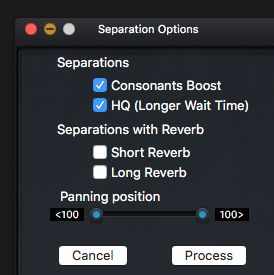 Pic 7
Ellie McNeil of ADX suggested I try to begin with the Consonants Boosts and HQ (high quality) to begin with, as it is a trial and error process. I do so and name it Processed.
Now I have 3 versions that I can make a composite from. If you have used Logic Pro X and know its Take folder with Swipe Comping feature, you will recognize what you see in Pic 8. I hold down the Shift key and drag over the areas I want from each version to create a composite.
The Spectral Tab
This is where Ellie shines and I do not yet. I am not a visual person to begin with, but when you look at my selection in Pic 9 that I have outlined with the Marquee tool (again, like Logic Pro X) I can guess that those straight lines before the wavy lines are most likely the DX7.
I hit the spacebar to hear the selection and sure enough, they are, I need only to press Command-X to delete them.
In Pic 10, I have found more to delete.
There are also Smart Attenuate and Harmonic Selection tools that I do not yet have the hang off, but darned it, I will! ☺
There is even a MIDI file import feature for creating a Pitch Guide. This thing is deep!
Here is Ellie's finished version. Is it perfect? No. Is it good enough to use in a brand spanking new arrangement? You bet it is, in my view.
Here on the website are some more examples. There is also an html based manual and walkthrough videos that are helpful.
http://audionamix.com/technology/adx-TRAX-pro/
Conclusions
This is a remarkable tool that with Audionamix's clear commitment will only get better and better. If like me, you have recordings that you would like to preserve apart from their backing track, or you are a DJ or Remix artist, you are going to love it.
Price: $499.00 or you can subscribe to it monthly for $32.99
Pros: As far as I know, there is literally no competitive product that does what this does as well.
Cons: Fairly steep learning curve, although if you know a DAW like Logic Pro X or an app like Melodyne DNA well, you will learn more quickly.