AudioHero is a new site that offers unlimited royalty free music and sound effects starting at $9.99 per month. With so many other sound effect sites on the market, would AudioHero really be able to offer music and sound effects superior to other services? I spent time digging for samples on the site to discover whether AudioHero would be able to save the day.
Overview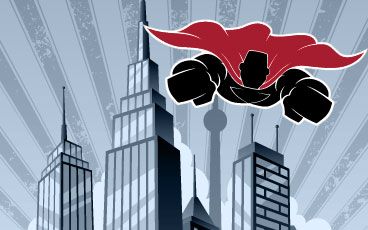 AudioHero offers over 250,000 professional tracks of royalty free music, sound effects and production elements. There are two options for buying audio tracks, either pay as you go or a monthly subscription that starts at $9.99/month. The site features a 'no-commitment' policy and the subscription can be cancelled at any time. There are different levels of subscription rates, including The Prodigy at $9.99 (50 downloads per month, with tracks priced at 20 cents per track), The Action Hero ($19.99 for 100 downloads per month, 20 cents per track), The Super Hero (250 downloads per month for $29.99, 12 cents per track) or The Hero (3000 downloads per year for $299.99, with big savings at 10 cents per track) Individual tracks can also be purchased at $1.99 each or $9.99 each. I like the different types of Hero names for each of the monthly download packages; the Hero element makes this site a little more fun to use!
Samples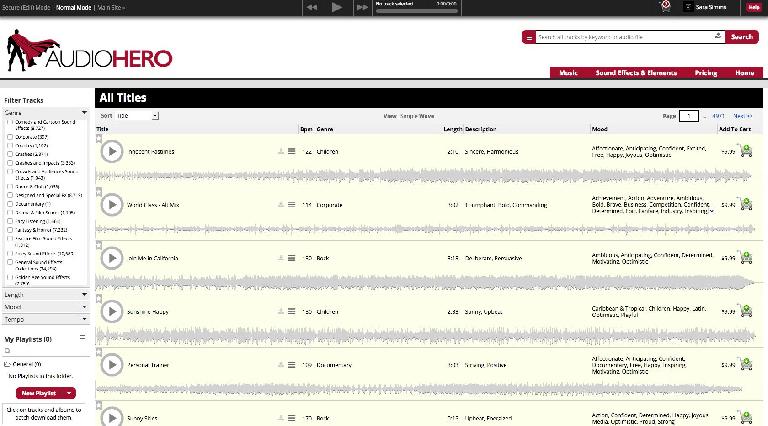 The samples on AudioHero are divided into two categories; Music, and Sound Effects and Elements. Music samples include fully produced pieces in categories like Classic TV & Film Music, Classical, Corporate, Dance & Club, Drama and Film Scores, Easy Listening, Holidays and Christmas, Rock, Jazz, Solo Instrument, Sports and many more. Music samples can be sorted by Length, Mood and Tempo. The BPM's of each sample are displayed, but its not possible to filter the samples by the exact BPM, only by tempo categories ranging from Fast to Very Slow. I personally would find it helpful if there was a filter for the BPM of the music.
I found there was a wide range of music on the site which could be incorporated into many different projects. Being a DJ/producer myself, I wish the dance and club samples were organized into individual dance music genres. Music samples ranging from acid house to beat boxing to hiphop rhythms are grouped together into one category. I feel it would be easier to find samples in specific genres if the organization system was more specific. Overall, I like the quality of the music samples and the diversity that's available on the site.
Sound Effects
The Sound Effects section of the site is sorted into genres like Ambience Sound Effects, Animals and Birds, Comedy and Cartoon Sounds, Crashes and Impacts, Designed and Special FX, Golden Age Sound Effects, Production Elements, Science Fiction and Sound Design. There's a wealth of samples available; all of the samples sound great and are good quality. Sound effects can be sorted by length, Mood and Tempo. In the Sound Effects section, the Tempo filter includes a range of BPMs for each of the categories which makes it much easier to quickly sort through samples. (eg. Medium samples range from 90 – 110 BPM) I was impressed with both the quality and the vast range of samples available.
Search Engine
Users can search for tracks on AudioHero by keyword or Audio File name. There's a feature called SonicSearch beta that allows users to search for tracks by YouTube or SoundCloud URL's and find similar tracks. Both search features make it fast and easy to search for samples and quickly locate sounds.
Normal and Secure Edit Mode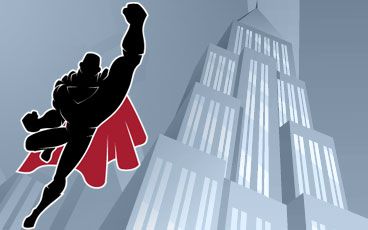 There are two modes available for Audio Hero; normal mode and secure edit mode. The majority of the site can be accessed through normal mode, which allows users to browse tracks, tag them, email them, and look through history. Secure mode allows users to safely enter their password or edit track details if you're a content owner. While in secure mode, communication between the computer and Audio Hero is encrypted.
Conclusion
I think AudioHero is a great site that offers a multitude of great content. If you're looking for samples for projects, AudioHero has a lot of content that available at very affordable rates. Whether you're a dance music producer or composing music for TV and film, AudioHero is a great resource for finding great samples at affordable rates. To sweeten the deal, the site currently offers a one month free trial of 50 downloads. That's a pretty good reason to sign up and see if AudioHero will save the day and your productions!
Price: Various pricing tiers (see article)
Pros: An abundance of music and samples. Affordable subscription rates. One month free trial version available. Cancel your subscription at any time.
Cons: I would find it easier to sort samples by the genre, rather than the Mood. Searching for music samples would be easier if BPM categories were displayed in the Tempo Filter.