Criando seus próprios loops sempre foi um pouco de uma atividade de nicho. Programas como o GarageBand, Logic Pro, Ableton Live e Reason todos vêm com uma vasta biblioteca de loops para a direita fora da caixa, e criando seu próprio parecia ser uma tarefa assustadora. No entanto, agora que esses programas têm sido dominante por algum tempo foram todos começando a ficar um pouco cansado de ouvir o mesmo conjunto de loops como pano de fundo para a nossa realidade programas favoritos. A capacidade de adicionar à sua biblioteca de loops com os seus próprios loops personalizados nunca foi mais importante, e AudioFile Engenharia lançou Editor de Loop 2.0 para tornar o processo mais fácil.
Editor's Note: When Logic Pro X was released one of the apps included in the previous incarnations of Logic Studio went missing. Namely the Apple Loops Utility. This used to be one of the easiest ways to create and edit your own Apple Loops. Loop Editor does more than fill this gap of course, but if you're looking for an easy way to create your own Apple loops, then read on!

A Interface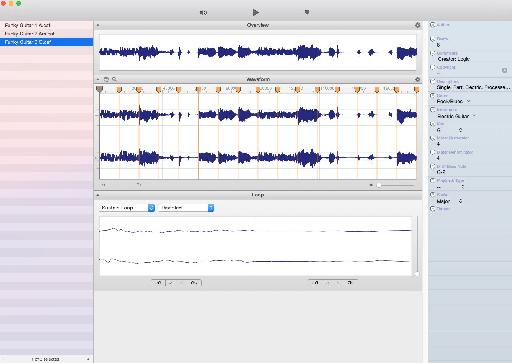 Editor de Loop é colocado para fora muito convenientemente. Sua claro que eles fizeram isso com a idéia de processar grandes quantidades de arquivos muito rapidamente. A lista de arquivos é no lado esquerdo e você pode arrastar o áudio diretamente na lista. O centro da janela abriga uma visão geral, uma exposição ampliada up da área de forma de onda selecionada, e uma janela de malha que permite a micro-ajustes para a sua região em loop. O lado direito da tela é dedicada aos tags de metadados que são incrivelmente importante se você planeja usar o seu loop dentro do GarageBand, Logic ou de outra DAW que permite um tempo / arremesso alongamento.
Uma das coisas que eu gosto sobre a maneira como Editor de Loop lida com seu fluxo de trabalho de visualização e edição é que ela exporta apenas a região em loop selecionado como um arquivo. Dessa forma, você pode alimentar o programa de um arquivo AIFF mais de um músico tentando um monte de coisas diferentes e escolher as 24 medidas que você quer realmente usar como o loop. Em seguida, ele corta fora o resto. Isso permite que você faça rapidamente um grupo de diferentes circuitos fora de um arquivo de mais tempo sem ter que dividi-lo com antecedência.
The Sound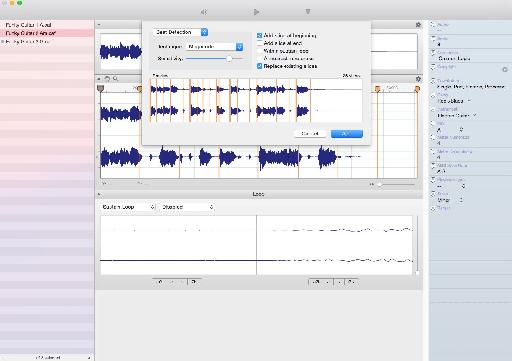 Editor de Loop vem com um monte de diferentes maneiras de adicionar, remover e configurar suas fatias de loop. Você pode adicioná-los automaticamente com um limite de amplitude ou energia, deixá-los manualmente ou adicioná-los de uma forma rítmica (semínimas, colcheias, etc.). Se você quiser exportar partes do seu ciclo individualmente, você vai ter que pagar muita atenção para onde suas fatias cair. Isso é fundamental se você estiver indo para cortar o seu ciclo e criar um instrumento de amostragem com ele.
Um pouco efeito colateral maravilhoso disto é que você pode emparelhar Editor de Loop com um editor de áudio de sua escolha para criar rapidamente instrumento define áudio amostrados. Se você está provando um instrumento que você pode simplesmente jogar as várias notas que desejam provar tudo em uma linha, tem marca Editor de Loop off as fatias em seu comprimento de amostragem desejada e exportar todas as notas separadas de uma só vez, em vez de gravar cada nota como um separado arquivo. Se você está olhando para pegar os sons do seu sintetizador favorito clássico, é um grande impulso para a velocidade de seu fluxo de trabalho.
Conclusão
Editor de Loop 2 é uma pechincha em seu preço atual. Você pode importar todos os tipos de áudio, incluindo arquivos de reciclar e convertê-los em Apple / ACID laços com transientes, regiões de loop e metadados todos devidamente marcados fora. Seu fácil de usar, bem definidos e projetados para você criar bibliotecas de loop costume grandes rapidamente.
Preço: $ 49.99 ($ 29,99 tempo limitado preço de lançamento)
Prós: interface simples e curva de aprendizagem rápida, maneira conveniente de processar grandes conjuntos de arquivos.
Contras: Nenhum para falar.
Web: http://www.audiofile-engineering.com/loopeditor/
Curso de vídeo: