자신의 루프를 만드는 것은 항상 틈새 시장 활동의 비트했다. GarageBand에서, 프로 로직, Ableton의 라이브 및 이유와 같은 프로그램은 모든 권리 상자 밖으로 루프의 광대 한 라이브러리와 함께, 당신의 자신을 만드는 것은 어려운 작업처럼 보였다. 그러나, 꽤 오랫동안 지금 이러한 프로그램이되었는지 주류는 우리가 제일 좋아하는 리얼리티 쇼에 대 한 배경으로 루프의 동일한 세트를 듣고 약간 피곤하기 시작하는 모든했다. 자신 만의 루프와 루프 라이브러리에 추가 할 수있는 기능이 더 중요 적이있다, 그리고 AudioFile 엔지니어링 프로세스 쉽도록 루프 편집기 2.0를 출시했습니다.
Editor's Note: When Logic Pro X was released one of the apps included in the previous incarnations of Logic Studio went missing. Namely the Apple Loops Utility. This used to be one of the easiest ways to create and edit your own Apple Loops. Loop Editor does more than fill this gap of course, but if you're looking for an easy way to create your own Apple loops, then read on!

인터페이스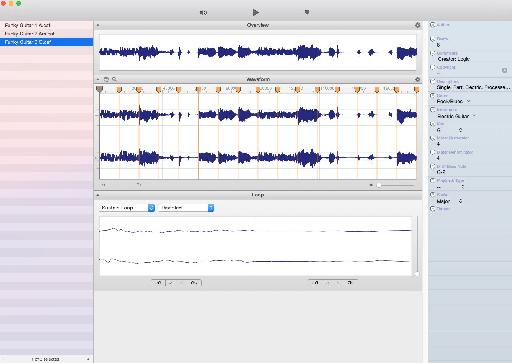 루프 편집기는 매우 편리하게 뻗어있다. 그 맑은들이 매우 빠르게 대량의 파일을 처리하여이 생각했다. 파일 목록이 왼쪽에 있고 목록에 직접 오디오를 드래그 할 수 있습니다. 윈도우의 중심은 일반적인 개요, 선택한 파형 영역의 최대 확대 표시하고 루프 지역에 미세 조정을 할 수있는 루프 창을 수납한다. 화면의 오른쪽은 당신이 GarageBand에서, 논리 또는 스트레칭 시간 / 피치 수 있습니다 다른 DAW 내부 루프를 사용하려는 경우 매우 중요 메타 태그에 최선을 다하고 있습니다.
내가 루프 편집기가 표시 및 편집 워크 플로우를 처리하는 방식에 대해 좋아하는 것들 중 하나는 파일로 만 선택한 반복 영역을 수출하고 있다는 점이다. 이 방법을 사용하면 프로그램에게 여러 가지의 무리를 시도하는 음악가의 이상 AIFF 파일을 공급하고 실제로 루프로 사용할 24 조치를 선택할 수 있습니다. 그런 다음 나머지를 자릅니다. 이것은 당신이 신속하게 미리를 분할하지 않고 더 이상 파일 중 다른 루프의 무리를 만들 수 있습니다.
사운드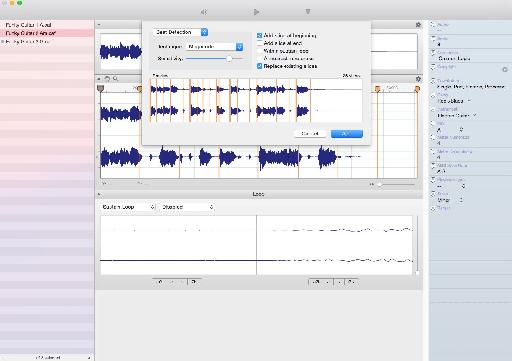 루프 편집기는 루프 슬라이스를 추가, 제거 및 구성하는 다른 방법의 무리와 함께 제공됩니다. 자동, 진폭 또는 에너지 임계 값과 추가 수동에 떨어 뜨리거나 리듬 방식으로 (분 음표, 8 분 음표 등)을 추가 할 수 있습니다. 개별적 루프의 일부를 내보내려면, 당신의 조각이 떨어질 경우에주의를 지불 알면있다. 이 개봉 된 루프를 잘라 그것으로 샘플링 된 악기를 만들려고하는 경우 중요합니다.
이의 멋진 약간의 부작용은 빠르게 샘플링 악기 오디오 세트를 만들 수있는 선택의 오디오 편집기와 루프 편집기를 페어링 할 수 있다는 것입니다. 개봉 된 악기를 샘플링하는 경우 당신은 단순히 당신이 행의 모든​​ 샘플을하고자하는 다양한 음을 연주 할 수 있습니다, 원하는 샘플링 길이의 조각 오프 루프 편집기 표시가, 별도로 모든 메모를 기록하는 번 대신에 모든 별도의 메모를 내보낼 파일. 개봉이 좋아하는 고전적인 신디사이저, 워크 플로우의 속도의 큰 향상에서 소리를 잡아 보이는 것.
결론
루프 편집기 (2)는 현재의 가격에 거래입니다. 당신은 오디오를 포함한 재활용 파일의 모든 종류의 가져 오기 및 변환에 애플 / ACID 모두 제대로 오프 표시 과도 전류 루프 지역 및 메타 데이터를 반복 할 수 있습니다. 사용하기 쉬운 잘 배치하고 빠르게 큰 사용자 루프 라이브러리를 만드는 얻을 수 있도록 설계되었습니다.