Creazione di loop è sempre stato un po 'di un attività di nicchia. Programmi come GarageBand, Logic Pro, Ableton Live e ragione sono tutte dotate di una vasta libreria di loop destra, fuori dalla scatola, e creando il proprio sembrava un compito arduo. Tuttavia, ora che questi programmi sono stati mainstream per molto tempo sono stati tutti di iniziare a ottenere un po 'stanchi di sentire la stessa serie di loop come sfondo per i nostri reality show preferiti. La possibilità di aggiungere alla vostra libreria di loop con i propri cicli personalizzati non è mai stato così importante, e AudioFile Engineering ha rilasciato Loop Editor 2.0 per rendere il processo facile.
Editor's Note: When Logic Pro X was released one of the apps included in the previous incarnations of Logic Studio went missing. Namely the Apple Loops Utility. This used to be one of the easiest ways to create and edit your own Apple Loops. Loop Editor does more than fill this gap of course, but if you're looking for an easy way to create your own Apple loops, then read on!

L'interfaccia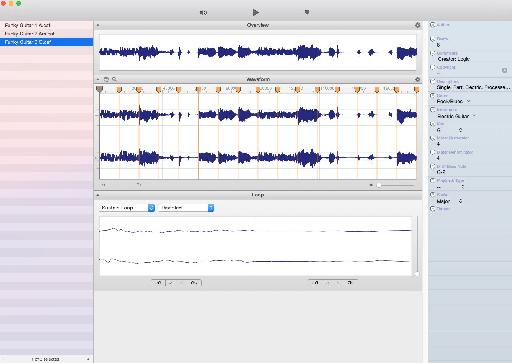 Editor ciclo è strutturato abbastanza comodamente. La sua chiara fecero questo con l'idea di elaborare grandi quantità di file molto velocemente. L'elenco dei file è sul lato sinistro ed è possibile trascinare il audio direttamente nella lista. Il centro della finestra ospita una panoramica generale, un display ingrandita di forma d'onda selezionata, e una finestra ciclo che permette micro-adattamenti tua regione loop. La parte destra dello schermo è dedicata ai tag di metadati che sono incredibilmente importante se si prevede di utilizzare il ciclo all'interno di GarageBand, Logic o un'altra DAW che permette di tempo / passo stretching.
Una delle cose che mi piace il modo in cui gestisce la sua Editor ciclo workflow di visualizzazione e la modifica è che esporta solo la regione in loop selezionato come file. In questo modo, si può alimentare il programma un file AIFF più di un musicista provare un mucchio di cose diverse e raccogliere le 24 misure che si desidera utilizzare effettivamente come il loop. Poi si assetta fuori il resto. Questo permette di effettuare rapidamente una serie di cicli diversi su un file più a lungo senza dover dividerlo in anticipo.
The Sound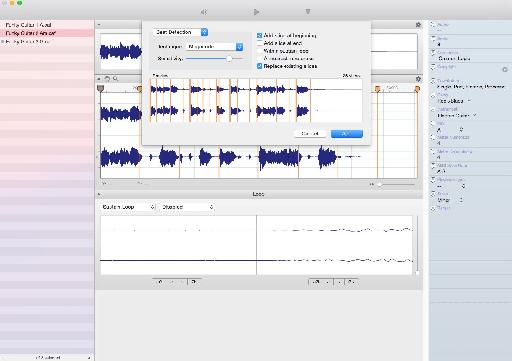 Editor ciclo viene fornito con un sacco di modi diversi per aggiungere, rimuovere e configurare le vostre fette di loop. Potrete aggiungerli automaticamente con una soglia di ampiezza o energia, rilasciarli manualmente o aggiungerli in modo ritmico (quarti, ottavi, etc.). Se si desidera esportare parti del ciclo individuale, youll devono prestare attenzione a dove le vostre fette caduta. Questo è fondamentale se si sta andando per tritare il loop e creare uno strumento campionato con esso.
Un meraviglioso piccolo effetto collaterale di questo è che è possibile associare Editor ciclo con un editor audio di tua scelta per creare rapidamente set audio di strumenti campionati. Se siete il campionamento uno strumento che si può semplicemente suonare le varie note che si desidera assaggiare tutti in fila, hanno marchio Editor ciclo largo delle fette in vostra lunghezza di campionamento desiderata, e di esportare tutte le note separate immediatamente invece di registrare ogni nota come un separato file. Se siete alla ricerca di afferrare suoni synth classico preferito, la sua una grande spinta alla velocità del flusso di lavoro.
Conclusione
Editor ciclo 2 è un affare al suo prezzo attuale. È possibile importare tutti i tipi di audio inclusi i file riciclare e convertirli in Apple / ACID loop con transienti, regioni loop e metadati tutto debitamente segnalati off. La sua facile da usare, ben strutturate e progettato per ottenere la creazione di librerie di loop personalizzati grandi rapidamente.
Prezzo: 49,99 dollari (29,99 dollari tempo limitato prezzo di lancio)
Pro: interfaccia semplice, rapida curva di apprendimento, conveniente modo di trattare grandi collezioni di file.
Contro: Nessuno di cui parlare.
Web: http://www.audiofile-engineering.com/loopeditor/
Naturalmente Video: