Créer vos propres boucles a toujours été un peu une activité de niche. Des programmes comme GarageBand, Logic Pro, Ableton Live et Reason viennent tous avec une vaste bibliothèque de boucles dès la sortie de la boîte, et créer votre propre semblait une tâche ardue. Cependant, maintenant que ces programmes ont été dominante pendant un certain temps étaient tous de commencer à être un peu fatigué d'entendre le même ensemble de boucles comme arrière-plan pour nos émissions de téléréalité préférées. La possibilité d'ajouter à votre bibliothèque de boucles avec vos propres boucles personnalisées n'a jamais été plus important, et Audiofile Engineering a publié boucle Editor 2.0 pour rendre le processus facile.
Editor's Note: When Logic Pro X was released one of the apps included in the previous incarnations of Logic Studio went missing. Namely the Apple Loops Utility. This used to be one of the easiest ways to create and edit your own Apple Loops. Loop Editor does more than fill this gap of course, but if you're looking for an easy way to create your own Apple loops, then read on!

L'interface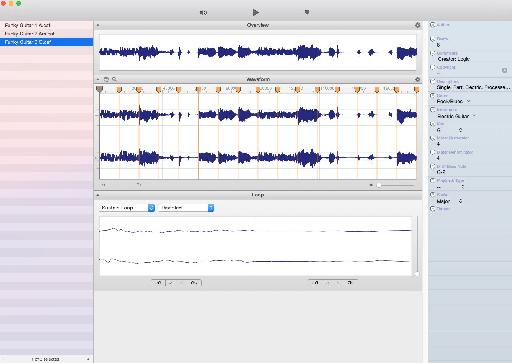 Éditeur de boucle est aménagé de manière assez conviviale. Son clair qu'ils ont fait cela avec l'idée de traiter de grandes quantités de fichiers très rapidement. La liste des fichiers est sur le côté gauche et vous pouvez faire glisser vos fichiers audio directement dans la liste. Le centre de la fenêtre abrite un aperçu général, un affichage zoom avant de la zone de forme d'onde sélectionnée, et une fenêtre de boucle qui permet aux micro-ajustements de ta région en boucle. Le côté droit de l'écran est dédié aux balises de métadonnées qui sont incroyablement important si vous prévoyez d'utiliser votre boucle à l'intérieur de GarageBand, Logic ou d'une autre DAW qui permet pour le temps / pitch étirement.
Une des choses que je aime à propos de la façon dont Éditeur de boucle gère son affichage et l'édition flux de travail, ce est qu'il ne exporte que la région en boucle sélectionné comme un fichier. De cette façon, vous pouvez nourrir le programme d'un fichier AIFF plus d'un musicien essayer un tas de choses différentes et de choisir les 24 mesures que vous souhaitez réellement utiliser que la boucle. Ensuite, il versions hors le reste. Cela vous permet d'effectuer rapidement un tas de différentes boucles sur un fichier plus sans avoir à scinder l'avance.
The Sound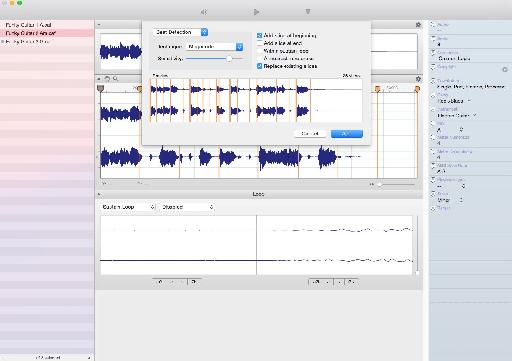 Éditeur de boucle est livré avec un tas de différentes façons d'ajouter, supprimer et configurer vos tranches de boucle. Vous pouvez les ajouter automatiquement avec un seuil d'amplitude ou l'énergie, les déposer manuellement ou les ajouter dans un mode rythmique (noires, croches, etc.). Si vous voulez exporter des parties de votre boucle individuellement, vous aurez à porter une attention particulière à l'endroit où vos tranches tombent. Cela est essentiel si vous allez couper votre boucle et créer un instrument échantillonné avec elle.
Un merveilleux petit effet secondaire de ceci est que vous pouvez jumeler Éditeur de boucle avec un éditeur audio de votre choix pour créer rapidement des ensembles audio d'instruments échantillonnés. Si vous êtes l'échantillonnage d'un instrument que vous pouvez simplement jouer les différentes notes que vous souhaitez déguster tout de suite, ont Éditeur de boucle marquer les tranches dans la longueur de votre échantillonnage désirée, et d'exporter toutes les notes distincts à la fois au lieu d'enregistrer chaque note comme une entité distincte déposer. Si vous cherchez à saisir les sons de votre synthé préféré classique, ce est un coup de pouce à la vitesse de votre flux de travail.
Conclusion
Éditeur de boucle 2 est une aubaine à son prix actuel. Vous pouvez importer toutes sortes de fichiers audio, y compris de recycler et de les convertir en Apple / ACIDE boucles avec transitoires, régions de boucle et les métadonnées tous bien marqués au large. Son interface est facile à utiliser, bien aménagé et conçu pour vous aider à créer de grandes bibliothèques de boucles personnalisé rapidement.
Prix: $ 49,99 ($ 29,99 temps limité prix de lancement)
Plus: Interface simple, courbe d'apprentissage rapide, moyen pratique de traiter de grandes collections de fichiers.
Moins: Pas à proprement parler.
Web: http://www.audiofile-engineering.com/loopeditor/
cours de la vidéo: