Erstellen Sie Ihre eigenen Loops war schon immer ein bisschen wie ein Nischenaktivität. Programme wie Garageband, Logic Pro, Ableton Live und Reason alle mit einer großen Bibliothek von Loops kommen direkt aus der Box, und die Erstellung eigener schien wie eine gewaltige Aufgabe. Aber jetzt, dass diese Programme wurden Mainstream seit geraumer Zeit waren alle Start ein bisschen müde zu hören, den gleichen Satz von Schleifen als Hintergrund für unsere Lieblings-Reality-Shows zu bekommen. Die Fähigkeit, auf Ihre Loop-Bibliothek mit Ihrem eigenen Loops hinzufügen, war noch nie so wichtig, und Audiofile Engineering-Schleifen-Editor 2.0 veröffentlicht die Verfahren zu vereinfachen.
Editor's Note: When Logic Pro X was released one of the apps included in the previous incarnations of Logic Studio went missing. Namely the Apple Loops Utility. This used to be one of the easiest ways to create and edit your own Apple Loops. Loop Editor does more than fill this gap of course, but if you're looking for an easy way to create your own Apple loops, then read on!

Die Schnittstelle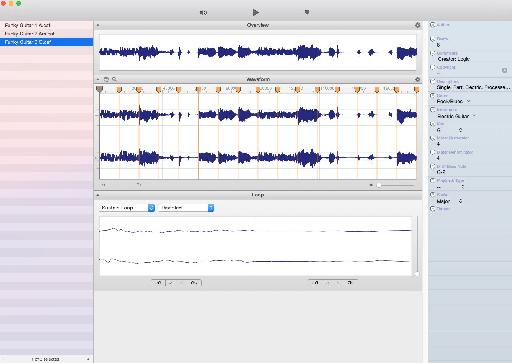 Schleifen-Editor erfolgt ganz bequem gelegt. Seine klare machten dies mit der Idee sehr schnell der Verarbeitung großer Mengen von Dateien. Die Dateiliste ist auf der linken Seite und Sie können Ihre Audio direkt in die Liste ziehen. Die Mitte des Fensters befindet sich eine Gesamtübersicht, eine up Zoom-Darstellung der ausgewählten Wellenform-Bereich, und eine Schleife, die Fenster für die Mikro-Anpassungen an Ihre geschleift Region ermöglicht. Auf der rechten Seite des Bildschirms auf die Metadaten-Tags, die unglaublich wichtig sind, wenn Sie Ihre Schleife in der Garageband, Logic oder anderen DAW, die für die Zeit / Pitch-Strecken ermöglicht verwenden möchten gewidmet.
Eines der Dinge, Ich mag über die Art und Weise Schleifen-Editor seine Anzeige und Bearbeitung Workflow verarbeitet ist, dass es nur die ausgewählte geschleift Region exportiert als Datei. Auf diese Weise können Sie dem Programm eine mehr AIFF-Datei von einem Musiker versuchen, eine Reihe von verschiedenen Dingen ernähren und wählen Sie die 24 Maßnahmen, die Sie tatsächlich als der Schleife verwenden möchten. Dann schneidet er den Rest. Dies ermöglicht Ihnen, eine Reihe von verschiedenen Schleifen von einer längeren Datei schnell zu machen, ohne sie vorher aufgeteilt.
The Sound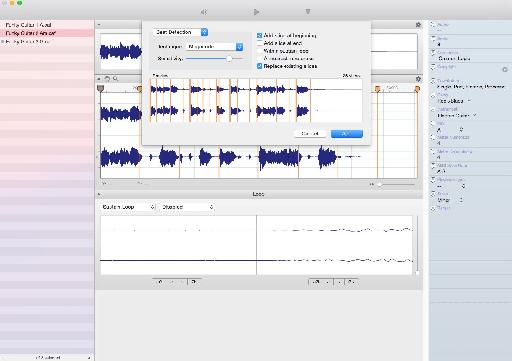 Schleifen-Editor kommt mit einer Reihe von verschiedenen Möglichkeiten, um hinzuzufügen, zu entfernen und konfigurieren Sie Ihre Schleife Scheiben. Sie können automatisch mit einer Amplitude oder Energieschwelle fügen Sie sie, legen Sie sie in von Hand oder fügen Sie sie in einer rhythmischen Weise (Viertelnoten, Achtelnoten, etc.). Wenn Sie Teile Ihrer Schleife einzeln exportiert werden sollen, werden Sie müssen sorgfältig auf, wo Ihre Scheiben fallen zu zahlen. Dies ist entscheidend, wenn du gehst, zerhacken Sie Ihre Schleife und eine Stichprobe Instrument mit ihm.
Ein wunderbares kleines Nebeneffekt davon ist, dass man Schleifen-Editor mit einem Audio-Editor Ihrer Wahl, um schnell abgetastet Instruments Audio-Sets zu koppeln. Wenn youre Abtasten eines Instruments können Sie einfach spielen die verschiedenen Noten, die Sie alle in einer Reihe probieren wollen, müssen Loop-Editor Marke von den Scheiben in der gewünschten Messstrecke, und exportieren Sie alle einzelnen Noten gleichzeitig statt Aufzeichnung jede Note als separate Datei. Wenn du der Suche, um Töne von Ihrem Lieblings-klassischen Synthesizer, dessen eine grosse Erhöhung der Geschwindigkeit des Workflows zu greifen.
Abschluss
Loop-Editor 2 ist ein Schnäppchen auf dem aktuellen Preis. Sie können alle Arten von Audio einschließlich ReCycle-Dateien zu importieren und sie in Apple / ACID-Loops mit Transienten, Loop-Regionen und Metadaten alle richtig abgegrenzt. Es ist einfach zu bedienen, gut angelegt und soll Ihnen die schnelle Erstellung große eigene Loop-Bibliotheken zu bekommen.
Preis: 49,99 $ (29,99 $ begrenzte Zeit zum Einführungspreis)
Vorteile: Einfaches Interface, schnelle Einarbeitung und bequeme Möglichkeit der Verarbeitung große Sammlungen von Dateien.
Nachteile: Keine zu sprechen.
Web: http://www.audiofile-engineering.com/loopeditor/
Video-Kurs: