Creating your own loops has always been a bit of a niche activity. Programs like GarageBand, Logic Pro, Ableton Live and Reason all come with a vast library of loops right out of the box, and creating your own seemed like a daunting task. However, now that these programs have been mainstream for quite some time we're all starting to get a bit tired of hearing the same set of loops as background for our favorite reality shows. The ability to add to your loop library with your own custom loops has never been more important, and Audiofile Engineering has released Loop Editor 2.0 to make the process easy.
Editor's Note: When Logic Pro X was released one of the apps included in the previous incarnations of Logic Studio went missing. Namely the Apple Loops Utility. This used to be one of the easiest ways to create and edit your own Apple Loops. Loop Editor does more than fill this gap of course, but if you're looking for an easy way to create your own Apple loops, then read on!

The Interface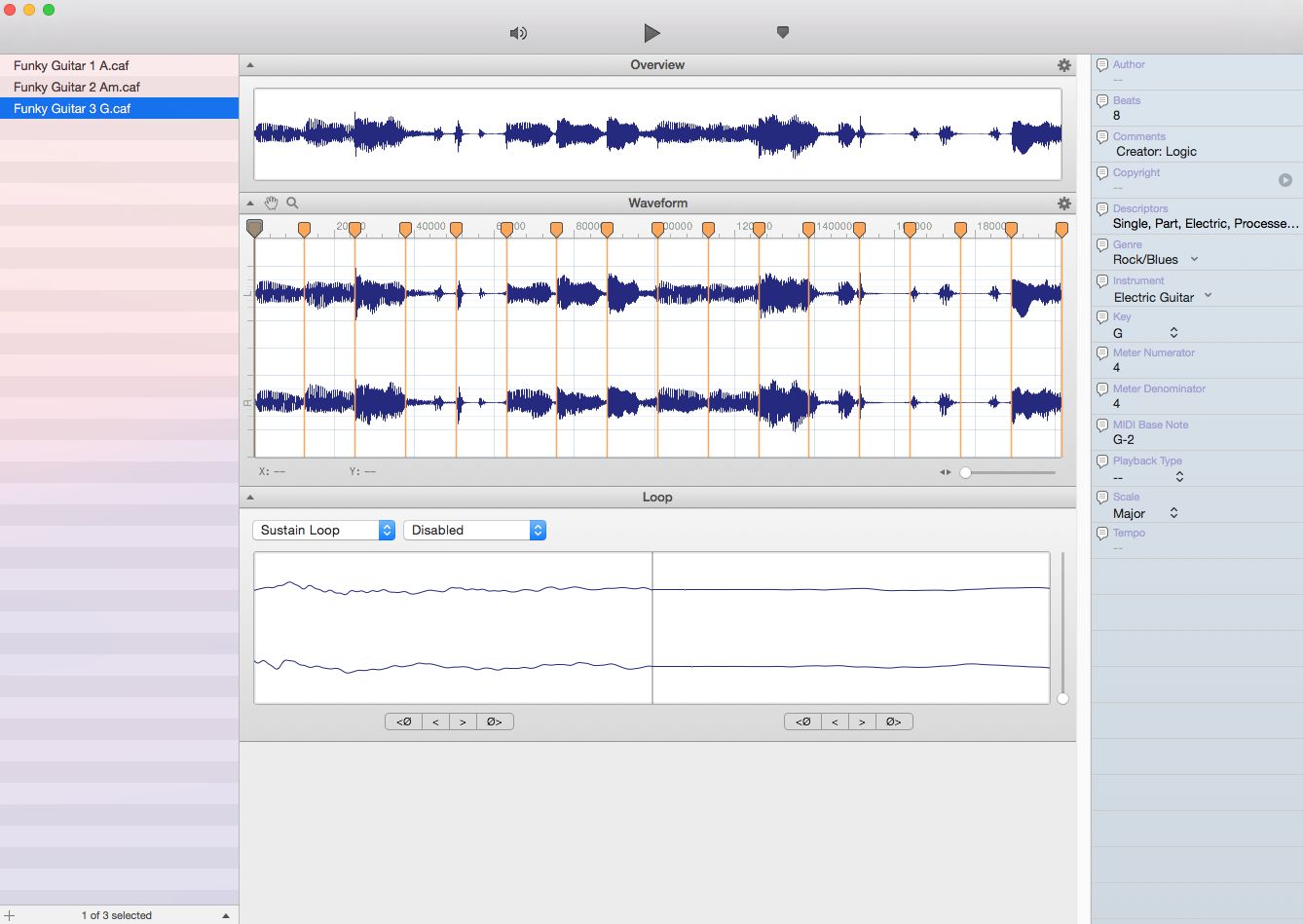 Loop Editor is laid out quite conveniently. It's clear they made this with the idea of processing large amounts of files very quickly. The file list is on the left side and you can drag your audio directly into the list. The center of the window houses a general overview, a 'zoomed up' display of the selected waveform area, and a 'loop' window which allows for micro-adjustments to your looped region. The right side of the screen is dedicated to the metadata tags which are incredibly important if you plan to use your loop inside of GarageBand, Logic or another DAW that allows for time/pitch stretching.
One of the things I like about the way Loop Editor handles its display and editing workflow is that it exports only the selected looped region as a file. This way, you can feed the program a longer aiff file of a musician trying out a bunch of different things and pick the 2–4 measures you want to actually use as the loop. Then it trims off the rest. This allows you to quickly make a bunch of different loops out of a longer file without having to split it up beforehand.
The Sound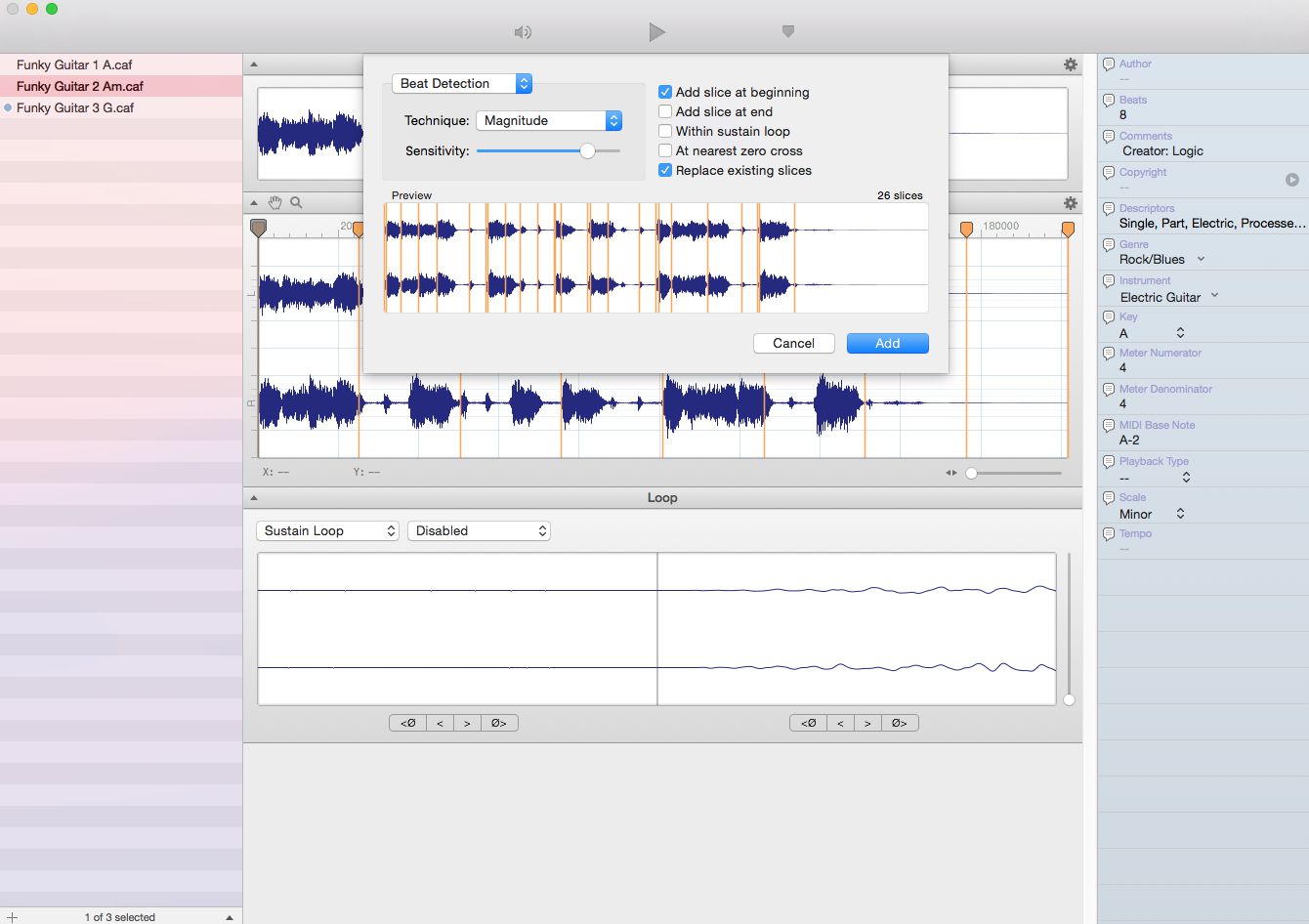 Loop Editor comes with a bunch of different ways to add, remove, and configure your loop slices. You can automatically add them with an amplitude or energy threshold, drop them in manually or add them in a rhythmic fashion (quarter notes, eighth notes, etc.). If you want to export portions of your loop individually, you'll have to pay careful attention to where your slices fall. This is critical if you're going to chop up your loop and create a sampled instrument with it.
A wonderful little side effect of this is that you can pair Loop Editor up with an audio editor of your choice to quickly create sampled instrument audio sets. If you're sampling an instrument you can simply play the various notes you wish to sample all in a row, have Loop Editor mark off the slices in your desired sampling length, and export all the separate notes at once instead of recording every note as a separate file. If you're looking to grab sounds from your favorite classic synth, it's a big boost to the speed of your workflow.
Conclusion
Loop Editor 2 is a bargain at its current price. You can import all sorts of audio including ReCycle files and convert them into Apple/ACID loops with transients, loop regions and metadata all properly marked off. It's easy to use, well laid out and designed to get you creating large custom loop libraries quickly.