EVERY DAW lacks features that another has that its users envy. For Logic Pro X users who do orchestral simulation with sophisticated and complex sample libraries one of the foremost is Cubase's Expression Maps for articulation switching. It has always been possible to devise something similar but far less elegant in the Logic Pro environment and some users like me have been fortunate to have a geeky enough friend to devise one but nobody has made one commercially available to the general public and Logic Pro X's new Scripter MIDI FX plug-in has made it possible to do it with more visual feedback and, well, elegance.
So kids, who will be first into the pool? It is Ivan Kovachev of Audio Grocery and to stay with the pool analogy, he has made a big splash! He has added to his original Toolkit Pro with version 2 to give users several options that run the gamut from pretty straight ahead to very customized. The tools can work with mono timbral and multitimbral instances, can use keyswitching, program changes, and other methods as well.
Requirements & Cost
Logic Pro X and a decent Mac to run it. It cost 42 Euros to download.
What You Get
When you purchase the Toolkit Pro 2 you get Scripts for the Scripter including the MIDI Channel Switcher Pro; the Articulation Pro (both easy and advanced modes); an Expression Mapper; a script for Logic Pro's EXS24, and others. You also get Environment Tools which allow you to use Logic Pro X's track based automation in Latch mode to lay in your articulation changes in real time rather than manually drawing in the control points after the fact, as it is pre-sequencer. There is also an Environment tool to convert keyswitches to MIDI CCs. You also get templates, several manuals and demo videos with some "get started" easy to follow ones on the way as I write this.
All these will show up in the Scripter choices after you perform the really easy installation procedure. There are so many options that it would be impossible for me to cover them in one column, so I am going to focus on the one that I think most users will find to be the easiest one that also does most of what you want to do. That is the Channel Switcher Pro.
The Channel Switcher Pro
In Pic 1. Notice that I have opened one of the included starting templates called AM Pro-Easy. I have loaded a flute multi in Kontakt and you can see in the Inspector that Ivan already loaded a Scripter MIDI FX plug-in with his AM Pro-Easy script. It is very powerful but for now I am going to replace it with the Channel Switcher Pro. See Pic 2.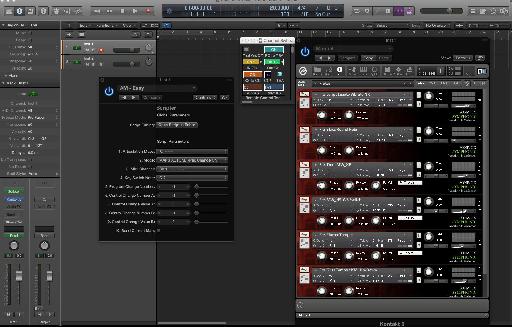 Pic 1

Pic 2
I want to control trigger these from my keyboard with C0-F#1, so in the Channel Switcher Pro's Script Parameters I simply change the minimum and maximum Keyswitch note to those, as you see I have done in Pic 3.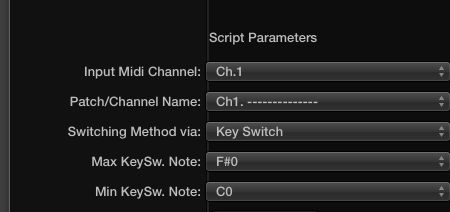 Pic 3
Naming the MIDI Channels
Next to the Script editing text is "Open Script in Editor and if you click on it, the script opens. See Pic .4.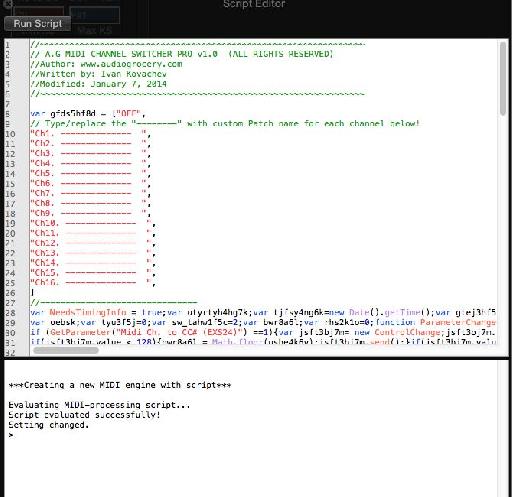 Pic 4
Unlike The Ladies they are not pre-assigned to keyswitches but you can do so using the same method I already explained. Then you can draw your mouse over the dotted lines next to each MIDI channel and name them the way you want to see them, either exactly as the patch name or a simpler name. In Pic 5, you can see the simple one I created for this Kontakt multi.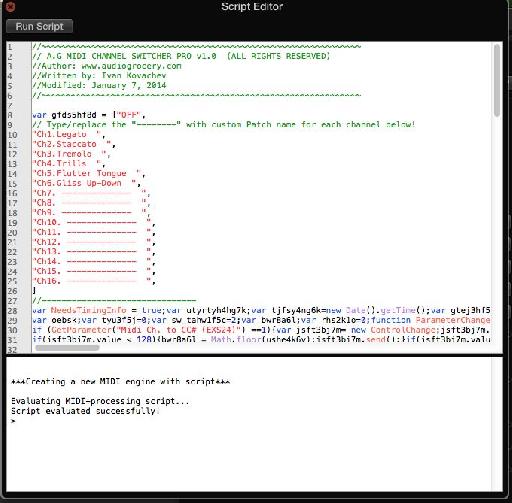 Pic 5
Once you have created it, you must click Run Script and then you can close the Script Editor. Hold down the mouse and navigate to Save As and you can give your script a name. See Pic 6.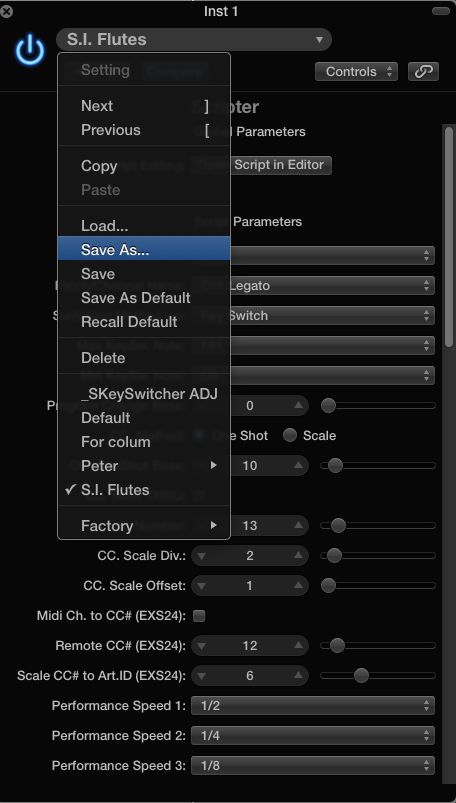 Pic 6
Now if you play your keyboard and press your keyswitch notes, you will see the patch names change in the Script. Obviously, it may take quite a fair amount of time to create scripts for all your instruments but many can use the same script if you are consistent with the articulation choices and order, as I try to be, and once they are there, you can open them in any project and save them in your template. I save them under the desired instruments name even when they result in duplicates of the same script,
Manually Changing Articulations Display in Track Based Automation
Some users may wish to simply play in a part with their keyswitches and then display the articulations by clicking in "control points" ("nodes" in previous versions of Logic Pro) in the appropriate automation lane in Read mode. The best lane for this is the one named Patch/ Channel Name, which you see in Pic .7.

Pic 7
In Pic 8, you can see that I clicked in a "dummy" control point at the beginning, which unfortunately Logic does not allow that first control point to reflect the patch name, and then another immediately to the right and at every spot where I want an articulation change.

Pic 8
Now I can drag the control points up to the desired articulation, as I have one in Pic 9, and when I play back my Logic Pro X project I hear the articulations change and I have visual feedback in the automation lane. Very cool!

Pic 9
Changing Articulations And Their Display in Track Based Automation in Real Time With Latch Mode
In my opinion, this is the way to fly. In that same template that we began with, as well as the other AM Pro template, there has been a modification that Ivan has made in the Clicks and Ports layer of the Environment (importable between projects) that feature his Remote Control Tool, which is visible in this little floating pop-up window of that layer he has included. See Pic 10.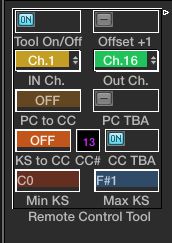 Pic 10
Notice that I have clicked the On button to turn it on and since I will be using keyswitches I have turned off PC (program changes) to TBA (track based automation) and KS to CC, while TBA is clicked On.
All I have to do now is change my automation mode from Read to Latch and play in my part , including hitting my keyswitches and voilà! As you see in Pic 11, I have created my visual feedback and also, I can hear the articulations change. Brilliant!
IMPORTANT NOTE: After you enable Latch mode you will need to open and then close the Script Editor. This is an Apple thing and there is presently no way for Ivan to avoid the necessity of this.

Pic 11
As I said earlier, you can also use program changes or MIDI CCs, and the other tools and scripts give you other great methods for working in Logic Pro X. But as you see it took me over 1,000 words just to cover this, so let me know if you would like a second article to cover more. Also, remember that Ivan has provided a wealth of manuals and videos on the website.
As always, have fun with it!