Bitcom is the latest offering from the good folks at Audio Damage. The opening line of their description of Bitcom is as follows...
"There are subtle plug-ins you put on the two-buss to give a nice gentle vibe to a track. Bitcom is not one of those."
How true that is! Bitcom is essentially a sequenced bit-crusher with a twist. Where bit crushing reduces the bit rate from the top down (reducing the digital resolution of the signal), Bitcom allows you to willingly (yes, willingly!) solo 'individual' bits or combine different bits together to generate what is best described as digital distortion. This can produce a wide range of effects from subtle crunch to total audio destruction!
Bitcom also features a simple internal monophonic synth that can be sequenced internally or played via MIDI. This can be merged with any incoming audio to provide further oddness or used on its own. The sequencer also has a Random feature that redraws the bit selection after each step.
What's it all about?
Turning on the topmost bit of any step will produce a traditional low-rez effect like turning a bit crusher to 1 bit. At this level, only the large dynamic detail of the sound is just about recognizable.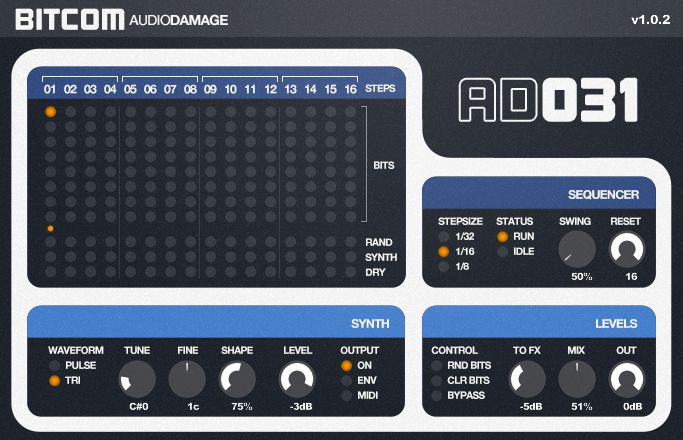 Adding each bit from the top down will add more detail just like a bit crusher. When all eight bits are on the signal, it's at its highest resolution and sounds normal. Switching on no bits produces no sound at all.
Bitcom however lets you select any bit you like. Selecting the lowest bit in the row (which deals with the finer details of the sound) produces some really harsh distorted sounds.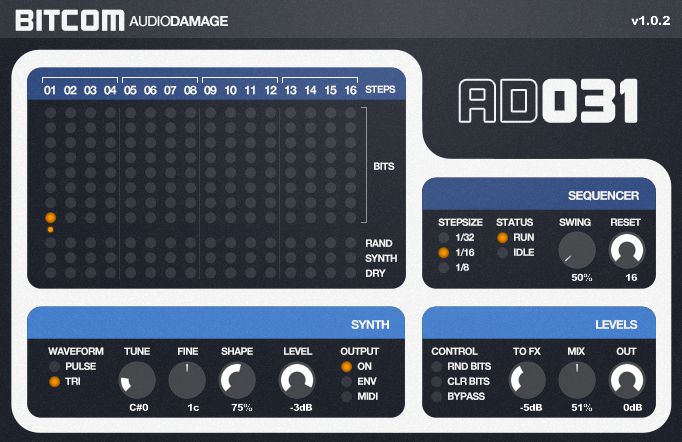 Each bit between these two will have a slightly different characteristic as they deal with individual resolutions of the signal. I think?
Here's a single note played on a saw wave through Bitcom. I've selected each beat to play a different bit over two bars.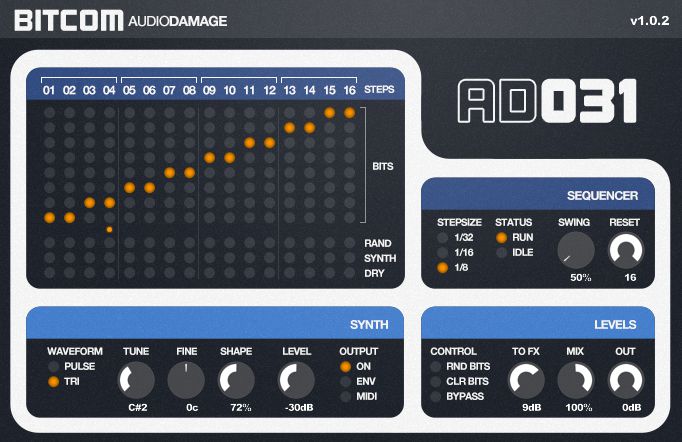 The thing to listen out for is that each two bars, the note is played at a lower velocity. This has a large effect on what Bitcom produces.
So here's a break played through Bitcom. All steps have bits 1 and 3 selected.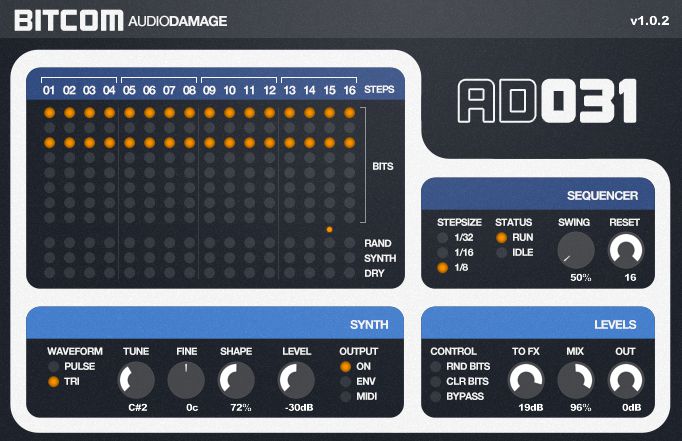 I'll mix in Bitcom over a few bars to 100% wet by automating the Mix parameter. The result is a very gated distortion type effect mainly due to these bits dealing with the larger dynamic sounds.
Now here's the same break with bits 6 and 8.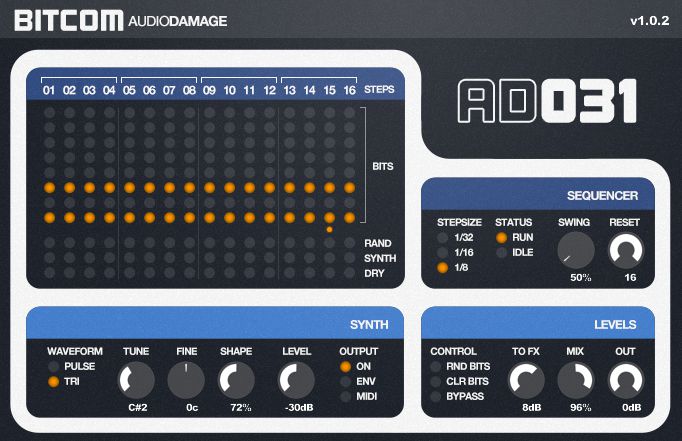 This is much more brittle and distorted and contains finer detail like the reverb.
Now much of what you get out of Bitcom relies on one very important parameter and that's the To FX amount. The less signal you drive Bitcom with the less madness ensues! The last example was set to +8dB the next one is set to -11dB using the same bits.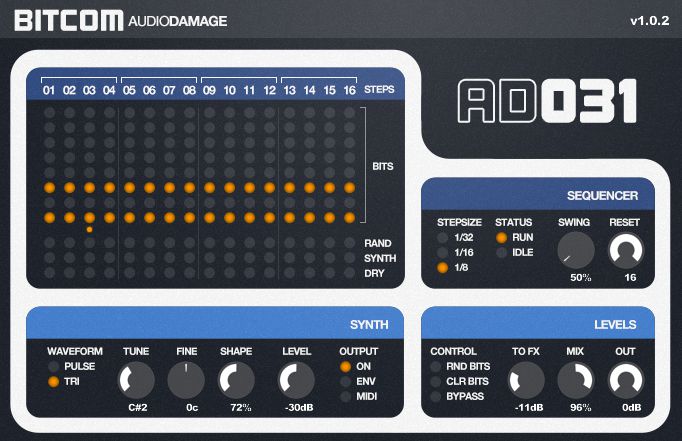 The result is a lot more subtle.

This parameter will play a big part how Bitcom works for you. The results are unpredictable to say the least and there's no definitive answer to what each bit will do for any given input volume! It's kind of like having a Z.Vex Fuzz Factory pedal in software form in that you're not sure what's going on but it sounds cool!
You can randomize the bits for all sequence steps by hitting the RND BITS switch which can give some interesting results or just build your own sequences. Experimentation is the key.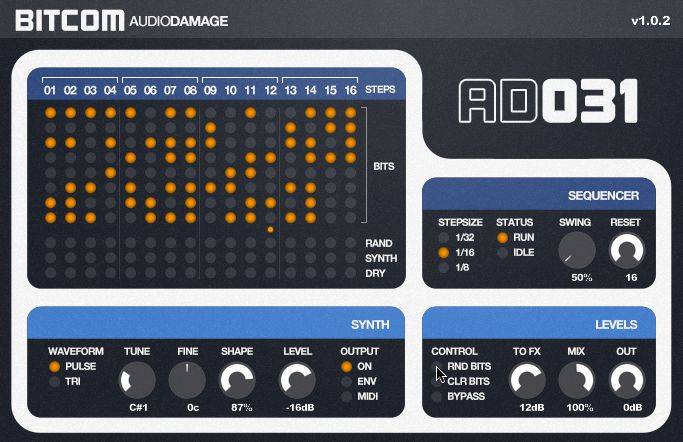 The sequencer can give you some great dynamic distortion effects. Selecting the RAND switches for any step will randomly redraw that step once it's played.
Lastly, the Synth. This is enabled using the SYNTH row. It has two waveforms TRI and PULSE (SHAPE controls the Pulse Width). When set to ON it plays the note set by TUNE according to the sequence. Same with ENV but this time the signal is driven by the audio input dynamics. MIDI allows you to play melodic passages via MIDI notes.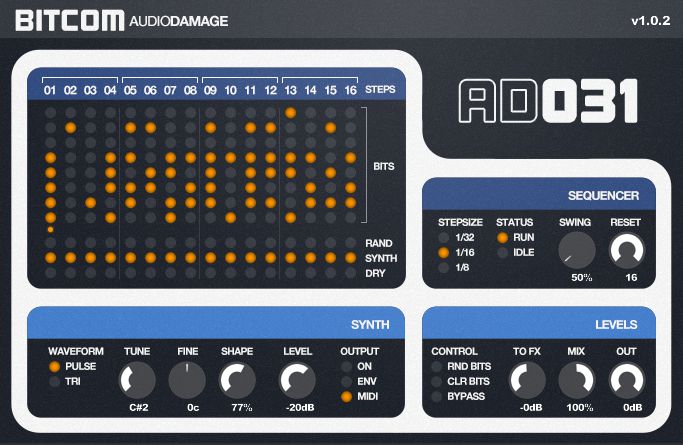 The synth can produce some usable distorted bass sounds all the way up to screaming distorted leads.
Conclusion
So Bitcom won't be for everyone, but if your looking for some experimental distortion effects then get on it! It can be pretty savage and nasty but then I think that might have been the point! It's only $39 too!
Discover more about Bitcom here.