Audient has been impressing for a while with its pro audio interfaces and converters and the British company now makes everything from huge desks to portable units. It's never gone quite this portable before however, with the iD4 representing its most compact interface to date. It has one Class A Audient Console mic pre, the same model found in the much larger units, and a JFET D.I. It's bus powered over USB2 and operates at up to 24-bit/96 kHz. It works with Windows, OS X and also with iOS via a Camera Connection Kit, though in that case you also have to supply power from a hub.
Silver Streak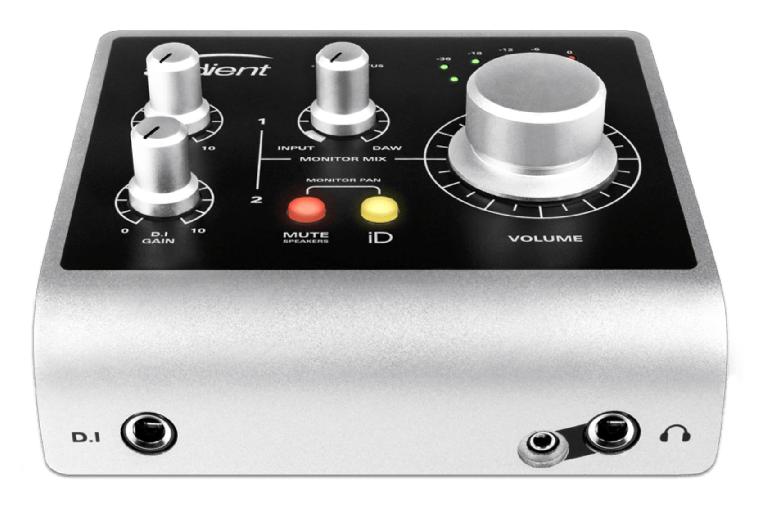 The build quality, as with all of Audient's gear I've tested, is supreme. It's an all-metal body and extremely durable, plus it looks great. It's physically small but a little heavier than expected though this is a tradeoff I personally am happy to make in return for the extremely sturdy build. Around the back you get USB for power and audio plus stereo speaker out jacks and a single combo input with phantom power switch. On the front is a D.I input and dual headphone outs—one 1/4 and one 1/8 inch jack—which is unusual on such a compact box and would let for example a guitarist and a vocalist record and monitor at the same time.
The main surface is clearly laid out, with gain knobs for the two inputs plus a monitor mix between input and DAW signals to achieve what Audient claims to be "near zero" latency. In my tests I didn't find latency to be an issue. By pressing and holding two buttons you can control monitor panning too, panning both inputs from left to right for better control over the monitor mix. There are colored lights for level metering and a large volume knob that doubles up as a dim control when pressed. A speaker mute button is also really handy for mic-based recording, especially if you're used to having to physically power off your speakers.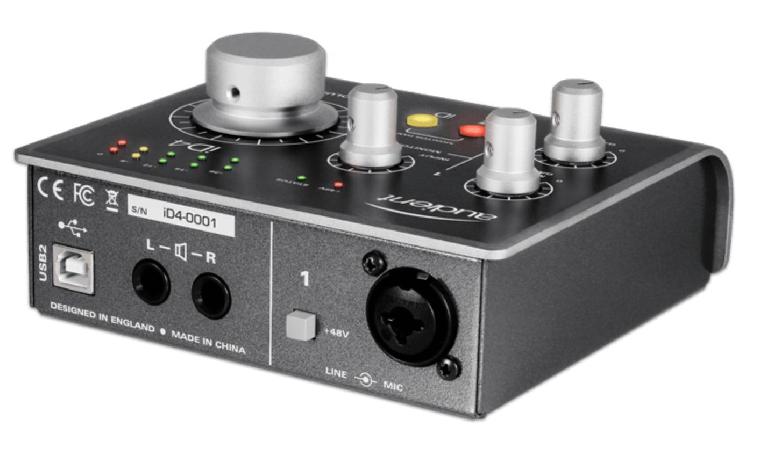 Scroll Around
The volume dial has a third function which you can access by pressing the iD button. Doing so turns the volume dial into a scroll control in software meaning that when you hover the mouse over certain knobs or faders in your DAW, it scrolls them left or right, up or down. This also works for many lists or other things that scroll, like webpages or iTunes playlists. It doesn't work for every DAW parameter, of course, and seems to be software-dependent but it's still a nice bonus. If in doubt, check with Audient to see what's supported in your particular DAW.
The recording results from the iD4 were as good as I'd expected from Audient kit: crisp, clear and very accurate. There are more monitoring options than you might normally find on such a compact unit, and I found myself using the Scroll wheel function more than I thought I would. For simpler recording setups at home or on the road, this is an excellent and very portable solution. Well built and laser-focused in its operation, it comes highly recommended.