Audient은 무엇보다도 그 스튜디오 콘솔과 하이 엔드 모니터 컨트롤러와 프리 앰프에 대한 알려져있다,하지만 지금은 영국 회사는 작은 스튜디오와 그 세계적인 수준의 사운드에 대한 액세스를 제공하기위한 모두 더 소형 장치에 부담 전문 지식을 가져왔다. iD22는 오히려이 먼저 눈을 만날 수도에가는 USB 오디오 인터페이스 및 모니터링 시스템입니다. 표면 아래에 파고 알면 일반적으로 소형 오디오 인터페이스와 관련되지 않은 기능의 재산을 찾을 수 있습니다.
The build quality of the iD22 is excellent and it feels extremely robust and solid despite its small size and portability.

iD22의 빌드 품질이 우수하고 그것의 작은 크기와 휴대에도 불구하고 매우 견고하고 단단한 느낌. 물리적 컨트롤은 빈티지 하드웨어 연상 매우 전문 부드럽고 정확한 느낌. 전면 패널 게인 컨트롤과 팬텀 파워에 대한 물리적 플립 스위치, -10 dB 패드, 극성 스위치와 소리와 파열음을 처리 할 수​​있는 하이 패스 필터가 각각 두 개의 입력 채널에 대한 컨트롤이 포함되어 있습니다. 크고 안심하게 고체 모니터 게인 노브는 4 세그먼트 레벨 LED 디스플레이 아래에 앉아 오른쪽에있는 헤드폰 게인 다이얼입니다. 세 할당 기능 스위치는 소프트웨어의 라우팅 변화와 유사한 작업을 제어하기 위해 설정 될 수 있고,이 물리적 희미한이며 버튼을 잘라.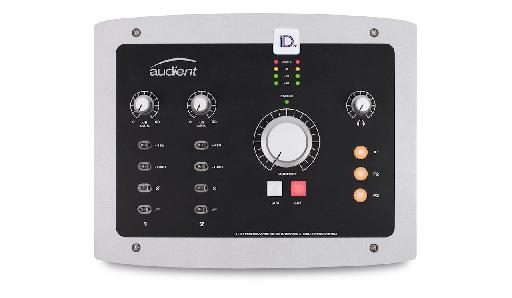 간단하지만 강력한 컨트롤과 매우 높은 품질의 마무리.
기능과 아웃
There are two balanced insert points for incorporating external outboard hardware into the signal chain, which is rare on such a small unit.

다시 주위 알면 iD22 특히 유연하게 만드는 I / O의 호스트를 찾을 수 있습니다. Mac 또는 PC, 두 개의 콤보 XLR 입력, 기타 등 하이 게인 소스를 연결하기위한 JFET의 DI 입력을 가지고있는 두 번째에 연결하는 전원 입력 및 USB2를 프로그래머. 네 개의 개별 출력은 각각이 자신의 DAC에 의해 공급되고, 이러한 공연 혼합물에 별도의 모니터를 보내거나 모니터 스피커의 제 2 세트를 연결하기 위해 사용될 수 있고, 유효하다. 이런 작은 단위에 드문 신호 체인으로 외부 아웃 보드 하드웨어를 통합하는 두 가지 평형 삽입 포인트가 있습니다. 만약 하드웨어 프로세서 (리버브, 압축기 등)를 가지고있는 경우에 용이하게 도입 될 수있다. 그것의 확장도 ADAT 및 S / PDIF 프로토콜을 모두 지원 광 I / O를 포함에 감사합니다. 그래서 당신은, 예를 들어, 여덟 채널 마이크 프리에서 광학적으로 공급함으로써 열 입력을 추가 할 수 있습니다.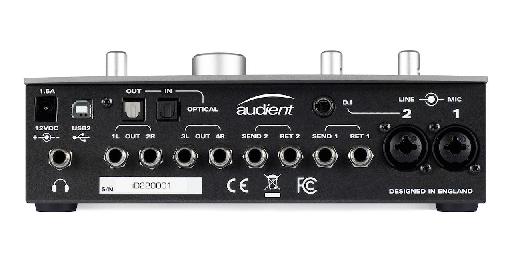 하드웨어와 디지털 신호를 통합을위한 I / O의 호스트.
소프트웨어 응용 프로그램
믹서 응용 프로그램은 라우팅 정말 창조적 수 있습니다, 그 아름다운 디자인. 채널 링크 및 링크 해제 할 수 있습니다, 큐 레벨과 패닝이 설정 될 수 있으며, 색상 코드는 어디 전송되는 뭐죠을 추적 할 수 있습니다. 시스템 패널에서는, 토크백을 설정 트림 희미한 수준과 간단하고 쉽게 아날로그의 정확한 라우팅 및 디지털 출력을 지정 라우팅 매트릭스를 사용할 수 있습니다.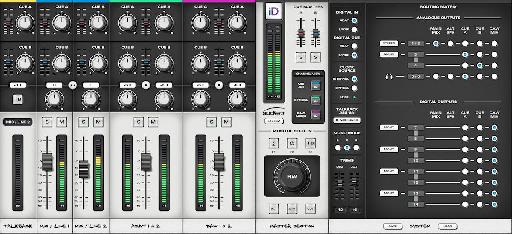 멋지게 디자인 된 믹서 응용 프로그램은 당신에게 단위 라우팅을 통해 훨씬 더 제어 할 수 있습니다.
엄격 제로, 매우 낮은이며, 우리의 테스트 중 눈에 띄는 아니었지만 iD22의 마이크 프리와 컨버터는, 우수한, 대기 시간입니다. 녹음 품질은 물론 완벽하고 똑똑한 디지털 믹서 응용 프로그램을 활용하여, 우리는 쉽게 특정 모니터 믹스를 만들 수 있었다. 이것은 당신이 좋은 기록을 얻을뿐만 아니라 도움이뿐만 아니라, 여러분의 세션으로 외부 하드웨어 및 다른 디지털 소스를 통합 할 것입니다 매우 잘 설계 오디오 인터페이스입니다. 심각한 키트의 조각, 그리고 합리적인 가격.