Audient è forse più noto per le sue console di studio e di controllo del monitor di fascia alta e preamplificatori, ma ora l'azienda britannica ha portato la sua competenza per sostenere una unità complessivamente più compatta volto a dare quelle con studi più piccoli di accedere al suo suono di classe mondiale. Il id22 è un sistema di interfaccia audio USB e il monitoraggio, con un po 'più in corso che potrebbe prima soddisfare l'occhio. Scavare sotto la superficie e youll trovare una vasta gamma di funzioni normalmente non associati con le interfacce audio compatti.
The build quality of the iD22 is excellent and it feels extremely robust and solid despite its small size and portability.

La qualità costruttiva della id22 è eccellente e ci si sente estremamente robusto e solido nonostante le sue piccole dimensioni e la portabilità. I controlli fisici ricordano hardware d'epoca e si sentono altamente professionale, morbido e preciso. Il pannello frontale contiene i controlli per i due canali di ingresso, ognuno dei quali ha un controllo di guadagno e gli interruttori di vibrazione fisiche per l'alimentazione phantom, un -10 dB, interruttore di polarità e un filtro passa alto a che fare con rombo e esplosive. Una manopola grande e rassicurante solido guadagno del monitor si trova sotto un display a LED livello di quattro segmenti e sulla destra un quadrante guadagno cuffie. Tre interruttori di funzione programmabili possono essere impostati per controllare le modifiche di routing e compiti simili in software, e ci sono Dim fisica e pulsanti Cut.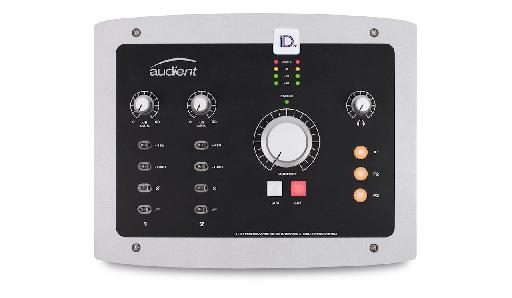 Semplici ma potenti controlli e un finale incredibilmente alta qualità.
Ins e out
There are two balanced insert points for incorporating external outboard hardware into the signal chain, which is rare on such a small unit.

Intorno alla schiena youll trovare una serie di I / O che rende il id22 particolarmente flessibile. C'è un ingresso di alimentazione e USB2 per la connessione al PC o Mac, e due ingressi XLR combo, il secondo dei quali ha un ingresso JFET DI per il collegamento di fonti ad alto guadagno come chitarre. Quattro uscite individuali sono disponibili, ciascuno alimentato da un proprio DAC e questi possono essere usati per l'invio di monitor separato mix di artisti o collegare un secondo set di altoparlanti monitor. Ci sono due punti di insert bilanciati per l'integrazione hardware outboard esterno nella catena del segnale, il che è raro in una piccola unità tale. Quindi, se avete un processore hardware (riverbero, compressore, ecc) può essere introdotto facilmente. Il suo espandibile troppo, grazie all'inserimento di I / O ottico che supporta sia protocolli ADAT e S / PDIF. Così è possibile, ad esempio, aggiungere fino a dieci ingressi alimentando in otticamente da un microfono pre otto canali.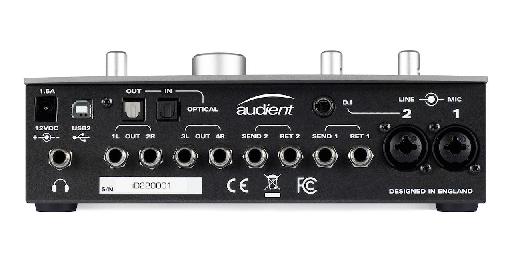 Una serie di I / O per l'integrazione di segnali digitali hardware e.
Software app
L'applicazione mixer è dove si può ottenere veramente creativo con il routing, e il suo design accattivante. I canali possono essere collegati e scollegati, i livelli di cue e panning possono essere impostati e codice colore aiuta a tenere traccia di cosa viene inviato dove. Nel pannello di sistema è possibile impostare talkback, finiture e livelli di dim e utilizzare la matrice di routing per assegnare la fresatura di precisione delle uscite analogiche e digitali in modo semplice e veloce.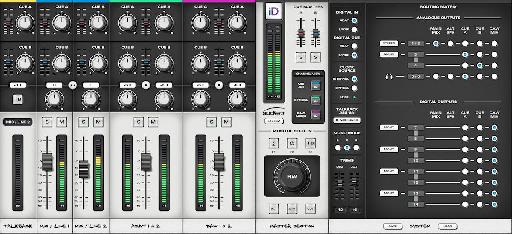 Un app mixer ben progettato ti dà maggiore controllo sul percorso di unità.
I preamplificatori microfonici e convertitori in id22 sono eccellenti, e la latenza, anche se non strettamente zero, è estremamente basso e non era evidente durante i nostri test. La qualità della registrazione è naturalmente impeccabile e sfruttando l'intelligente applicazione mixer digitale, siamo stati in grado di creare facilmente mix specifiche del monitor. Questo è un'interfaccia audio molto ben progettato che vi aiuterà non solo ad ottenere grandi registrazioni, ma anche integrare hardware esterno e altre sorgenti digitali nelle vostre sessioni. Un grave pezzo di kit, e per un prezzo ragionevole.
Prezzo:
Web:
Pro:
Contro: