Audient est peut-être mieux connu pour ses consoles de studio et haut de gamme des commandes de moniteur et préamplis, mais maintenant, la société britannique a apporté son expertise pour une unité tout à fait plus compact visant à donner à ceux avec de plus petits studios accéder à un son de classe mondiale. Le ID22 est un système d'interface audio USB et le suivi avec un peu plus passe qui pourrait d'abord répondre à l'œil. Creuser sous la surface et youll trouver une richesse de fonctionnalités normalement pas associés à des interfaces audio compacts.
The build quality of the iD22 is excellent and it feels extremely robust and solid despite its small size and portability.

La qualité de l'ID22 de construction est excellente et il se sent très robuste et solide malgré sa petite taille et portabilité. Les contrôles physiques rappellent de matériel vintage et se sentent très professionnel, lisse et précise. Le panneau avant contient des contrôles pour les deux canaux d'entrée, dont chacune a un contrôle de gain et interrupteurs à bascule physiques pour l'alimentation fantôme, pad -10 dB, inverseur de polarité et un filtre passe-haut pour faire face à grondement et occlusives. Une grande et rassurante solide bouton de gain du moniteur se trouve sous un écran LED de niveau quatre du segment et sur la droite est une ligne de gain de casque. Trois commutateurs de fonction programmables peuvent être réglés pour contrôler les changements de routage et des tâches similaires dans le logiciel, et il ya Dim physique et boutons Cut.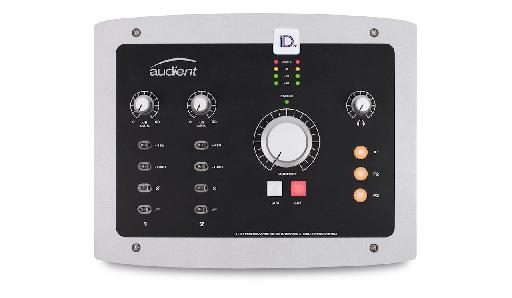 Des commandes simples mais puissantes et une finition très haute qualité.
Tenants et aboutissants
There are two balanced insert points for incorporating external outboard hardware into the signal chain, which is rare on such a small unit.

Autour de l'arrière youll trouver une foule d'E / S qui fait la ID22 particulièrement flexible. Theres une entrée de puissance et USB2 pour la connexion à votre Mac ou PC, et deux entrées combo XLR, dont le second a une entrée DI JFET pour connecter des sources à gain élevé comme les guitares. Quatre sorties individuelles sont disponibles, chacun alimenté par son propre DAC et ceux-ci peuvent être utilisées pour l'envoi de moniteur séparé mêle aux artistes-interprètes ou la connexion d'un second ensemble de haut-parleurs du moniteur. Il ya deux points d'insertion équilibrés pour l'intégration du matériel hors-bord externe dans la chaîne du signal, ce qui est rare sur un si petit appareil. Donc si vous avez un processeur matériel (reverb, compresseur, etc), il peut être mis en place facilement. Son extensible aussi, grâce à l'inclusion de optique I / O qui prend en charge les protocoles ADAT et S / PDIF. Ainsi, vous pouvez, par exemple, ajouter jusqu'à dix entrées par l'alimentation en optique à partir d'un micro pré huit canaux.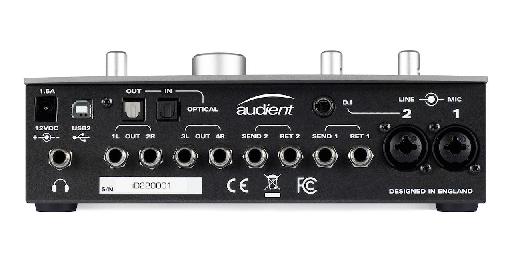 Un hôte d'E / S pour l'incorporation du matériel et des signaux numériques.
application logicielle
L'application de mixage est l'endroit où vous pouvez vraiment créatif avec le routage, et son beau design. Les canaux peuvent être liés et non liés, les niveaux de repère et de panoramiques peuvent être réglés et le codage couleur vous aide à garder une trace de ce qui est d'être envoyé où. Dans le panneau de système, vous pouvez configurer l'intercom, d'assiette et niveaux de gradation et d'utiliser la matrice de routage d'affecter l'acheminement précis de sorties analogiques et numériques simplement et facilement.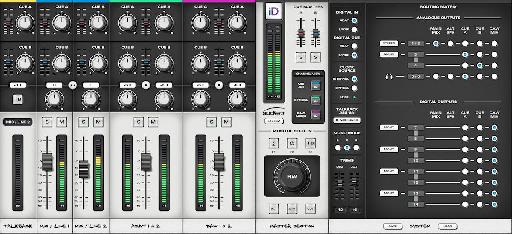 Une application de mélangeur bien conçu vous donne beaucoup plus de contrôle sur le routage unités.
Les préamplis micro et convertisseurs dans l'ID22 sont excellents, et la latence, mais pas strictement nulle, est extrêmement faible et n'était pas visible lors de nos tests. La qualité d'enregistrement est bien sûr impeccable et en profitant de l'application numérique intelligent de mixage, nous avons pu créer facilement des mixages de retour spécifiques. Il s'agit d'une interface audio très bien conçu qui vous aidera non seulement à obtenir de superbes enregistrements, mais aussi intégrer du matériel externe et autres sources numériques dans vos séances. Une pièce grave de kit, et pour un prix raisonnable.
Prix:
Web:
Plus:
Inconvénients: