Audient ist vielleicht am besten für seine Studio-Konsolen und High-End-Monitor-Controller und Preamps bekannt, aber jetzt hat das britische Unternehmen sein Know-how brachte auf einem insgesamt kompakteren Einheit zu geben diejenigen mit kleineren Studios Zugang zu ihren Weltklasse-Sound Ziel zu tragen. Die ID22 ist ein USB-Audio-Interface und Monitoring-System mit etwas mehr los, dass vielleicht zuerst das Auge treffen. Graben unter der Oberfläche und eine Fülle von Funktionen in der Regel nicht mit kompakten Audio-Interfaces verbunden youll finden.
The build quality of the iD22 is excellent and it feels extremely robust and solid despite its small size and portability.

Die Verarbeitungsqualität des ID22 ist ausgezeichnet und es trotz seiner geringen Größe und Portabilität fühlt sich extrem robust und solide. Die Bedienelemente erinnern an Vintage-Hardware und fühlen sich sehr professionell, glatt und präzise. Die Frontplatte enthält Steuerelemente für die zwei Eingangskanäle, von denen jeder einen Gain-Regler und physikalischen Flip-Schalter für Phantomspeisung, eine -10 dB Pad, Polaritätsschalter und ein Hochpassfilter, mit Rumpeln und Verschlusslaute zu tun hat. Eine große und beruhigend solide Monitor Gain-Regler sitzt unter einem Vier-Segment-LED-Anzeige-Ebene und auf der rechten Seite ist ein Kopfhörerverstärkung Zifferblatt. Drei belegbare Funktionsschalter kann eingestellt werden, um Routing-Änderungen und ähnliche Aufgaben in der Software zu steuern, und es gibt physikalische Dim und Cut-Tasten.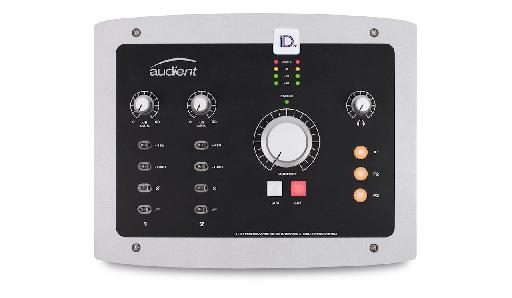 Einfache, aber leistungsstarke Steuerelemente und eine unglaublich hohe Verarbeitungsqualität.
Ins und Outs
There are two balanced insert points for incorporating external outboard hardware into the signal chain, which is rare on such a small unit.

Rund um den Rücken youll finden eine Vielzahl von I / O, die der ID22 besonders flexibel macht. Theres eine Leistungsaufnahme und USB2 auf Ihrem Mac oder PC, und zwei Combo XLR-Eingänge, von denen der zweite ein JFET DI-Eingang für den Anschluss von High-Gain-Quellen wie Gitarren hat zu verbinden. Vier einzelne Ausgänge zur Verfügung, die jeweils durch einen eigenen DAC zugeführt und diese können für das Senden von separaten Monitor-Mixe zu Interpreten oder den Anschluss eines zweiten Satzes von Monitor-Lautsprecher verwendet werden. Es gibt zwei symmetrische Insert-Punkte für die Einbindung externer Hardware-Außenborder in die Signalkette, die auf einem so kleinen Gerät selten ist. Also, wenn Sie einen Hardware-Prozessor (Reverb, Kompressor, etc.) kann es leicht eingeführt werden. Seine erweiterbare auch dank der Aufnahme von optischen I / O, die sowohl ADAT und S / PDIF-Protokolle unterstützt. So können Sie beispielsweise hinzufügen, bis zu zehn Eingänge durch die Fütterung in optisch von einem Achtkanal-Mikrofonvorverstärker.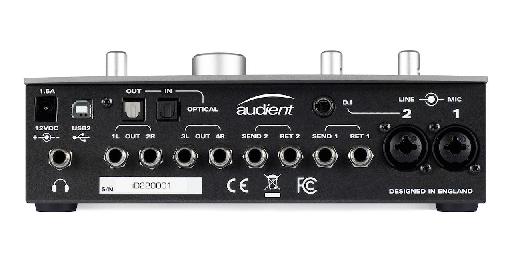 Eine Vielzahl von I / O-Hardware für die Einbindung und digitale Signale.
Software App
Der Mischer App ist, wo Sie mit der Routing wirklich kreativ zu bekommen, und ihren wunderschön gestalteten. Kanäle können nicht verknüpft und verbunden werden, können Cue-Ebenen und Panning eingestellt und Farbcodierung hilft dir den Überblick, wo was gesendet halten. Auf der Systemseite können Sie auch Talkback-, Trimm-und Dim-Stufen und verwenden Sie die Routing-Matrix, die genaue Streckenführung der analogen und digitalen Ausgängen einfach und problemlos zuordnen.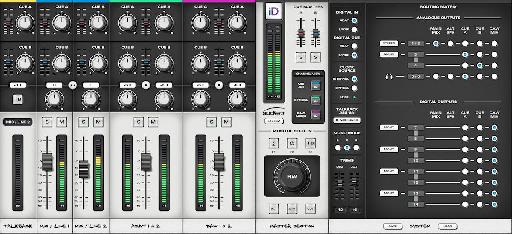 Eine schön gestaltete Mischer App bietet Ihnen viel mehr Kontrolle über die Einheiten-Routing.
Die Mic Preamps und Wandler in der ID22 sind ausgezeichnet, und die Latenz, wenn auch nicht unbedingt Null ist, ist extrem niedrig und war nicht auffällig bei unseren Tests. Die Aufnahmequalität ist natürlich einwandfrei und durch die Nutzung der cleveren Digitalmischer-App, waren wir in der Lage, auf einfache Weise spezielle Monitormischungen. Dies ist eine sehr ausgereifte Audio-Schnittstelle, die Ihnen helfen, nicht nur tolle Aufnahmen zu erhalten, sondern auch zu übernehmen externe Hardware und anderen digitalen Quellen in Ihre Sitzungen. Ein ernstes Stück-Set, und für einen angemessenen Preis.
Preis:
Web:
Vorteile:
Nachteile: