I'll be honest, I've lost touch with Arturia over the years. Not because of any deficiencies in their work, whatsoever. There are just a lot of virtual instruments out there, and the tide of innovation swept me in a different direction. So, when I got the chance to review some of their new work, I genuinely jumped at the chance. I own the Minimoog V plug-in of theirs and it's brought me nothing but satisfaction, I thought it would be cool to see what they are doing right now...
Boy, have they come a long way!
Arturia have always been known for making really, really accurate instrument recreations in software form. In fact, they are known for painfully accurate, even down to cosmetics, sound nuances, etc. With the Wurlitzer V, they've pushed it even farther. Seriously, they really thought of everything, as you'll see as you progress through this article.
The Basis Wurlitzer Sound
First off, before I talk about any of the bells and whistles, the sound of the Wurlitzer is completely kept intact. It's warm, it's moody, and it instantly adds 'that vibe' to the room, the mix, to your life. I've spent some time with an actual Wurlitzer, and I've also spent some time with the plug-ins. This one is legit. And, it's as simple, or as deep as you want it to be.
Let's talk about simple, first, as it's a feature that is often overlooked with virtual instruments. There are those of us that want to go through and adjust things like velocity curves, etc. Then, there are those of us that just want a nice electronic piano sound. Strangely enough, the Wurlitzer V really does an amazing job of making itself accessible to both parties. For example, this is the Wurlitzer V upon an initial launch...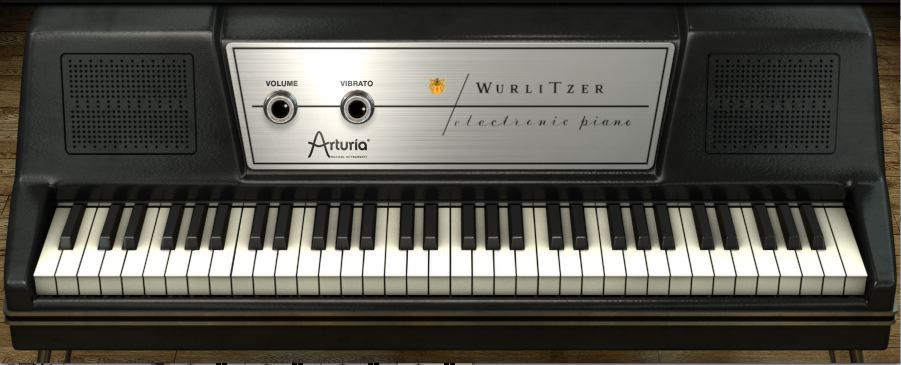 See, it's probably the least intimidating plug out there! There's volume and vibrato, just like the original, while sounding like the original as well. Job well done!
Open Sesame...
But, when you press the Open and FX buttons, the Wurlitzer V immediately becomes a different animal...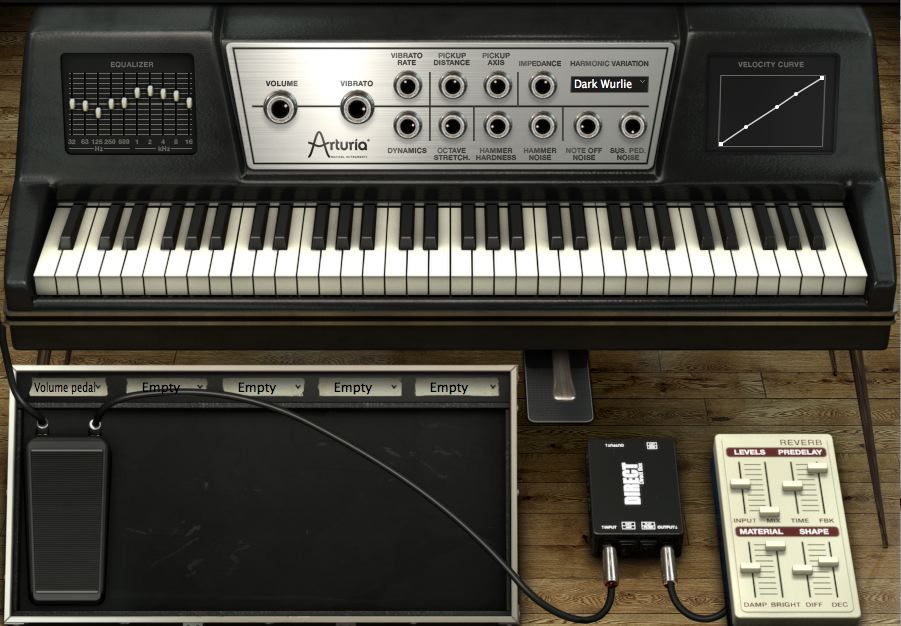 And, as you can see below, you get much more than just the Wurlitzer, you get every possible configuration the Wurlitzer has ever been used in, from pedals to an amplifier. Every possible configuration you could come up with, Arturia has already beat you to the punch. It includes several different stomp boxes, from Chorus, to Delay. So, if this is a first time virtual instrument for you, you don't need to worry about additional plug-ins in achieving the sound that you want.
Mics and Amps
And, they take it even farther with the optional amplifier configuration. You get two SM57 mic variations, as well as a 421, and a U87. There are also 4 different amp variations. Again, this is highly significant because the classic Wurlitzer scenarios are all available within this plug-in, with virtual devices that are spot on accurate. And, hey, if they aren't up to your fickle ear, you can still run the Wurlitzer through some of your other plugs, if you like, right?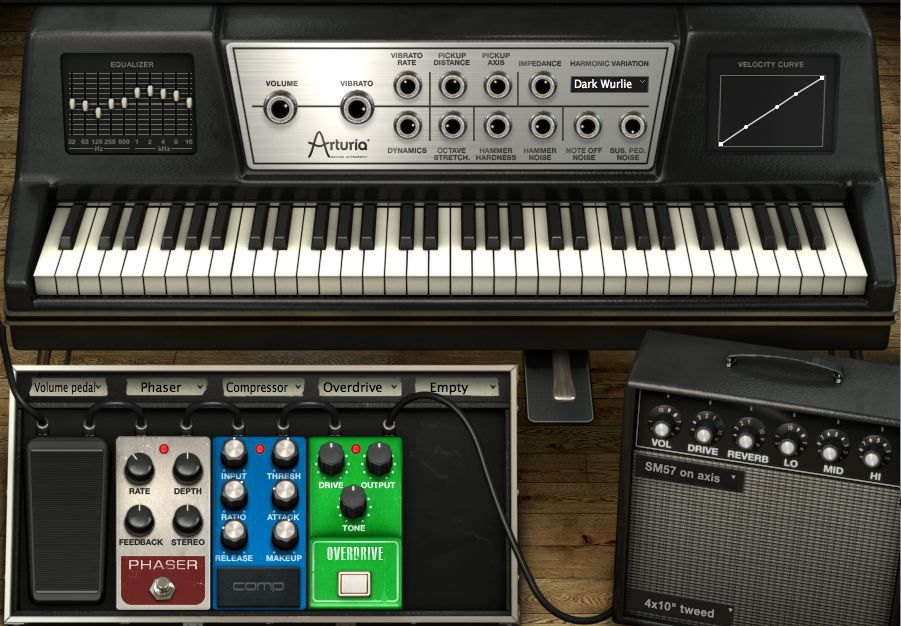 Conclusion
I could go on several more pages in regard to what Arturia has achieved with the Wurlitzer V, but the above should already have you rushing for the store, if this is a sound that tickles your fancy. Even if it's not, you will have a load of fun with this plug-in, should you be looking for something to add a new element into your sound. And, by the way, like all Arturia instruments, the list of sound designers who have added patches to this instrument go even farther in making this one of the most authentic virtual electronic pianos out there.