As Arturia's lineup of software recreations of classic - and some original - synths grew, it eventually bundled them together into the V-Collection, representing a big saving over buying even a few individually. Now on a more or less yearly basis, the French developer adds new models to the collection and it has reached version 7, with 6 new inclusions: three brand new soft synths, updates to two others and a new preset collection. Rather than reviewing the entire collection of 23 instruments, we're going to look at what's new and what the collection as a whole offers to you.
Tape Loop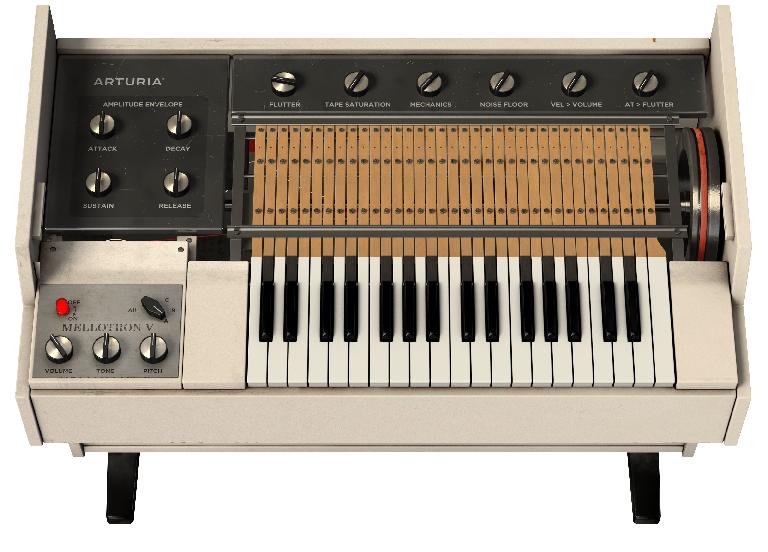 All the instruments in the collection share Arturia's gorgeous graphics, recreation of the sound and features of the original instruments, plus very often some extra features that you won't find on the originals. With that stated, let's start with Mellotron V. A staple of 1960s and 1970s pop and psychedelic music, the Mellotron used loops of tape to generate its sounds which were flute-like in character. It's an instantly recognisable sound used perhaps most famously by The Beatles. Mellotron V gives you three layers of samples, assignable across parts of your keyboard range, with sample editing and looping accessible for each layer. The instrument's main panel lets you control flutter, saturation, mechanical noise and more and there's an expandable FX section with multiple slots and a range of available effects.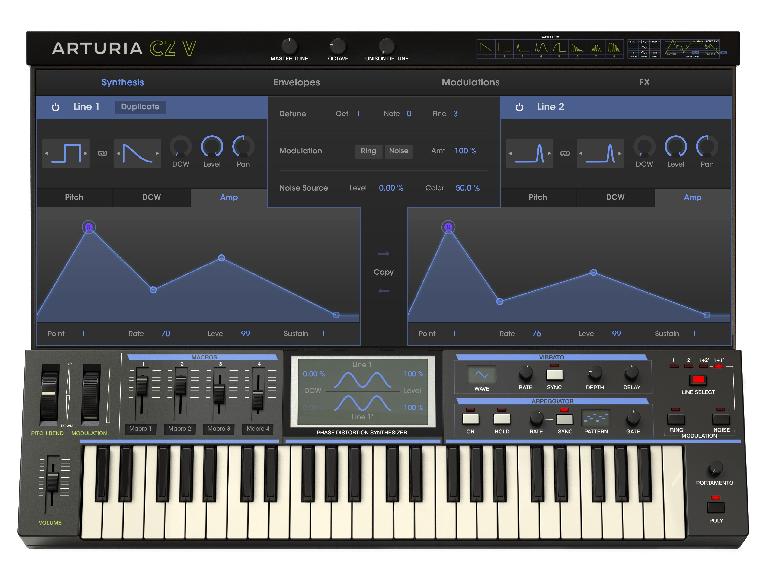 CZ V is next, modelling the Casio CZ-101 and CZ-1000 synths that were popular in the 1980s. A phase distortion synth, it has an expandable controller section with access to synth, envelope, modulation and FX sections - with four times the polyphony of the originals. It has an incredibly fat and warm sound, and is simple to tweak to get an almost infinite palette of sounds. Synthi V is based on the EMS Synthi AKS and VXS3, and is a slightly more complex beast, with a modular heart and a pop up panel that lets you access a mod matrix, FX and joystick mode, with the recognisable patch matrix present in the centre of the synth's interface. With warm, slightly distorted and beautiful tones easy to produce, it's perfect for ambient, electronic and other atmospheric music - and infinitely easier to get hold of than a real vintage EMS synth.
Back To The Lab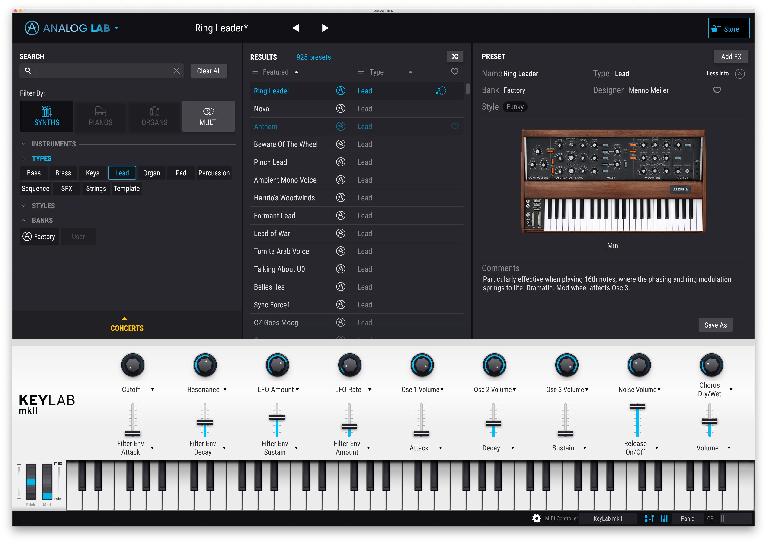 Analog Lab 4 is the latest version of Arturia's synth that collects together over 6500 presets from other models in the collection, with a specialised interface providing quick access to the core controls, as well as linking seamlessly with the company's hardware controllers for ease of use. It's quick and easy to use and simpler than using the slightly more esoteric interfaces of the individual synths. Last but not least is B-3 V, an updated version of Arturia's Hammond organ recreation. Sharing the FX section with Mellotron V and with an advanced modulation section, it hugely expands the utility of the original, offering classic, raw Hammond sound with additional synthesis features.
Conclusion
As a bundle, V-Collection represents amazing value for money considering just how much content you get. The instruments sound incredible, are beautifully designed, recreate the features and sonics of the originals and in almost all cases, add features that were not available on the hardware in the form of modulation, synthesis and effects. Upgrade pricing is available if you already own Arturia products, so you may well find an appealing reason to upgrade to the full set - or as an outright purchase, it's also great value. Arturia regularly updates its software too, so that's good to know. Overall, an excellent way to get the sound of many bona fide classics, for a fraction of the price of owning the originals.
Price: 399 Eur intro price, 499 Eur regular
Upgrade pricing available on website

Pros: Comprehensive collection of amazing instruments and synths. Some rare classics modelled that you won't find elsewhere. A solid set of "real" organs and electromechanicals. Analog Lab is a handy go-to sound source. Competitively priced for what you get. Regular updates. Adds many features not found on the originals.

Cons: Not much really, if you're buying these synths it's because you want their classic sound.
Web: https://www.arturia.com/products/analog-classics/v-collection/overview#en
Learn more about making music with virtual synths: https://ask.audio/academy?nleloc=new-releases